What Is the Actual Relapse Rate of Accutane (isotretinoin)?
Isotretinoin Does Not Always Achieve a Long-term Result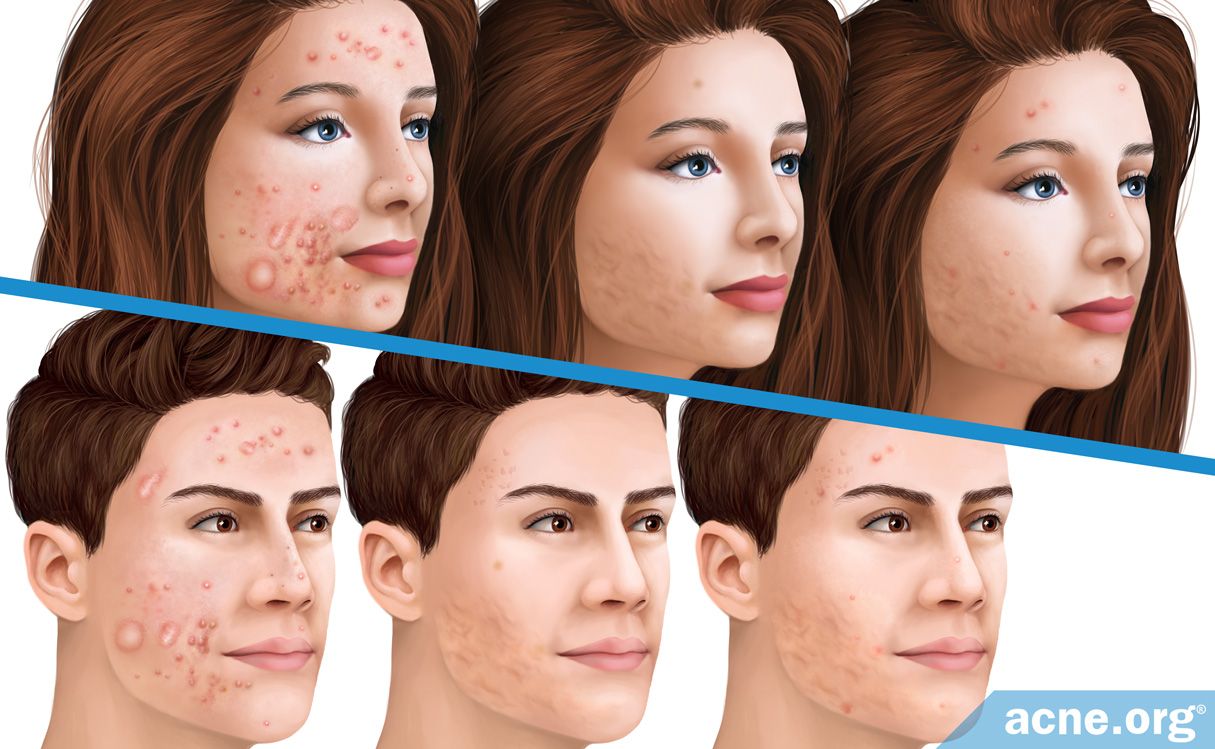 The Essential Information
Isotretinoin, often known by its original brand name, Accutane®, is an oral prescription medication that dermatologists sometimes prescribe to people with severe, scarring acne that does not respond to other treatments.
It is effective, and can provide for long-term remission in some people. But for other people it provides only temporary relief. Relapse rates following isotretinoin treatment vary between 14.6% to 52%, which is higher than scientists previously believed. Several factors increase the likelihood of an acne relapse:
Male gender

More severe acne

Hormonal imbalance

Lower treatment dosage

Isotretinoin comes with numerous and sometimes severe and long-term side effects. Before considering isotretinoin, it is important to completely understand the research regarding the chance of relapse and to speak with a medical professional to determine if you are a good candidate for isotretinoin treatment.
The Science
Accutane (isotretinoin) is a highly effective acne treatment. This effectiveness has led many to believe that isotretinoin acts as a cure for even the most severe acne. Research, however, has shown that 14.6% to 52% of patients experience a relapse of acne after undergoing isotretinoin therapy.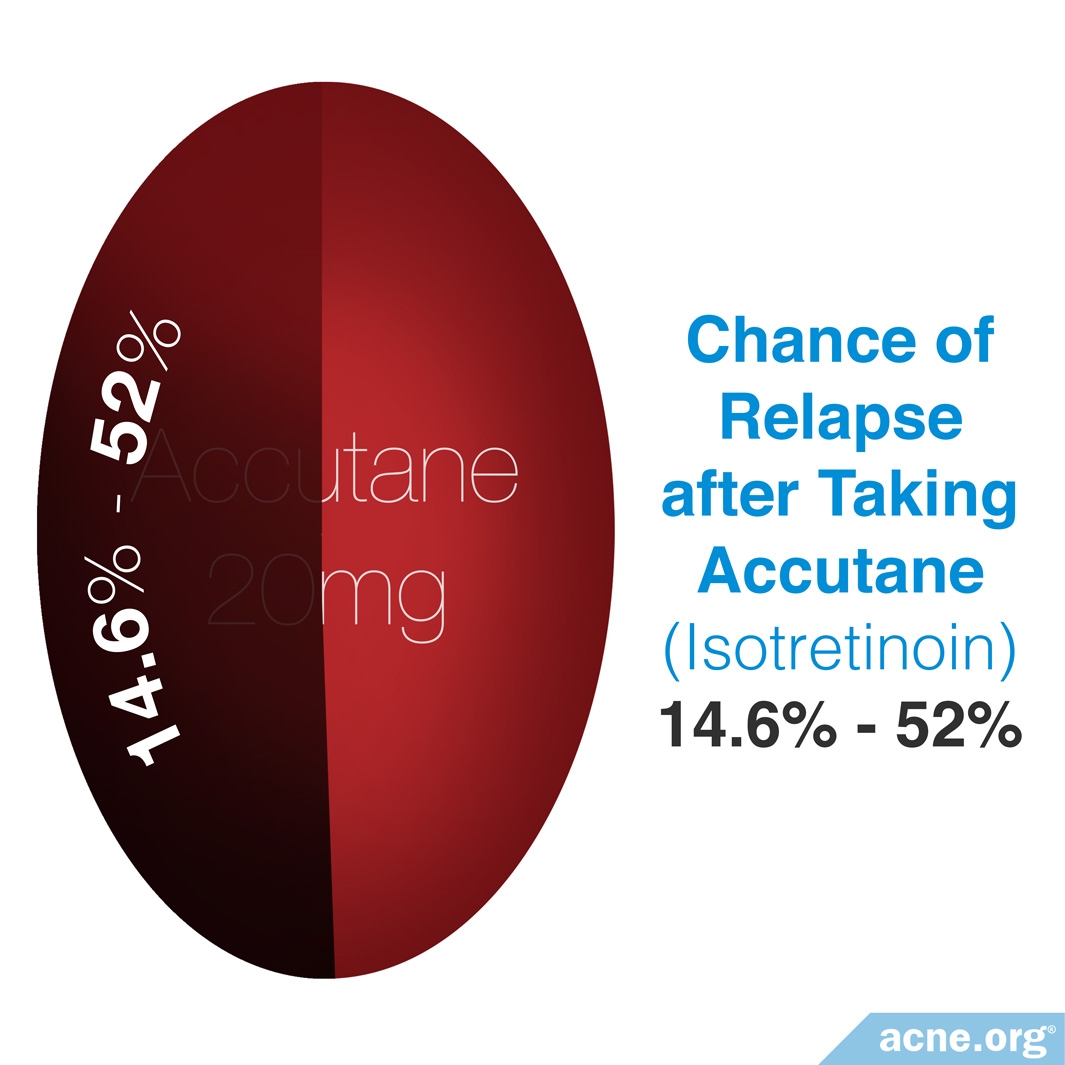 When we look at 15 studies from 1989 through 2013 that look at acne relapse after isotretinoin, we can see this relapse range of 14.6 - 52%. The reason there is such a wide range is because of different study designs and definitions of exactly what "relapse" means. Some people may not report a relapse of their acne because their acne is improved compared to how it was before isotretinoin therapy, and therefore, they do not consider themselves to have "bad acne" like they did before they took isotretinoin, even though their acne did come back to a lesser degree.
Expand to read details of studies on relapse rate of isotretinoin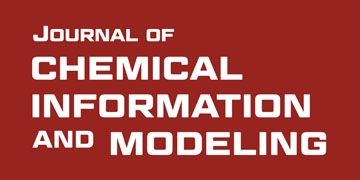 A 1989 study published in the Journal of Chemical Information and Modeling investigated 188 patients for acne relapse during 9 years following isotretinoin treatment. They found that 41% of patients relapsed after one treatment, 28% of patients relapsed after 2 or 3 courses of treatment, and 12% relapsed after several courses of treatment. Researchers observed relapse more often in patients with more severe acne and women with hormonal problems.1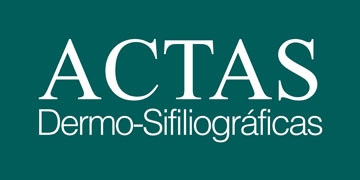 A 2013 study published in Actas Dermo-Sifiliográficas examined the relapse rate of 142 patients with cystic acne during a two-year period following isotretinoin treatment. They found that 32% of males and 17% of females experienced a relapse. The authors attributed the gender difference of relapse to some female patients using oral contraceptives or anti-androgens, both of which reduce acne symptoms. The researchers showed that using oral contraceptives or anti-androgens reduced reduced the chance of acne relapse by 3.5 times.2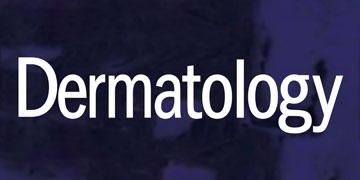 A 2013 study published in Dermatology examined 13 previously performed studies that had treated patients with isotretinoin to identify the relapse rate. These studies found that 14.6% to 52% of patients treated with isotretinoin relapsed. The authors attributed the large range of relapse rates to an inconsistency in study design, as each study had a different definition of relapse, number of patients (32 - 17,351) and follow up period (1-5 years). Despite the inconsistencies, none of the studies included a maintenance therapy of other acne medications following isotretinoin therapy. Maintenance therapies can obscure the true relapse rate of Accutane because patients continuing with other acne therapies may prevent relapse. Therefore, the 14.6% to 52% rate that this study reported is the most accurate representation of the relapse rate after isotretinoin treatment.3
Factors That Increase Relapse after Isotretinoin Treatment
Several factors may increase the rate of relapse in patients treated with isotretinoin. These include:
Severity of acne: people with more severe acne, and acne on the body, relapse more frequently
Treatment dosage: people receiving lower dosages relapse more frequently
Taking isotretinoin with food: Isotretinoin is much better absorbed when taken with an adequate amount of dietary fat. People who take isotretinoin without a meal that contains an adequate amount of fat may not absorb as much medication.
Hormonal imbalances (especially in women): women with hormonal imbalances relapse more often
Gender: males relapse more often than females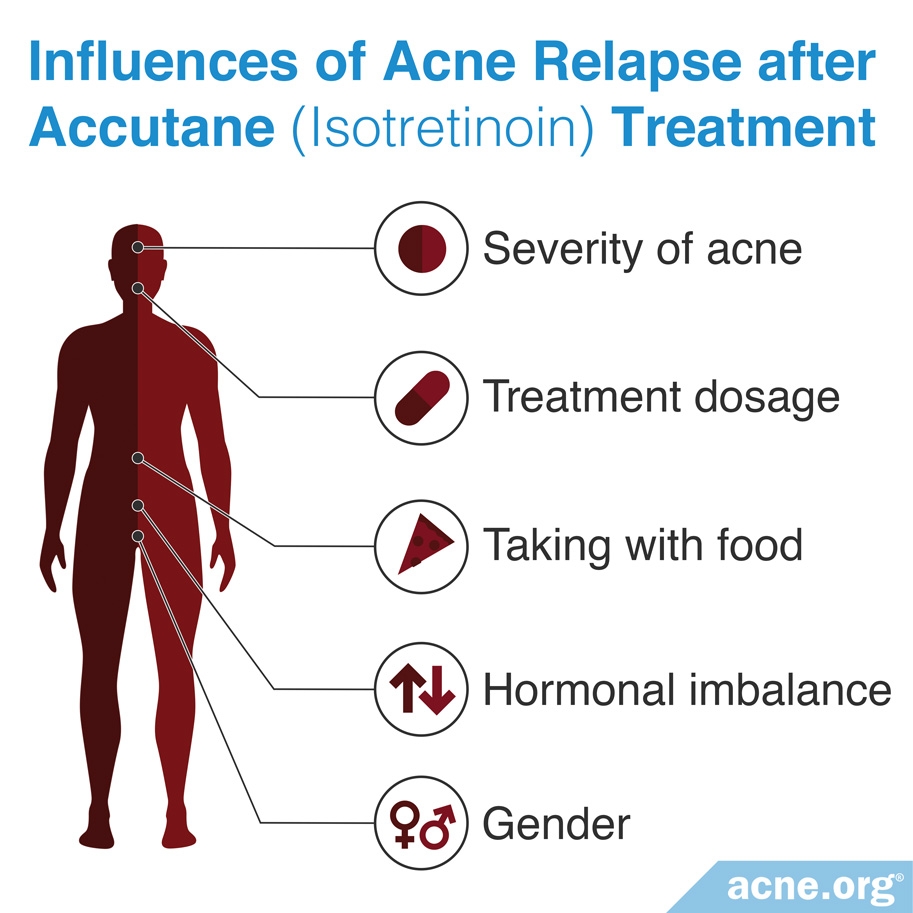 Here are the studies that show us how these factors can increase the chances of relapse after isotretinoin treatment:
Expand to read details of studies on factors that increase chances of relapse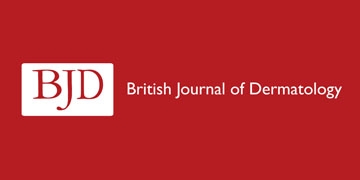 A 1993 study published in the British Journal of Dermatology studied 88 patients for relapse during a nine-year period following isotretinoin treatment. There were 27 patients who relapsed during the 9 years, with 96% of those relapses occurring during the first 3 years. The researchers also reported that patients who had back or chest acne, severe acne, and who took a lower isotretinoin dose relapsed more frequently. However, this study did not find a correlation between gender or age and relapse rates.4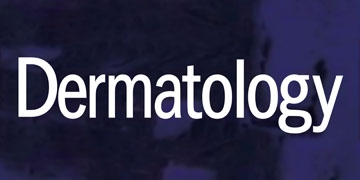 A 2006 review published in Dermatology mentioned 2 studies that researched the relapse rate after isotretinoin therapy. They found that younger age, male gender, more severe acne, and hormonal imbalances (especially in women) were correlated with higher relapse rates. Of all patients studied, 29% to 39% of patients relapsed, with 12% never achieving clear skin even while using isotretinoin.5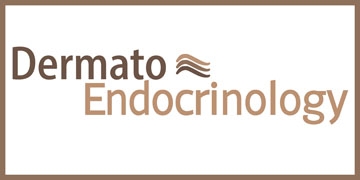 A 2009 article published in Dermatoendocrinology described the effectiveness of isotretinoin to treat acne. The authors stated that "males with extensive [body] acne, more severe acne, and/or suffering from acne for less than seven years fail to respond as well as and relapse more quickly that female patients with predominately facial acne of a less severe grade." This means that males with more severe acne are more likely to relapse than females with less severe acne.6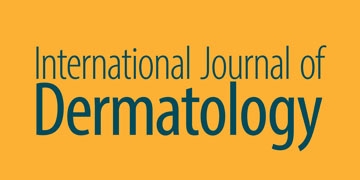 A 2013 study published in the International Journal of Dermatology investigated the relapse of acne following isotretinoin treatment in 96 patients who either had, or did not have, polycystic ovary syndrome (PCOS). PCOS is a disease of the ovaries that leads to excess male hormones in women. The researchers found that out of the 24 patients who relapsed, 18 had PCOS. Therefore, they concluded that hormonal disorders, like PCOS, affect the relapse rate of isotretinoin.7
Studies that identified the factors of treatment dosage and taking isotretinoin with food with relapse
A collection of seven studies published in various journals between 1983 and 1998 found that increasing the dose of isotretinoin decreased the rate of acne relapse. However, each study compared different daily and cumulative doses of isotretinoin during the treatment. These dosage inconsistencies prevent researchers from comparing the studies to identify which dosage of isotretinoin is optimal to reduce acne relapse rates.8-14
Expand to read details of studies on treatment dosage and relapse rate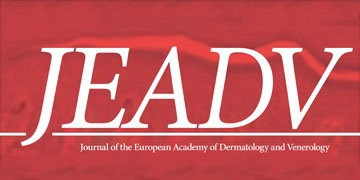 A 2011 study published in the Journal of European Academy of Dermatology and Venereology studied 139 patients with mild to moderate acne. The researchers concluded that low dose isotretinoin treatments had similar relapse rates to high dose treatments during a two-year follow up period. However, as this study did not include patients with severe acne, these results do not apply to the typical isotretinoin patient.15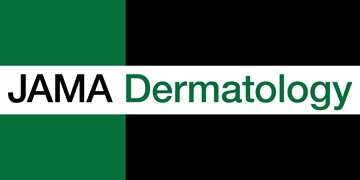 A 2013 study published in JAMA Dermatology studied 166 patients for relapse after isotretinoin treatment. They found that patients taking a lower dose of isotretinoin relapsed at nearly twice the rate of patients taking a higher dose. Despite the relapse, however, 97.4% of patients reported that their acne was improved following isotretinoin treatment. Therefore, even though many patients experienced a relapse of their acne, they perceived their returned acne to be less severe than before isotretinoin treatment.16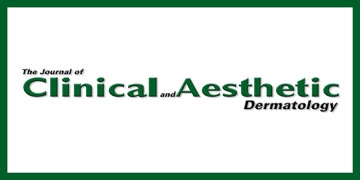 A 2012 article published in The Journal of Clinical and Aesthetic Dermatology spoke briefly about the importance of patients taking isotretinoin with food. The authors wrote that patients taking isotretinoin on an empty stomach will not be proper absorb the full dose. Therefore, a patient who is not properly absorbing isotretinoin will not receive the proper does, and that could potentially increase the chance of relapse.17
Do People Need Maintenance Therapy after Isotretinoin?
Often, dermatologists prescribe other acne medications as a maintenance therapy following isotretinoin treatment. Patients using a maintenance therapy may topically apply adapalene, benzoyl peroxide, retinoids, or combinations of these medications to keep acne at bay. Scientists have found that continuing a maintenance therapy after isotretinoin is the best way to prevent an acne relapse. However, this points to the reality that to keep acne at bay after isotretinoin, ongoing medication may be required.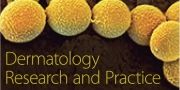 A 2012 study published in Dermatology Research and Practice observed 20 male patients for acne relapse following isotretinoin treatment. The researchers found that men using a maintenance therapy had, on average, 38.7 less acne lesions than men who did not use a maintenance therapy.17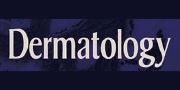 A 2013 study published in Dermatology studied 70 patients with moderate acne to determine if a maintenance therapy prevented relapse after isotretinoin treatment. This study found that only 2.94% of patients experienced an acne relapse if they used adapalene and benzoyl peroxide daily for one year following isotretinoin treatment. Although this study did not look past one year, it still reported much lower rates of relapse than previous studies lacking a maintenance therapy.3
The Bottom Line
Relapse after isotretinoin may be higher than people expect. While in many cases acne is reduced, in 14.6 to 52% of people, acne will return to some degree, necessitating ongoing maintenance therapy with other treatments.
Since isotretinoin is such a serious medication that changes the skin and the rest of the body forever, and can come with lifelong side effects, it is vitally important that people with acne take all of these things into consideration before embarking on isotretinoin therapy.
References:
Lehucher-Ceyrac, D. & Weber-Buisset, M. J. Isotretinoin and acne in practice: a prospective analysis of 188 cases over 9 years. Dermatology. 186, 123-128 (1993). https://www.karger.com/Article/Abstract/247322
Morales-Cardona, C. & Sánchez-Vanegas, G. Acne relapse rate and predictors of relapse following treatment with oral isotretinoin. Actas Dermosifiliograf. 104, 61-66 (2013). https://www.ncbi.nlm.nih.gov/pubmed/22795452
Bettoli, V. et al. Maintenance therapy for acne vulgaris: efficacy of a 12-month treatment with adapalene-benzoyl peroxide after oral isotretinoin and a review of the literature. Dermatology. 227, 97-102 (2013). https://www.ncbi.nlm.nih.gov/pubmed/24029411
Layton, A. M., Knaggs, H., taylor, J. & Cunliffe, W. J. Isotretinoin for acne vulgaris-10 years later: a safe and successful treatment. Br. J. Dermatol. 129, 292-296 (1993). https://www.ncbi.nlm.nih.gov/pubmed/8286227
Zouboulis, C. C. The truth behind this undeniable efficacy--recurrence rates and relapse risk factors of acne treatment with oral isotretinoin. Dermatology. 212, 99-100 (2006). https://www.ncbi.nlm.nih.gov/pubmed/16484812
Layton, A. The use of isotretinoin in acne. Dermatoendocrinol. 1, 162-169 (2009). https://www.ncbi.nlm.nih.gov/pmc/articles/PMC2835909/
Cakir, G. A., Erdogan, F. G. & Gurler, A. Isotretinoin treatment in nodulocystic acne with and without polycystic ovary syndrome: efficacy and determinants of relapse. Int. J. Dermatol. 52, 371-376 (2013). https://www.ncbi.nlm.nih.gov/pubmed/22998438
Jones, D. H., King, K., Miller, A. J. & Cunliffe, W. J. A dose-response study of I3-cis-retinoic acid in acne vulgaris. Br. J. Dermatol. 108, 333-343 (1983). https://www.ncbi.nlm.nih.gov/pubmed/6219690
Strauss, J. S. et al. Isotretinoin therapy for acne: Results of a multicenter dose-response study. J. Am. Acad. Dermatol. 10, 490-496 (1984). https://www.ncbi.nlm.nih.gov/pubmed/6233335
Wokalek, H., Hennes, R., Schell, Vogt H. J. A Review of Clinical and Laboratory Research. MTP Press Limited. 231-239 (1984).
Cunliffe, W. J. & Norris, J. F. Isotretinoin--an explanation for its long-term benefit. Dermatologica. 175, 133-137 (1987). https://www.ncbi.nlm.nih.gov/pubmed/2446935
Layton, A. M., Knaggs, H., Taylor, J. & Cunliffe, W. J. Isotretinoin for acne vulgaris--10 years later: a safe and successful treatment. Br. J. Dermatol. 129, 292-296 (1993). https://www.ncbi.nlm.nih.gov/pubmed/8286227
Stainforth, J. M., layton, A. M., Taylor, J. & Cunliffe, W. J. Isotretinoin for the treatment of acne vulgaris: which factors may predict the need for more than one course? Br. J. Dermatol. 129, 297-301 (1993). https://www.ncbi.nlm.nih.gov/pubmed/8286228
White, G. M., Chen, W., Yao, J., & Wolde-Tsadik, G. Recurrence rates after the first course of isotretinoin. Arch. Dermatology. 134, 376-378 (1998). https://www.ncbi.nlm.nih.gov/pmc/articles/PMC3970835/
Borghi, A. et al. Low-cumulative dose isotretinoin treatment in mild-to-moderate acne: efficacy in achieving stable remission. J. Eur. Acad. Dermatol. Venereol. 25, 1094-1098 (2011). https://www.ncbi.nlm.nih.gov/pubmed/21198947
Del Rosso, J. Q. Face to face with oral isotretinoin: a closer look at the spectrum of therapeutic outcomes and why some patients need repeated courses. J. Clin. Aesthet. Dermatol. 5, 17-24 (2012). https://www.ncbi.nlm.nih.gov/pubmed/23198008
Vender, R. & Vender, R. Double-blinded, vehicle-controlled proof of concept study to investigate the recurrence of inflammatory and noninflammatory acne lesions using tretinoin gel (microsphere) 0.04% in male patients after oral isotretinoin use. Dermatol. Res. Pract. 2012, 736532 (2012). https://www.ncbi.nlm.nih.gov/pubmed/22577372