Article Summary
The current medical research shows that isotretinoin (Accutane), while extremely effective for severe acne, is overprescribed for the treatment of mild-to-moderate acne.

Isotretinoin is a systemic medication that affects the entire body, changing not only the skin, but also potentially other parts of the body forever.

Upon examining the severe side effects and potentially high relapse rates of isotretinoin therapy, it becomes clear that doctors should be vigilant in closely following the restrictive guidelines regarding prescription.
Isotretinoin is an oral medication derived from Vitamin A that is normally used to treat severe nodular and cystic acne. Isotretinoin is taken orally once a day, normally for 15-20 weeks, with a meal that contains an adequate amount of dietary fat to aid in absorption.

Even though isotretinoin is one of most effective acne therapies, it can come with severe and serious side effects. Because of these side effects, the FDA developed strict conditions under which doctors should prescribe the drug, and these conditions have become ever more rigorous over time as the severity of isotretinoin side effects come to light.

In spite of these guidelines, research regarding the prescription of isotretinoin shows that it is often prescribed to patients that do not meet these strict conditions.

Isotretinoin Is a Highly Effective Acne Treatment
Isotretinoin is highly effective because it acts against all of the major factors involved in the development of acne.1Studies examining the effectiveness of isotretinoin have shown that it works by reducing the secretion of skin oil, called sebum, by up to 90% within six weeks after the onset of treatment.2Following a decrease in sebum, clogged pores and inflammation decrease as well. Although isotretinoin is not an antimicrobial agent, it also significantly reduces the presence of the bacteria associated with acne, by reducing the amount of oil in which the bacteria thrives. Ultimately, it achieves remission in as high as 70-89% of patients.1

Because it is so effective, it can be a prudent choice for people afflicted with severe, widespread, and deeply scarring acne. However, because it is a systemic medication that affects the entire body and can permanently change not only the skin, but other parts of the body as well, and because it causes severe birth defects, it must be approached with the utmost care and caution in males and even more so in females.

The FDA Sets Strict Guidelines for the Prescription of Isotretinoin
While highly effective, isotretinoin has severe side effects that require significant oversight and regulation by medical providers. Currently the FDA is responsible for establishing and implementing guidelines controlling isotretinoin prescription. Physicians can prescribe any drug as they see fit regardless of these official recommendations. The current guidelines state that:
Isotretinoin should only be used to treat severe acne that has not responded to at least one previous six to eight week treatment course of another acne therapy.3-5
Isotretinoin should not be used to treat mild-to-moderate acne.4-5
Isotretinoin should never be prescribed as a first line of therapy.4-5
Isotretinoin should never be offered to children under the age of 12.2,5
Chemical peeling treatments should be avoided during and six months following isotretinoin treatment.5
The beginning dosage of isotretinoin should be 0.5 mg per kg of body weight (0.5 mg per 2.2 pounds).4-5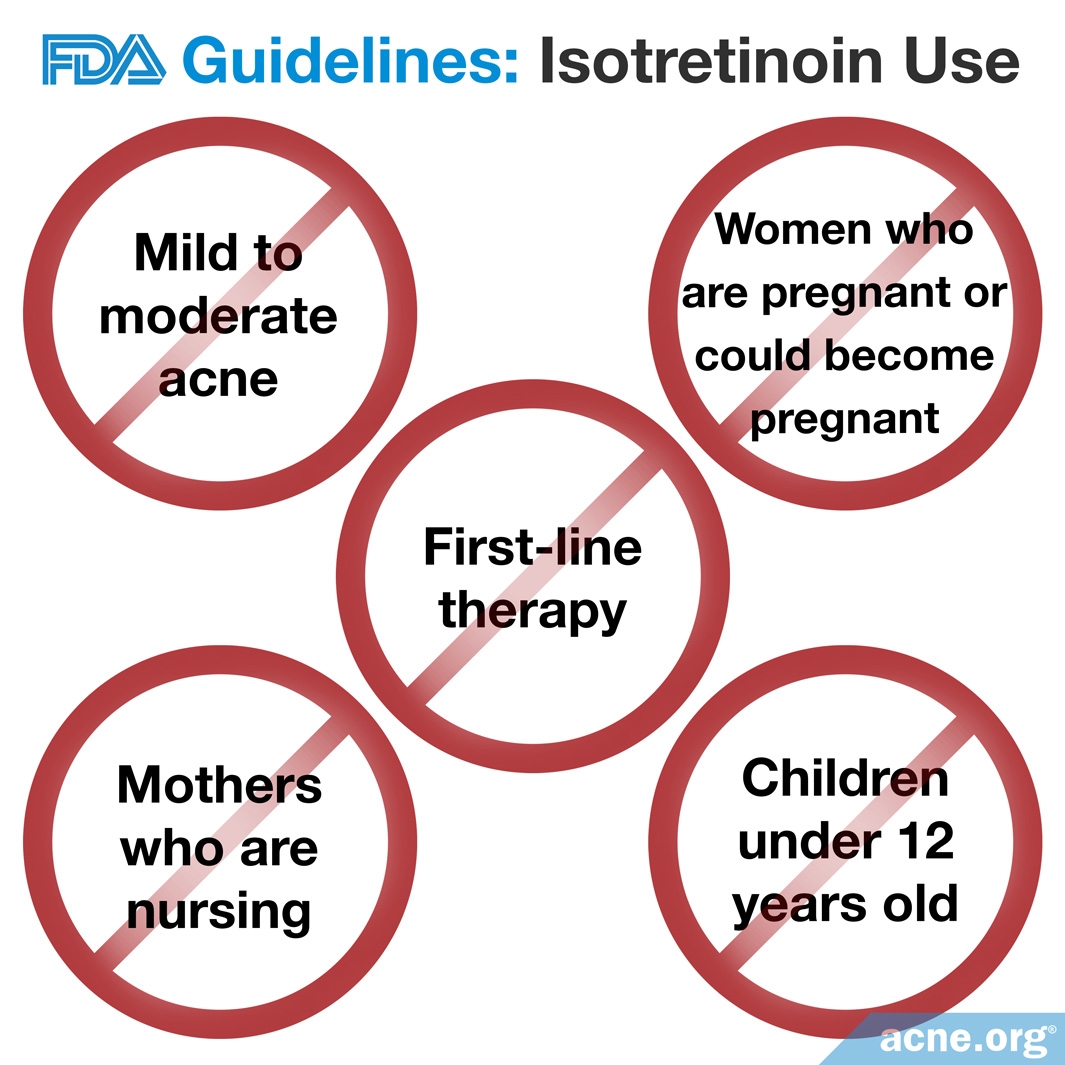 Against Recommendations, Doctors Prescribe Isotretinoin for Mild-to-Moderate Acne
Istoretinoin hit the market in 1982. Despite increased FDA restrictions, prescriptions for isotretinoin have dramatically increased over the past 30+ years.

The last study examining the number of provided prescriptions looked at the years between 1982 and 2000, and found a dramatic uptick in the number of prescriptions written during this period. The researchers noted that this increase was due to more doctors prescribing isotretinoin for mild-to-moderate acne. Isotretinoin prescriptions for severe acne actually decreased during this period.6
Expand to read details of study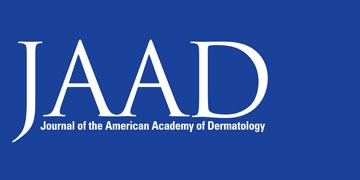 While providers prescribed an average of 800,000 isotretinoin prescriptions per year between 1983 and 1993, by 2000 providers were writing nearly 2 million prescriptions per year, amounting to a 250% increase compared with 1983.6 The researchers attributed this increase with physicians using isotretinoin to treat mild-to-moderate acne, which rose from 31% in 1993 to 49% in 2000. While isotretinoin prescriptions for mild-to-moderate acne increased, the total prescriptions for severe acne decreased from 63% to 46%. Therefore, researchers attributed the 250% increase in total isotretinoin prescriptions to the treatment of mild-to-moderate acne and not for severe acne as the current regulatory guidelines advise.6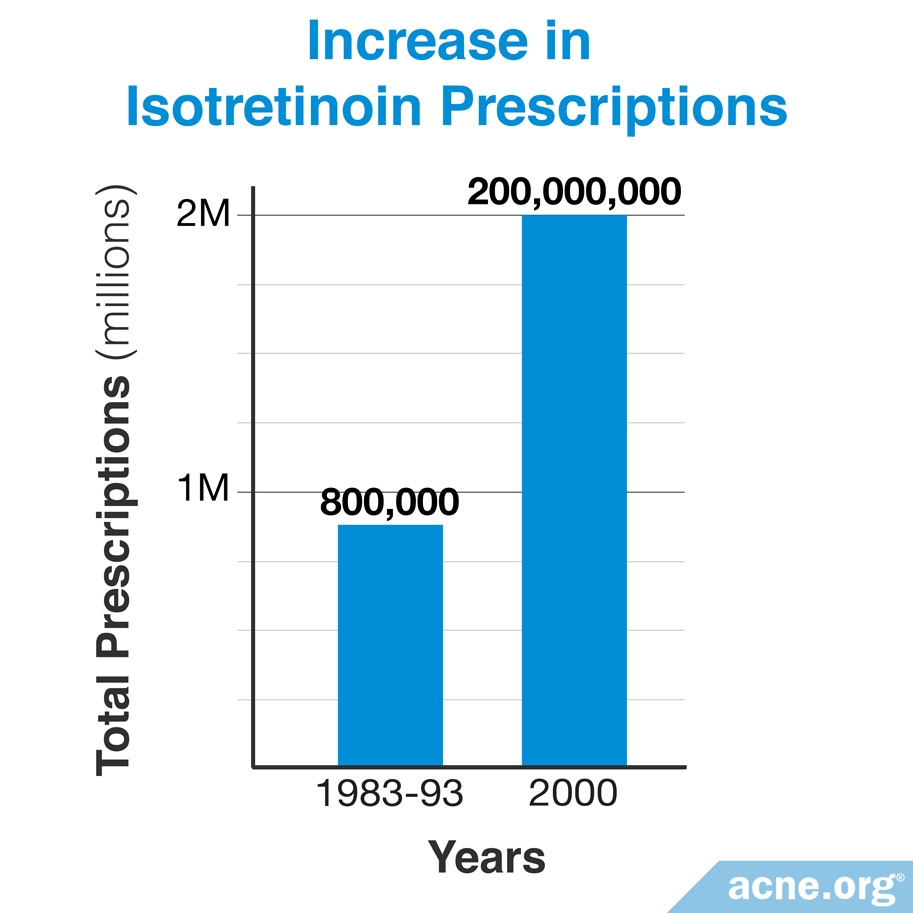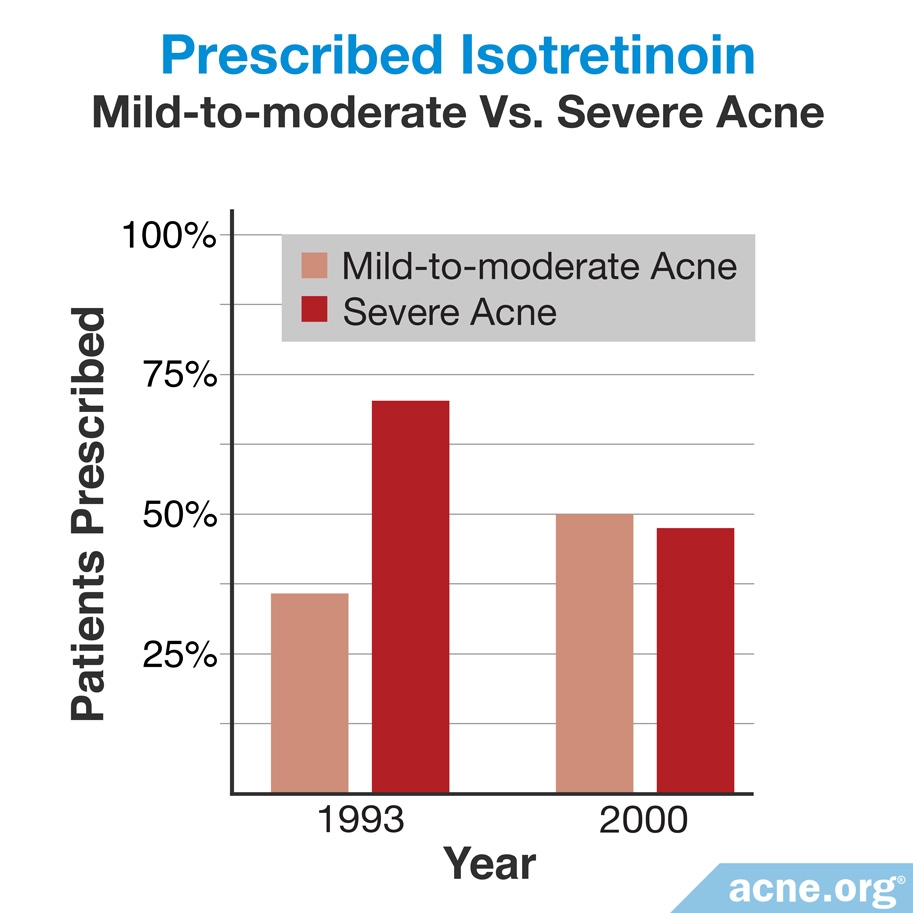 High Relapse Rates
There is further controversy over the increased prescribing of isotretinoin due to its potential for limited long-term effectiveness, especially in people with more severe acne and in males.2The idea of the isotretinoin achieving a cure can be misleading. The relapse rate after a course of isotretinoin therapy can be anywhere between 15-60% depending on the severity of acne, duration of treatment, and dosage provided.7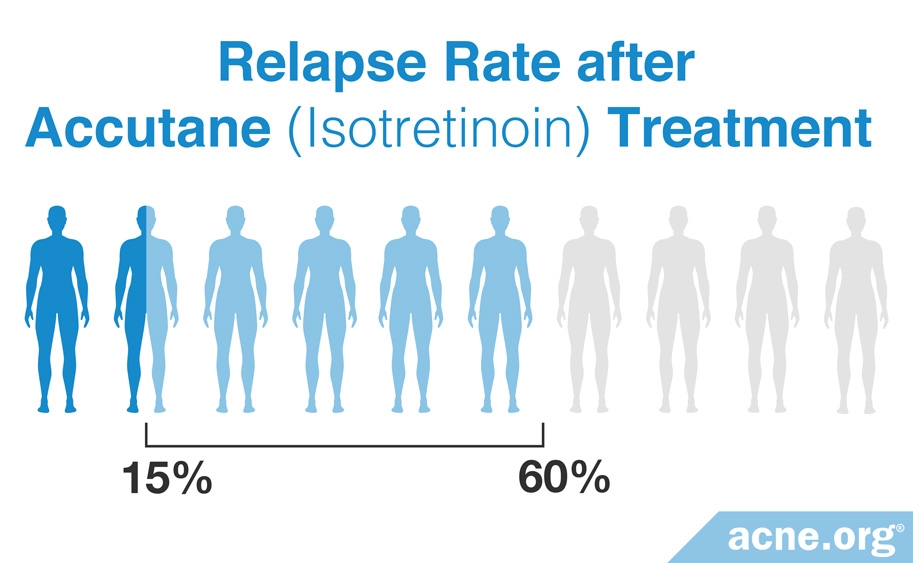 Scientists believe that relapses are underreported and thus the true relapse rate is higher than patients and doctors may believe. For example, some people with severe acne may overlook a few small blemishes following isotretinoin treatment because these spots are considered insignificant and therefore patients do not report this renewed, yet lesser, outbreak as a relapse.2

Doctors Overprescribe Isotretinoin
The current research indicates that isotretinoin, while extremely effective, is overprescribed for the treatment of mild-to-moderate acne. Upon examining the severe side effects and potential for relapse, it becomes clear that doctors should take care in closely following the restrictive guidelines regarding prescription.
In order to receive the best therapy course for your acne type it is crucial to discuss all available treatment options with a medical professional. Finally, it is always important to speak openly with your doctor regarding severity of your acne, risks, side effects, and alternatives when considering a course of isotretinoin therapy.
The Experts at Acne.org
Our team of medical doctors, biology & chemistry PhDs, and acne experts work hand-in-hand with Dan (Acne.org founder) to provide the most complete information on all things acne. If you find any errors in this article, kindly use this Feedback Form and let us know.
References:
Katsambas, A. & Papakonstantinou, A. Acne: systemic treatment.

Clin. Dermatol. 22, 412-418 (2004).
Layton, A. The use of isotretinoin in acne.

Dermatoendocrinol. 1, 162-169 (2009).
Goldsmith, L. A. et al. American Academy of Dermatology Consensus Conference on the safe and optimal use of isotretinoin: summary and recommendations.

J. Am. Acad. Dermatol. 50, 900-906 (2004).
Goh, C. L. et al. South-East Asia study alliance guidelines on the management of acne vulgaris in South-East Asian patients.

J.Dermatol. 42, 945-953 (2015).
Layton, A. M., Dreno, B., Gollnick, H. P. & Zouboulis, C. C. A review of the European Directive for prescribing systemic isotretinoin for acne vulgaris.

J. Eur. Acad. Dermatol. Venereol. 20, 773-776 (2006).
Wysowski, D. K., Swann, J. & Vega, A. Use of isotretinoin (Accutane) in the United States: rapid increase from 1992 through 2000.

Journal of the Am. Acad. Dermatol. 46, 505-509 (2002).
Morales-Cardona, C. & Sánchez-Vanegas, G. Acne relapse rate and predictors of relapse following treatment with oral isotretinoin.

Actas Dermosifiliogr. 104, 61-66 (2013).