What are the side effects of Accutane (isotretinoin)?
Accutane (isotretinoin) is a systemic medication and affects all parts of the body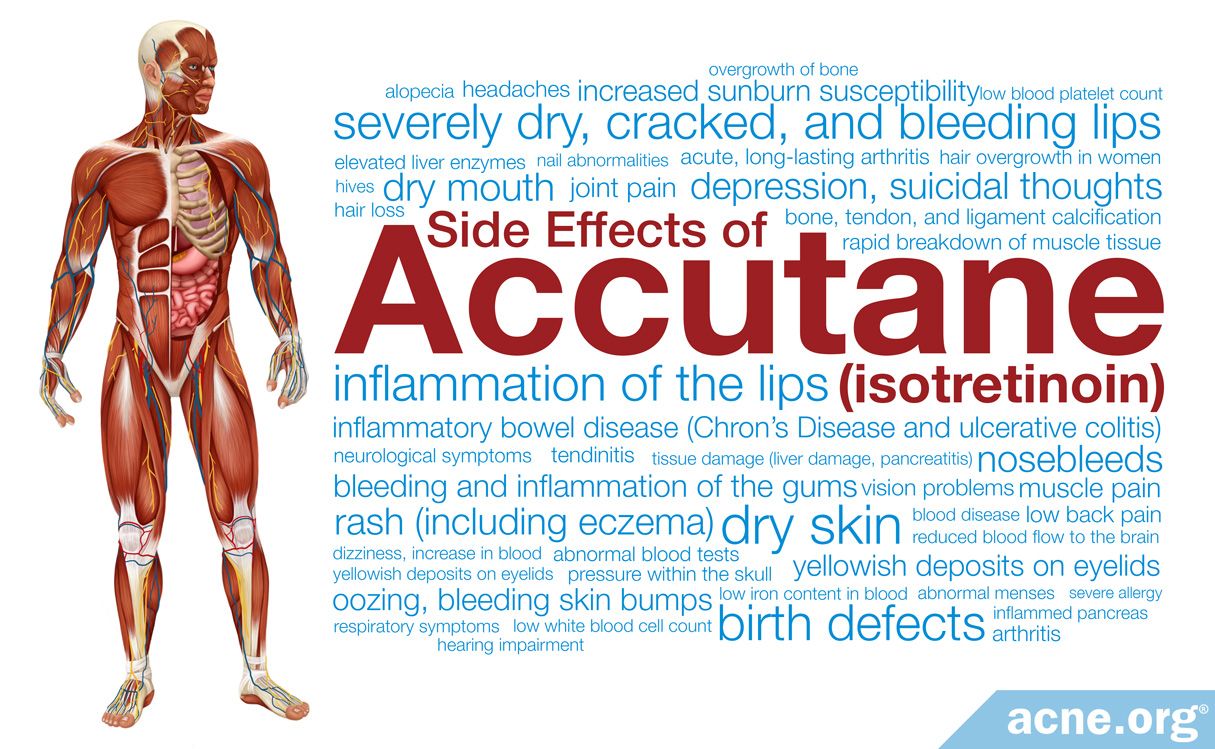 The Essential Information
Isotretinoin, often known by its original brand name, Accutane®, despite being an effective acne treatment, comes with acute and sometimes serious side effects.
Side effects of the skin and mucous membranes, such as severely dry skin/lips and nosebleeds are expected and treatable. Because isotretinoin is an oral medication, it affects the entire body, and some patients may experience more severe side effects elsewhere in the body, such as eye/vision problems, psychiatric symptoms, joint pain, blood imbalances, intestinal disorders, and many others. Unfortunately, some of these side effects can be lifelong.
Most importantly, and most disastrous, is the likelihood of severe birth defects and spontaneous abortion. Isotretinoin is the #1 most birth-defect causing medication on the market. Women must absolutely avoid pregnancy since isotretinoin greatly increases the chance of birth defects.
If your doctor recommends isotretinoin, it is important to review your medical history with your doctor. Unless you are experiencing widespread, severe acne that is scarring, it is best to exhaust all other avenues of treatment before trying isotretinoin.
The Science
Isotretinoin, often known by its original brand name, Accutane, is a vitamin-A derivative that doctors sometimes prescribe to patients with severe acne. It is an oral medication that is normally taken for 15-20 weeks and results in long-term remission of acne symptoms in up to 2/3 of people who take it. While results are impressive, the side effects of isotretinoin are numerous, diverse, and sometimes severe.
IMPORTANT: Isotretinoin causes severe birth defects and should be avoided in women who are pregnant or who may become pregnant.
Dryness of the skin, lips, nose, and inside of the mouth affects nearly all patients using isotretinoin, but these symptoms are treatable. Less common symptoms include eye dryness and irritation, liver problems, intestinal conditions, musculoskeletal disorders, and headaches. Isotretinoin also decreases production of pituitary hormones and increases triglyceride and cholesterol levels in the blood. Finally, isotretinoin's connection with depression and suicide is controversial, and there is no definitive proof connecting isotretinoin psychiatric conditions.
Most researchers conclude that the majority of side effects are reversible in most cases, but research shows us that some side effects can stick around for a lifetime, which is why the decision to take isotretinoin should never be entered into lightly. Let's have a look at the side effects more closely.
Most Common: Side Effects of the Skin, Mucous Membranes, and Eyes
The most common side effects of isotretinoin involve the skin, mucous membranes, and eyes, and affect almost every person who takes isotretinoin.
Side effects of the skin and mucous membranes
Side effects of the skin and mucous membranes (membranes that line body cavities and secrete mucous) are common in patients treated with isotretinoin. The most common symptoms are itchiness and dry skin.1
Expand to read details of studies
Side effects of the eyes
Side effects related to eye irritation may also include intolerance to contact lenses, increased S. aureus bacteria infections, and light sensitivity.3 Rare side effects include night vision disorders and corneal opacity (scarring or clouding of the cornea, the eye's outermost layer).1
Expand to read details of studies
Less Common, but Still Expected: Side Effects of the Skull/Head, Musculoskeletal System, Liver, Blood/Hormones, and Intestines
Other side effects of isotretinoin include headaches, musculoskeletal disorders like joint pain, liver problems, and potentially intestinal conditions.1
Expand to read details of studies
| Blood Component | Findings |
| --- | --- |
| Triglyceride (fat/lipid) levels | In a review published in the Journal of the American Academy of Dermatology, Tripathi et al. reported research that demonstrated increased triglyceride levels in 60 patients. Triglyceride levels peaked at 4 weeks of therapy in men and at 12 weeks of therapy in women. 17% of patients showed abnormally high levels of triglyceride in the blood after 20 weeks of isotretinoin treatment.3 |
| Blood cell counts | Isotretinoin increases platelets and hemoglobin below in this section we only talk about lowered red blood cells and decreases red blood cells. In Scientific World Journal, Ataseven et al. published a study of 112 patients - 28 males and 84 females - whose blood cell counts were recorded before isotretinoin treatment and in the third month of isotretinoin treatment. Ataseven et al. recorded an increase in platelet density and a significant decrease in red blood cell count at three months of treatment, but no meaningful changes were observed for white blood cell (cells of the immune system).7 |
| Cholesterol | In the Journal of the American Academy of Dermatology, McLane reported that isotretinoin increases cholesterol by an average of 14% but these values remain within normal levels.2 |
Controversial: Psychiatric Side Effects
Some psychiatrists have reported a connection between isotretinoin and psychiatric conditions such as depression, suicidal ideation, and suicide.1 However, scientists have found no conclusive proof that isotretinoin causes these conditions, so this issue remains controversial.
Dermatologists argue that acne itself causes depression, pointing out that isotretinoin can have a positive effect on mood because it clears up acne and improves self-image.8,9
Expand to read details of studies
However, psychiatrists suggest a causal relationship between isotretinoin and depression. Psychiatrists argue that dermatologists are unable to identify these conditions correctly. While the evidence that isotretinoin causes adverse psychiatric orders is not definitive, dermatologists are advised to check their patients' medical histories and check their patients' mental well being at each visit.1,9
Concerning: Long-term Side Effects
The long-term effects of isotretinoin therapy are not well studied. In fact, we have only one study which looks at long-term side effects.
Expand to read details of study
Anecdotal evidence suggests that many people who take isotretinoin tend to use lip balm for decades after taking isotretinoin. Isotretinoin reduces skin oil production long term. What role this plays long term in the health of the skin and in skin aging remains to be studied.
What to Keep an Eye on While Taking Isotretinoin
Doctors should check patients for changes blood parameters, such as blood cell and triglyceride counts, as well as changes in mood and vision while taking isotretinoin.3,8 Some researchers argue that monthly monitoring of blood parameters is not necessary, suggesting that doctors may check blood parameters every two months to reduce costs.9
Some skin, mucous membrane, and eye side effects are manageable with complementary therapies such as skin lotions, sunscreen, petroleum jelly, and similar products. Some eye problems can be decreased by avoiding contact lenses and by eye washing. Visions problems, with the most notable being a rapid decrease in night vision, may require discontinuing isotretinoin therapy.2
Drug Interactions
Isotretinoin can interact with some drugs, and patients taking phenytoin, tetracyclines, vitamin A, low-estrogen oral contraceptives, and oral corticosteroids should not take isotretinoin.1
Who Should Not Take Isotretinoin
Women cannot take isotretinoin during pregnancy or when there is any possibility whatsoever that they may become pregnant because it greatly increases the risk of birth defects.1 Isotretinoin is the most teratogenic (causes birth defects) medication on the market. Birth defects include malformations of the brain, skull, face, and heart, as well as miscarriage and death.3 Therefore, the FDA and EU have created programs to prevent pregnancy in patients taking isotretinoin. These programs require using two effective birth control methods from one month before isotretinoin treatment to five weeks after treatment, preferably including oral contraceptives.2,8,11 These programs also test for pregnancy before, during, and after treatment.1 In the United States, iPLEDGE is the pregnancy risk management program for isotretinoin administration. Prescribers and patients can access the iPLEDGE registry at www.ipledgeprogram.com.1
Additionally, patients with liver problems, kidney problems, diabetes, high blood lipids, or alcoholism should not take isotretinoin.1