Neck Acne
Information and Treatment for Neck Acne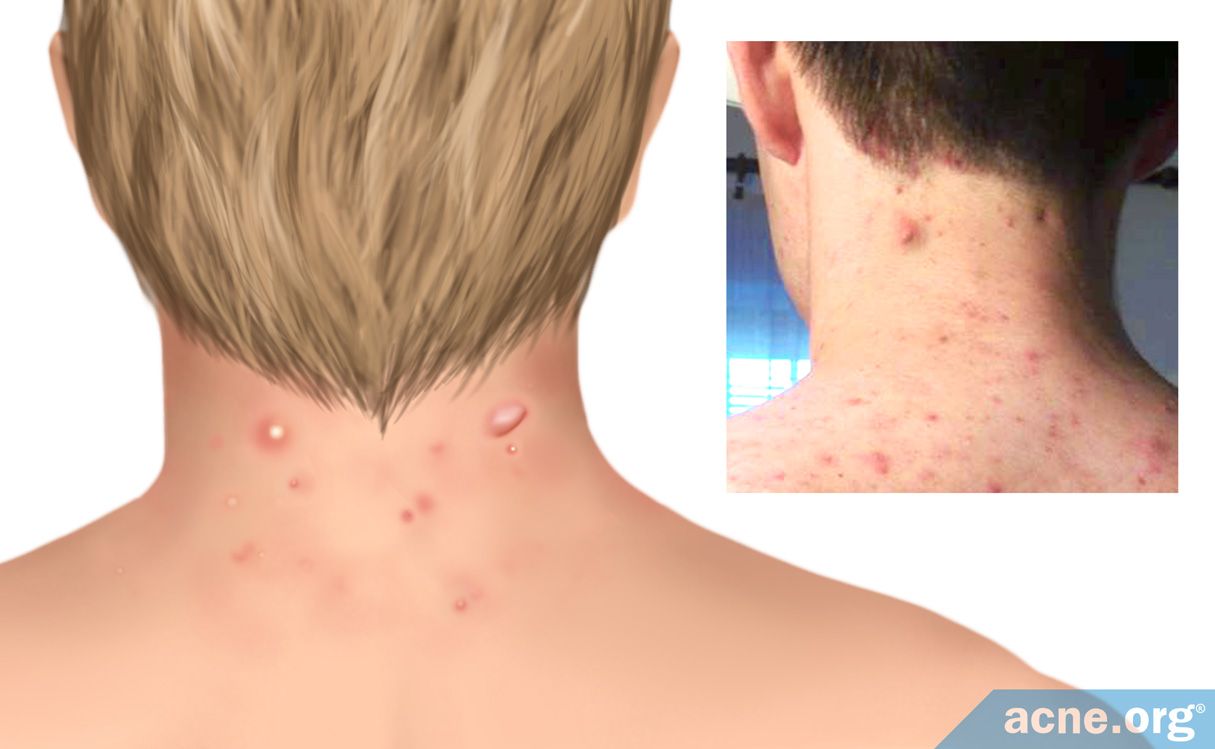 The Essential Information
Acne on the front of the neck is very similar to facial acne, both occurring on very sensitive areas of the skin, and it is treated similarly. However, skin on the back of the neck is thicker than facial skin, and has larger pores and skin oil glands, making it capable of producing larger and more severe acne lesions. For purposes of this article, acne on the back of the neck is what we refer to when we say, "neck acne."
Neck acne can be found in both males and females, but occurs more frequently in males. Like body acne, physically irritating the skin can aggravate neck acne, so steps should be taken when possible to avoid irritating the skin of the neck, such as limiting stiff collars and ties when possible. Treatment for neck acne is similar to treatment for body acne since the skin on the back of the neck is similar to the skin on the back and chest.
The Science
Acne on the back of the neck is more similar to body acne than it is to facial acne and presents unique challenges. Neck acne lesions can be painful and can have an abrupt onset and long lifespan.
This is not to be confused with the skin of the front of the neck, which is extremely sensitive and should be treated in the same way as facial skin.
Much like the body, the skin on the back of the neck is much thicker than the face and can produce lots of oil.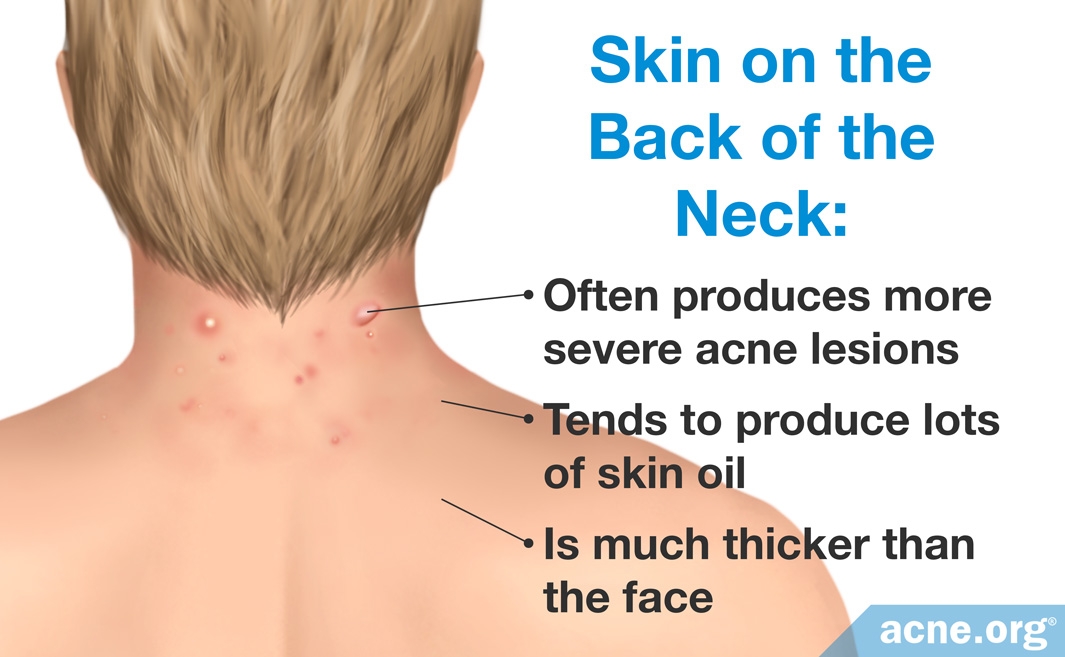 Because of this, the skin on the back of the neck can often produce more severe lesions such as cysts and nodules, or large whiteheads. Neck acne tends to be more prevalent in boys and men, but girls and women can experience it as well.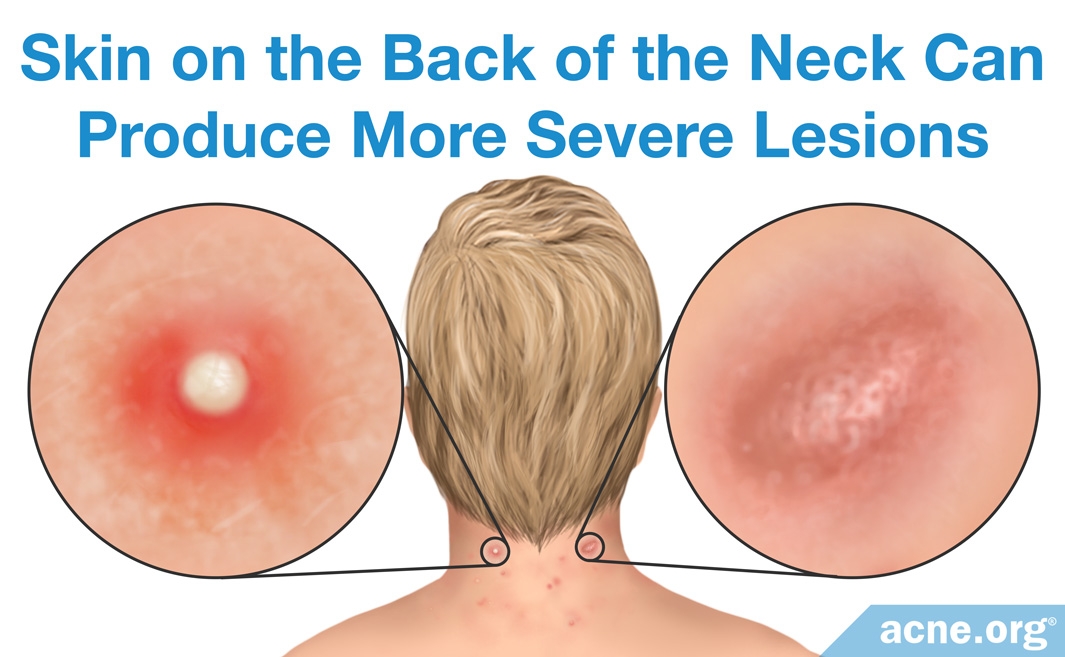 Neck acne is caused by the same mechanisms that cause facial and body acne.1-17 Pores become clogged due to a build-up of cells which stick together and cause a plug. Then bacteria and skin oil, which would normally drain to the surface, get caught inside, causing redness and pus to develop.
Avoiding Irritation
Irritation can aggravate neck acne. Collared shirts that rub on the skin of the neck can make acne worse. This often creates a vicious cycle. Neck acne develops, and the sufferer will wear collared shirts to cover it. The collared shirts then cause irritation and aggravate acne, and so on.
Try wearing crew neck shirts or shirts without collars.
If you must wear collared shirts, as most of us must from time to time, try wearing soft cotton shirts which will be less harsh when rubbing against the skin.
Do not pick the area.
Try to stay aware of anything that might irritate the back of your neck and take action to stop the irritation if possible.
Become aware of other sources of irritation.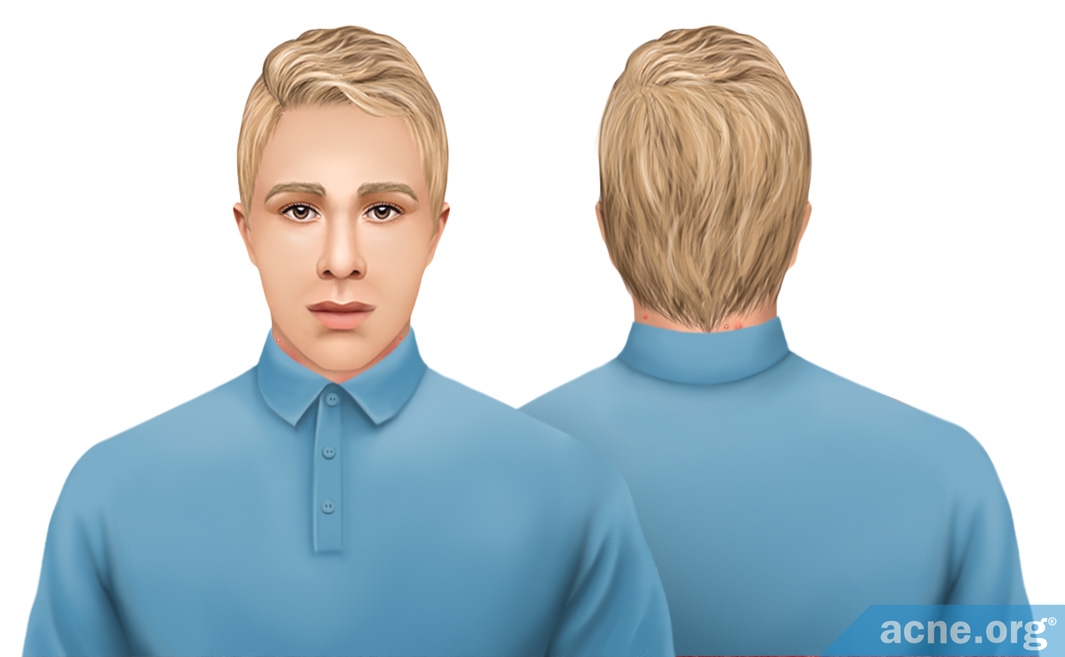 Don't worry too much. Our bodies are constantly in contact with various things and it is impossible to avoid irritation altogether. There is no need to obsess about avoiding irritation on the neck. Rather, simply be aware of small changes you might be able to make and leave it at that. The Neck Regimen should clear you up nicely and does not require you to avoid irritation altogether.
Treating Neck Acne
Treatment for neck acne is similar to treatment for body acne.18-22
The Neck Regimen. The most effective topical treatment is The Neck Regimen, which uses the combination of 2.5% benzoyl peroxide and 10% glycolic acid. This powerful combination can clear up even tough to treat cases of neck acne. However, the process of The Neck Regimen is just as important as the products. It must be followed precisely to be effective.
Accutane (isotretinoin). For severe, widespread, and potentially scarring acne, Accutane (isotretinoin) is an option. Isotretinoin is a systemic oral treatment which is taken for 15-20 weeks and produces long-term remission of acne symptoms in about 2/3 of people, but comes with a large range of side effects including causing severe birth defects, and must be administered in close partnership with your physician.21-22
Ongoing treatment. Treatment must continue until your body outgrows the disease, which the majority of people do for the most degree after adolescence.16-17 Aside from Accutane (isotretinoin), there is no other oral or topical treatment for acne which produces long lasting remission of acne symptoms.18 However, ongoing treatment can get the skin completely clear and keep it that way for years if need be.
† Women of Asian heritage and men and women of African heritage can respond to some antibiotics differently - if you fit into any of these categories, check with your physician if you decide to take antibiotics for your acne.23-24