Treating Acne in Asian Skin

The Essential Info
As with all ethnicities, acne among people of Asian descent is very common.
The limited research that has been performed points toward a possibility that both Asian teens and adults may experience less acne when compared to other ethnicities.
As with all non-Caucasian ethnicities, Asian skin is more prone to hyperpigmentation (dark/red marks left behind after acne lesions heal) and raised/keloid scarring.
Treatment is similar no matter what ethnicity.

The Science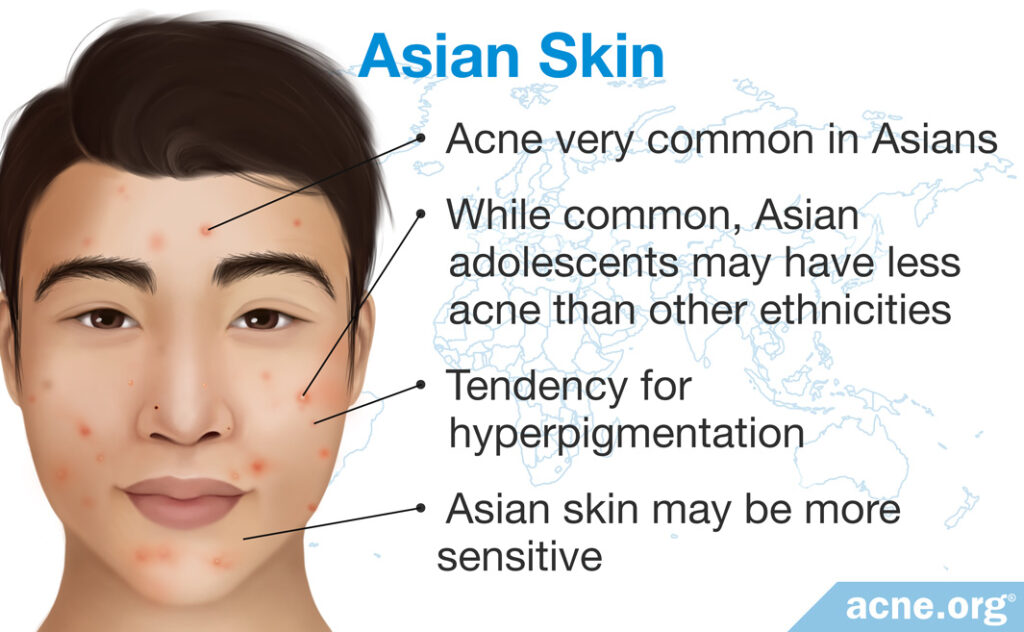 Overview
Although acne is a common issue among Asian people, the limited data that researchers have produced shows us that people of Asian descent may suffer with acne slightly less than people of other ethnicities, as can be seen in the following graph.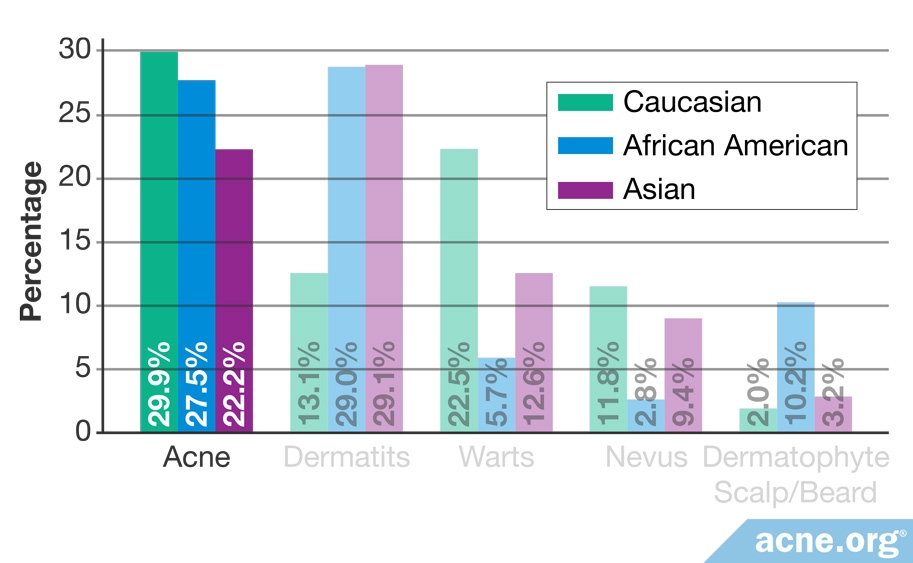 When we delve deeper into the studies, however, we can see that it may depend somewhat on the type of acne.1-4
Expand to read details of studies

According to an article in the British Journal of Dermatology, "There are very few studies on the prevalence of acne vulgaris among Asian teenagers."1 However, there is some evidence that Asian children and adolescents may suffer with acne less than other ethnicities.2-3

A study published in 2012 in the journal Pediatric Dermatology examined 31,153 children and adolescents up to 17 years of age in the United States and showed that Asian children and adolescents had less acne than their Caucasian or African American counterparts.3

Another study, published in 2011 in the Journal of the European Academy of Dermatology and Venereology, examined 2,895 women of various ethnicities in the United States. Overall incidence of acne in Asian women was slightly lower compared to African American or Hispanic women, but slightly higher compared to Caucasians and Indians. When the researchers separated out types of acne, Asian women had the lowest amount of "comedonal" acne, which refers to non-inflammatory blackheads and whiteheads, than any other ethnicity. However, they had the highest amount of inflammatory acne, which refers to red pimples, sometimes with a white or yellow center. Asian women had more of a milder form of acne, called physiologic acne, than Indian women, but less physiologic acne than other ethnicities.4
What Is Different about Asian skin?
Less severe lesions: In addition to perhaps suffering a bit less with acne, people with Asian skin also may be less prone to develop severe lesions.5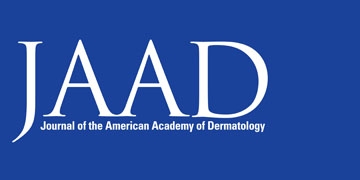 A study published in the Journal of the American Academy of Dermatology (see table below) in 2002 reported that Asian people had the least incidence of cystic lesions, the most severe type of acne lesion. The cohort of Asian people was small, however, so this report should be viewed as preliminary.5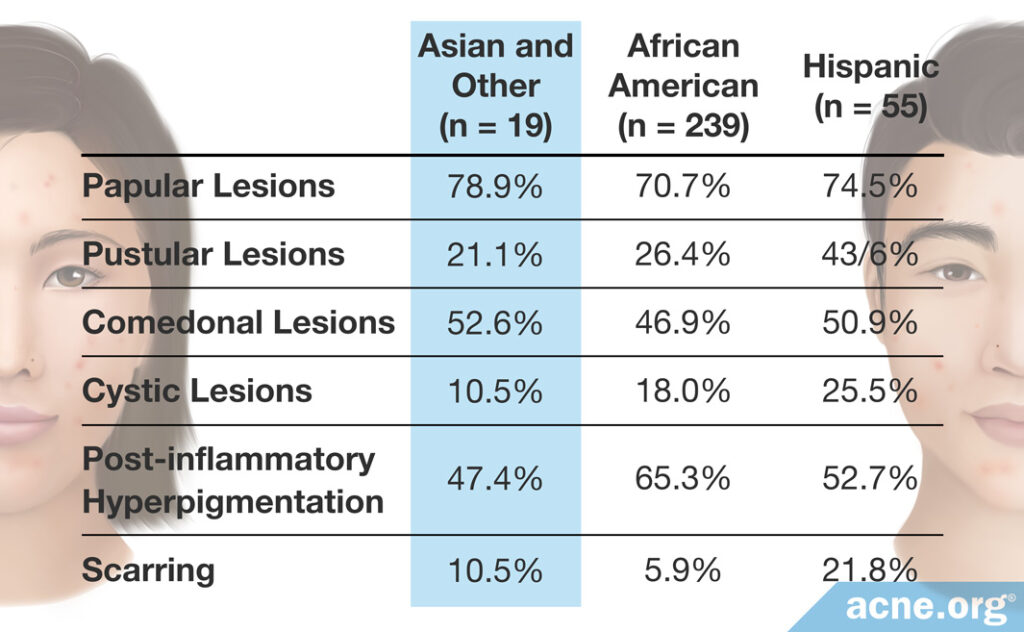 Hyperpigmentation: Like any non-Caucasian ethnicity, people of Asian descent tend to have a bigger issue with marks left behind after acne lesions heal.6-9 These marks, scientifically referred to as post-inflammatory hyperpigmentation, can be stubborn and challenging to treat. See the hyperpigmentation page for more on these marks and treatment options.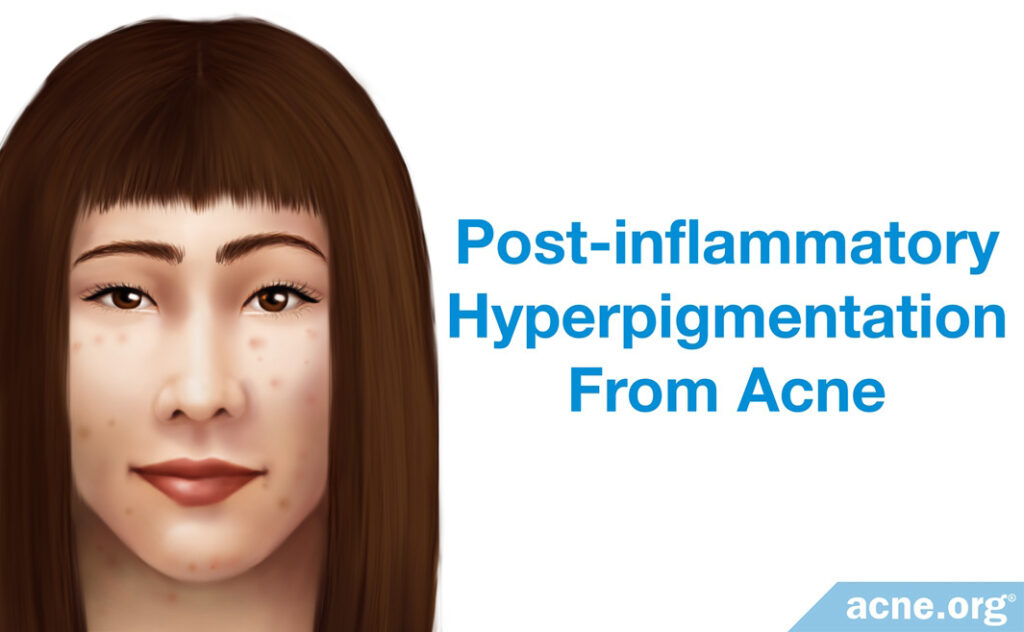 Raised (keloid) scarring: People with Asian skin have a somewhat higher incidence of raised (keloid) scarring from acne, particularly on the body, which are also notoriously difficult to treat once they arise. This is why it is so important for Asian people to treat and prevent body acne.
Different response to hormonal treatment: Asians may respond differently to hormone therapy, but again, research is limited in this area.10
More sensitive skin: Asian skin is thought to be thinner than other skin types, making it more sensitive.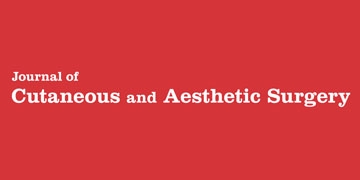 According to an article published in 2016 in the Journal of Cutaneous and Aesthetic Surgery: "It is generally believed that the Asian skin is more prone to irritation to certain topical agents compared to other skin types, most notably, Caucasian skin."10
How to Treat Acne in Asian Skin
Acne develops in the same way regardless of skin color, and acne is treated in the same way in people of every ethnicity.
Topical medications can treat most cases
Topical medications can effectively help clear most cases of acne, particularly with a properly applied benzoyl peroxide regimen.
One study published in the Journal of Dermatology in 2017 looked at whether benzoyl peroxide works equally well in Asian and Caucasian patients with acne. The researchers compared the results of multiple Japanese and Western studies that had tested benzoyl peroxide on acne patients. They found that benzoyl peroxide was equally effective in Asian (Japanese) and Caucasian (Western) patients. The only difference was that Asian patients were somewhat more likely to experience mild skin irritation from using benzoyl peroxide.11 So if you do try benzoyl peroxide, just make sure to start with a pea-size amount of benzoyl peroxide once per day for the first week, and then move to twice per day and slowly ramp up your dosage as your skin can tolerate it.
Oral isotretinoin is available for very severe cases
Doctors sometimes prescribe the oral medication Accutane (isotretinoin) to people with severe, widespread, and scarring acne as well.12-15 Because of the severe side effects of isotretinoin, including birth defects that isotretinoin can cause, authorities in Japan have banned its use in that country.
Dermatologists agree that treating acne in Asian skin does not require unique treatment
Treatment for acne is the same regardless of ethnicity. In 2014, a group of leading dermatology experts from six Asian countries (SASA) assessed the differences between Asian and Caucasian skin and formulated guidelines for treating acne specific for Asian skin. The guidelines for Asian skin bear a striking resemblance to those for any other ethnicity, with the possible exception noted that due to cultural norms, oral contraceptives may not be as acceptable to people of Asian descent.16