Alpha Hydroxy Acid
What It Is: Glycolic acid and lactic acid are the most common alpha hydroxy acids used in skin care formulations, in creams and gels in 10% or lower strength.

What It Does: Alpha hydroxy acids chemically exfoliate the surface of the skin, improving skin texture and tone by removing dead skin cells on the skin's surface. This signals the skin to increase cell turnover, which can help existing acne lesions heal faster and can help pores from becoming clogged moving forward.1-4The exfoliation produced by alpha hydroxy acids also helps alleviate dry, flaky skin.
Considerations: Chemical peels in percentages higher than 10% must be administered professionally.
Mild side effects may include stinging and redness.
Because alpha hydroxy acid removes the surface layers of skin cells, the skin can become more susceptible to sunburn in the days following use.5Be certain to protect your skin with an effective sunscreen when using alpha hydroxy acid containing products and for a week afterward.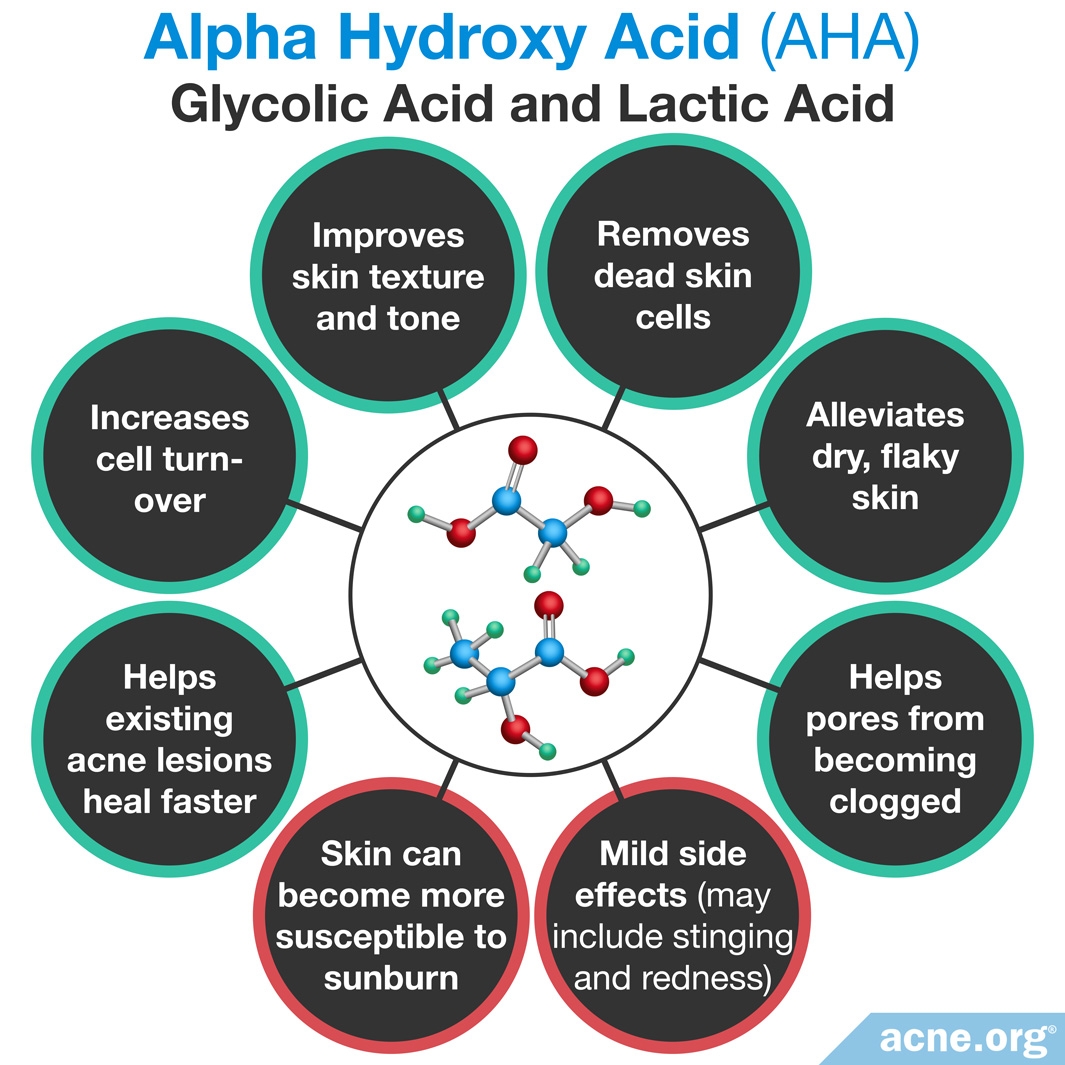 Benzoyl Peroxide
What It Is: The FDA allows benzoyl peroxide to be sold by prescription or over-the-counter, in amounts up to 10%, in cream, gel, and wash form. It is an anti-bacterial agent6-9(learn more from the U.S. National Library of Medicine).

What It Does: Benzoyl peroxide penetrates the skin where it kills P. Acnes (acne bacteria).10Also, there is a mild drying and peeling effect which is thought to help prevent breakouts.6-9Benzoyl peroxide also helps lessen inflammation.11-132.5% benzoyl peroxide is just as effective as higher concentrations with less side effects.10,14
Considerations: Some dryness, redness, and itchiness is to be expected, especially in the first few weeks of use.10
About 1-3% of people are allergic to benzoyl peroxide and experience an inflammation of the skin or severe crusting.15
Benzoyl peroxide can bleach hair and fabric.6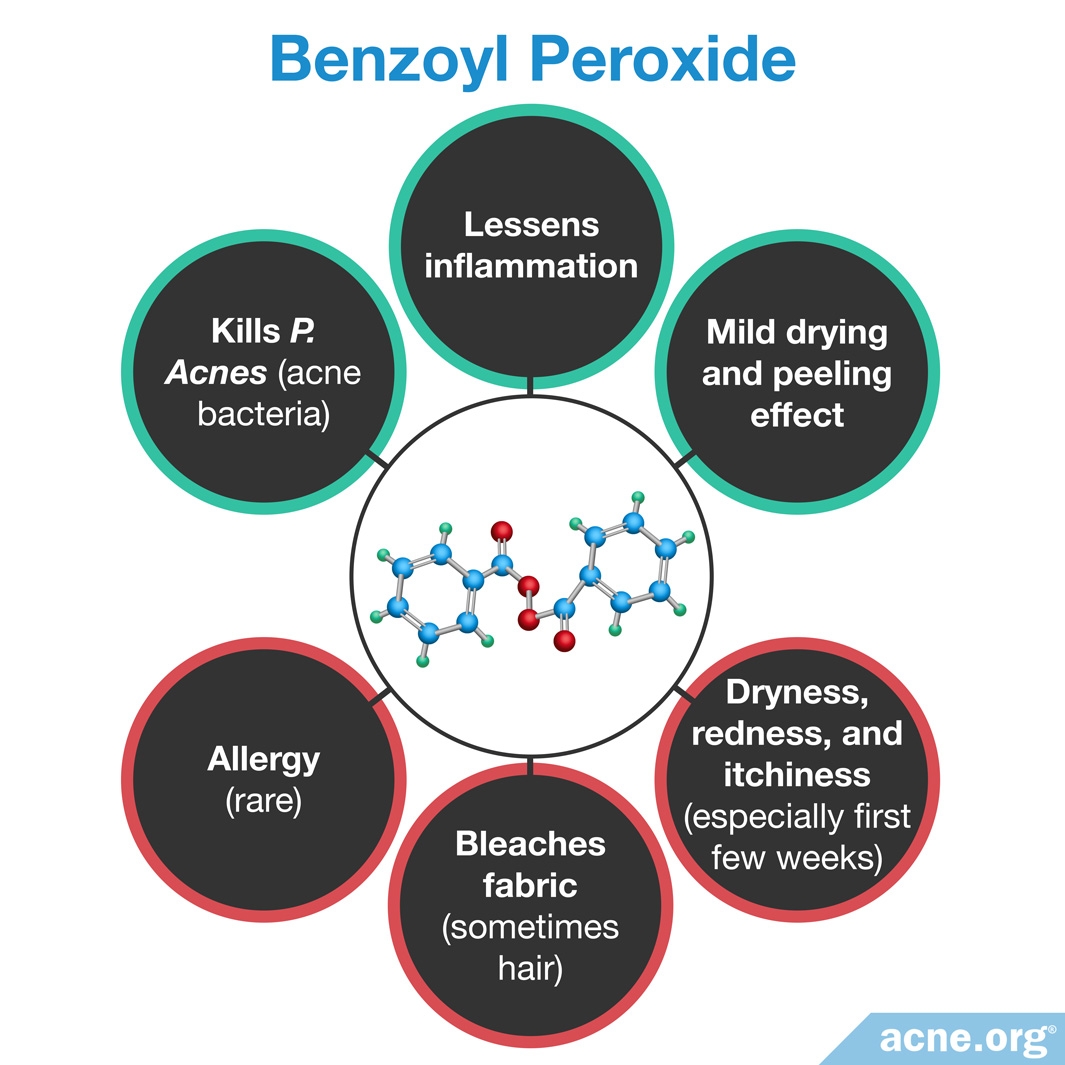 Resorcinol
What It Is: Resorcinol is used to treat acne, but also eczema and psoriasis among other skin conditions. It is sometimes combined with other acne medications, usually sulfur, and rarely stands alone16(learn more from Wikipedia).

What It Does: Resorcinol helps break down hard, rough skin, which means it is good at breaking down existing blackheads and whiteheads.16-17
Considerations: Because it is already potentially irritating, sometimes causing redness or peeling of the skin, it is good to avoid other irritating soaps and cleansers, astringents or alcohol products, and also other medications.16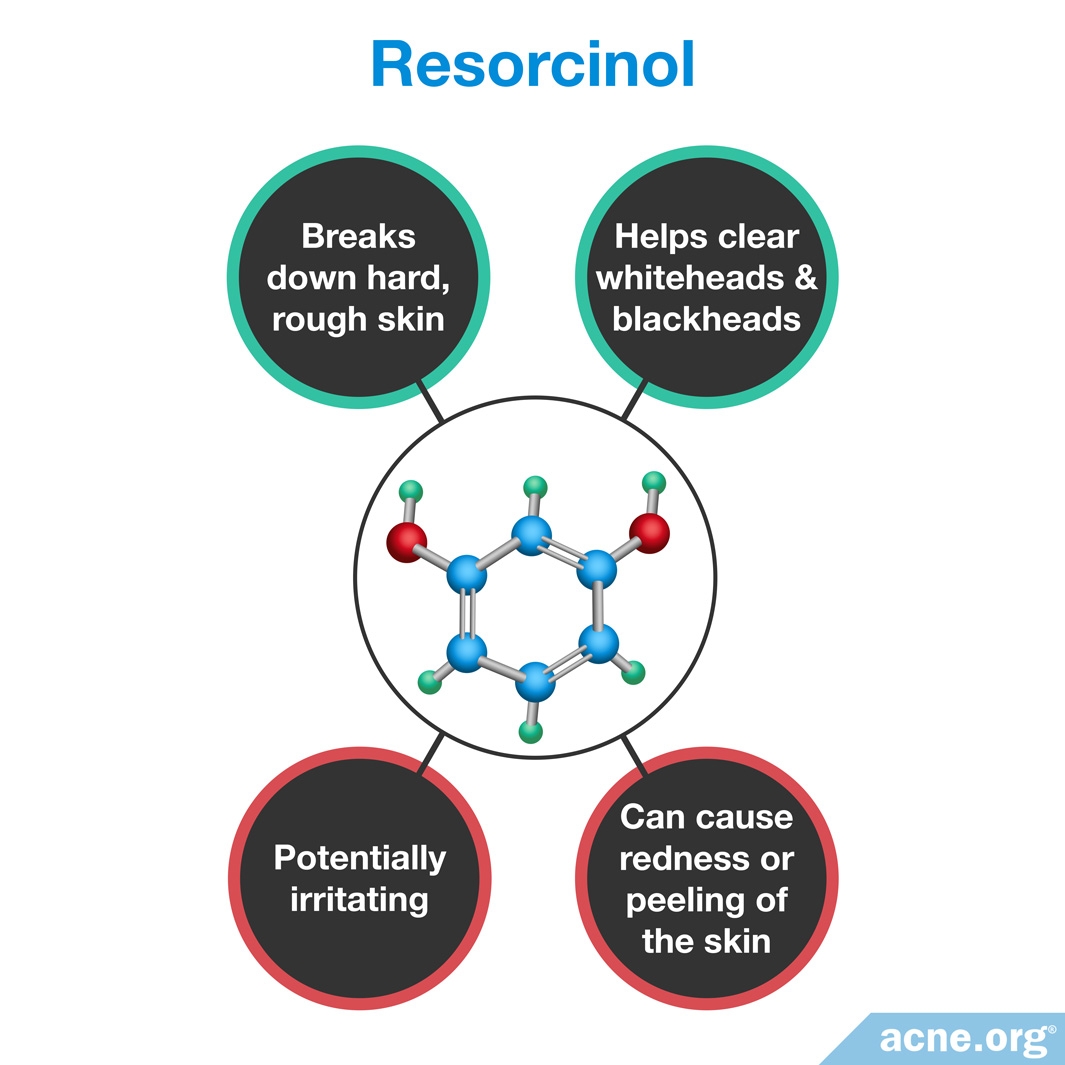 Salicylic Acid
What It Is: Salicylic acid is an ingredient used in many over-the-counter acne medications at concentrations up to 2%.18It is often sold with pads as applicators (such as Stri-dex ® pads). It is also used to treat other skin disorders including dandruff, psoriasis, calluses, corns, warts, and more19-21(learn more from the U.S. National Library of Medicine).

What It Does: Acne is formed when skin cells inside hair follicles shed too fast and clump together, plugging up the follicle and causing a pimple. Salicylic acid helps slow down shedding of the cells inside the follicles, which may help prevent clogging. Salicylic acid also helps break down blackheads and whiteheads.20-21
Considerations: Certain salicylic acid containing products may be irritating when used with other over-the-counter medications.20
Results are moderate at best.
People often report a mild stinging when applying the product.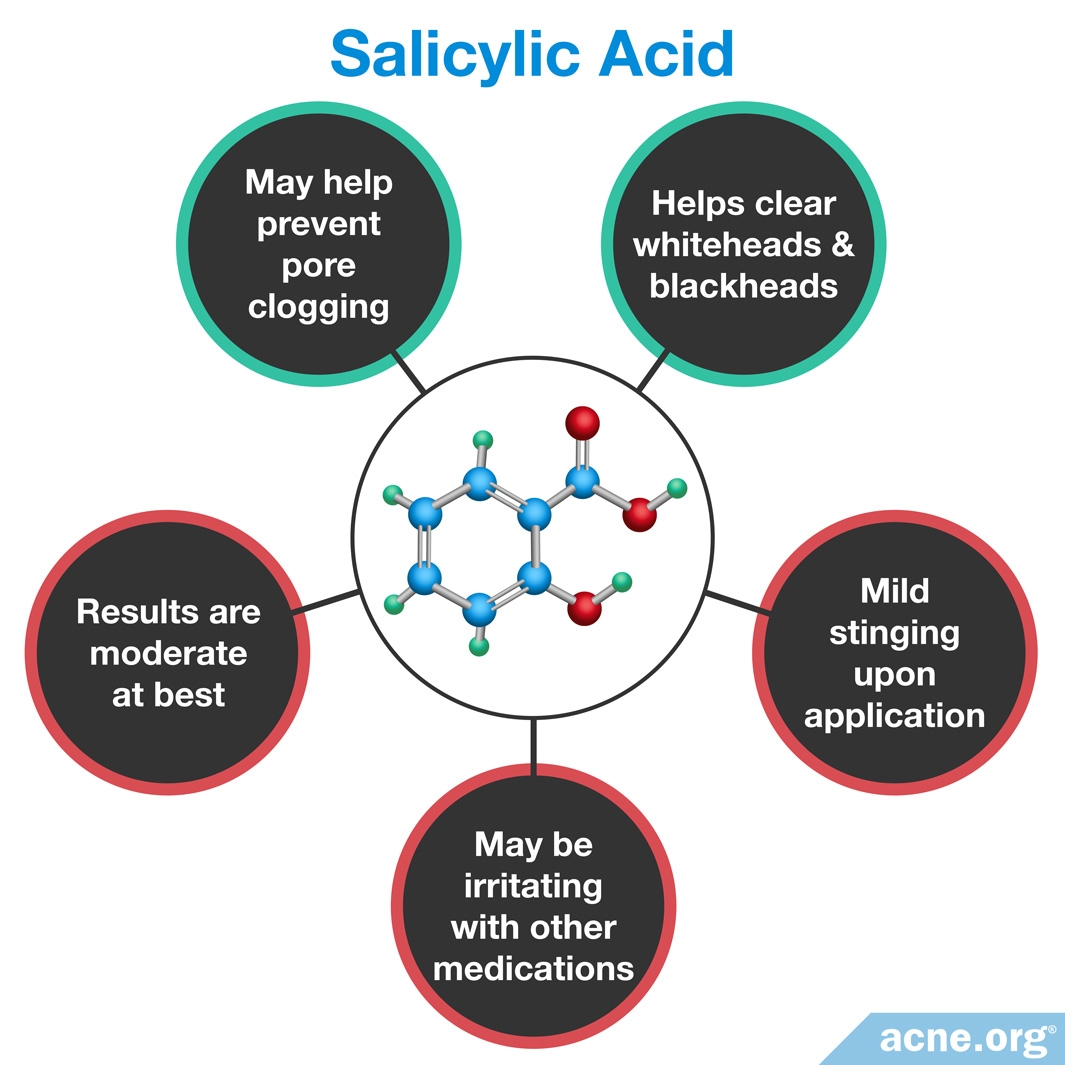 Sulfur
What It Is: Sulfur has been used to treat acne for thousands of years for its peeling and drying actions and is found in various washes, soaps, and creams. Because it has a disagreeable odor and can temporarily discolor the skin, it is often combined with other medications such as benzoyl peroxide or sodium sulfacetamide to reduce these unpleasant characteristics22-23(learn more from Wikipedia).

What It Does: Sulfur provides peeling and drying of the skin. Although it is effective at breaking down existing blackheads and whiteheads, it may also promote the development of new ones by increasing cell adhesion. It is also bacteriostatic which means while it does not kill acne bacteria, it can limit the growth of acne bacteria.22-25
Considerations: It smells bad. It may also temporarily discolor skin.
Side effects include peeling and redness and occasional fissures around the mouth, but overall sulfur is well tolerated.26
Allergy to sulfur itself is extremely rare, but sulfur is often combined with sodium sulfacetamide, and allergy to sodium sulfacetamide is much more common, affecting around 3% of people. Medications that combine sulfur and sodium sulfacetamide should not be used by people with allergies to sulfa drugs.27-29
The FDA has listed sulfur as a pregnancy Category C drug, which means it has shown adverse effects on the fetus in animal studies but there are no adequate and controlled studies on humans. Therefore it is advised that women planning to become pregnant, pregnant, or lactating speak with their physician before using sulfur.30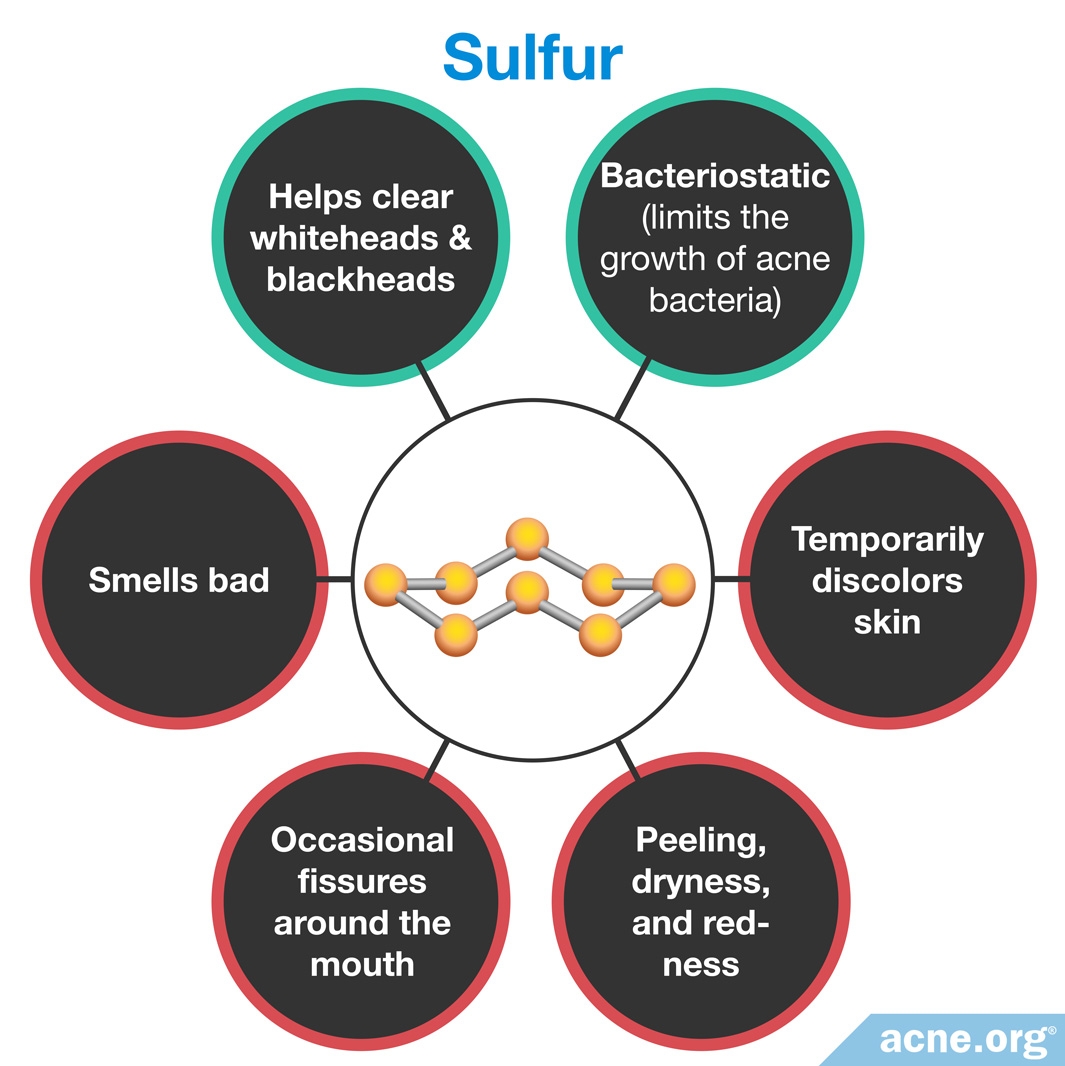 How to Wash Your Face
Whatever medication you decide to use, it is important to properly wash your skin before treating.
Wash your face only twice per day, morning and evening. Excess washing can cause irritation.
Use only your bare hands to wash, and wash for 10 seconds or less. Washcloths and hand-held cleansing devices are unnecessarily irritating. Consider the act of washing as simply prepping your skin for medication, nothing more. Washing itself does not clear breakouts since dirt does not cause acne, so there is absolutely no need to scrub.
Pat dry. Do not rub dry. Rubbing the skin is irritating, and excess irritation can perpetuate the acne cycle. Gently pat dry.

The Experts at Acne.org
Our team of medical doctors, biology & chemistry PhDs, and acne experts work hand-in-hand with Dan (Acne.org founder) to provide the most complete information on all things acne. If you find any errors in this article, kindly use this Feedback Form and let us know.
References:
Kempiak, S. & Uebelhoer N. Superficial chemical peels and microdermabrasion for acne vulgaris. Semin. Cutan. Med. Surg. 27, 212-220 (2008).
Aztori, L., Burundu, M. A., Orru, A. & Biggio, P. Glycolic acid peels in the treatment of acne. J. Eur. Acad. Dermatol. Venereol. 12, 119-122 (1999).
Kessler E, Flanagan, K., Chia, C., Rogers, C. & Glaser, D. A. Comparison of α- and β-hydroxy acid chemical peels in the treatment of mild to moderately severe facial acne vulgaris. Dermatol. Surg. 34, 45-50 (2008).
Ilknur T, Demirtaşoğlu, M., Biçak, M. U. & Ozkan S. Glycolic acid peels versus amino fruit acid peels for acne. J. Cosmet. Laser Ther. 12, 242-245 (2010).
Kurtzweil, P. Alpha hydroxy acids for skin care. FDA Consumer (1998).
Benzoyl Peroxide. MedlinePlus. 2010. American Society of Health-System Pharmacists, Inc. 2011.
Odom, R. B., William, D. J. & Berger, T. G. Andrew's Diseases of the Skin (Philadelphia: W.B. Saunders Company, 2000).
Ives T. Benzoyl Peroxide. American Pharmacy 32, 33-38 (1992).
Weinberg, J. The Utility of Benzoyl Peroxide in Hydrophase Base (Brevoxyl) in the Treatment of Acne Vulgaris. J. Drugs Dermatol. 5, 344-349 (2006).
Sagransky, M., Yentzer, B. & Feldman, S. Benzoyl peroxide: a review of its current use in the treatment of acne vulgaris. Exp. Opin. Pharmacother. 10, 2555-2562 (2009).
Dutil, M. Benzoyl peroxide: enhancing antibiotic efficacy in acne management. Skin Therapy Lett

.

15

, 5-7 (2010).

Harper, J. Benzoyl peroxide development, pharmacology, formulation and clinical uses in topical fixed combinations. J. Drugs Dermatol. 8, 482-487 (2010).
Tanghetti, E. & Popp, K. A current review of topical benzoyl peroxide: New prospectives on formulation and utilization. Dermatol. Clin. 27, 17-24 (2009).
Fakhouri, T., Yentzer, B. & Feldman S. Advancement in benzoyl peroxide-based acne treatment: Methods to increase both efficacy and tolerability. J. Drugs Dermatol. 8, 657-661 (2009).
Lindemayr, H. & Drobil M. Contact Sensitization to Benzoyl Peroxide. Contact Dermatitis. 7, 137-40 (1981).
Bowe, W. & Shalita, A. Effective over-the-counter acne treatments. Semin. Cutan. Med. Surg. 27, 170-176 (2008).
Resorcinol Topical. Drugs.com. 2010. Cerner Multum, Inc. 1996-2006.
Questions and Answers About Acne. National Institute of Arthritis and Musculoskeletal and Skin Diseases. 2010. National Institutes of Health. 2011.
Shalita, A. Comparison of a salicylic acid cleanser and a benzoyl peroxide wash in treatment of acne vulgaris. Clin. Ther. 11, 264-267 (1989).
Salicylic Acid Topical. MedlinePlus. 2010. American Society of Health System Pharmacists, Inc. 2011.
Lionel F. The Encyclopedia of Visual Medicine Series: An Atlas of Dermatology (New York: The Parthenon Publishing Group, 1997), Pg.148-150.
Sulfur Topical. Drugs.com. 2010. Cerner Multum, Inc. 1996-2000.
Questions and Answers About Acne. National Institute of Arthritis and Musculoskeletal and Skin Diseases Jan. 2006. National Institutes of Health. 2001.
Lin, A. N., Reimer, R. J. & Carter, D. M. Sulfur revisited. J. Am. Acad. Dermatol. 18, 553-558 (1988).
Davis, S. Topical treatment of acne: skin care. SA Pharmacist's Assistant. 13, 42-44 (2013).
Akhavan, A. & Bershad, S. Topical acne drugs. Review of Clinical Properties, Systemic Exposure, and Safety. Am. J. Clin. Dermatol. 4, 473-492 (2003).
Kelly, T. E. & Hackett, P. H. Acetazolamide and sulfonamide allergy: a not so simple story. High Alt. Med. Biol. 11, 319-323 (2010).
Abramovits, W & Kennedy, J. A. Sulfur/sodium sulfacetamide preparations. SKINmed: Dermatology for the Clinician. 3, 95-101 (2004).
Breneman, D. L. & Ariano, M. C.. Successful treatment of acne vulgaris in women with a new topical sodium sulfacetamide/sulfur lotion. Int. J. Dermatol. 32, 365-367 (1993).
Summary of Proposed Rule on Pregnancy and Lactation Labeling. Fda.gov. 12/03/2014 Dec. 2014. Link