What's the Difference Between Retinol and Retinoids?
Although Chemically Similar, Retinol and Retinoids Provide Different Effects in the Treatment of Skin Conditions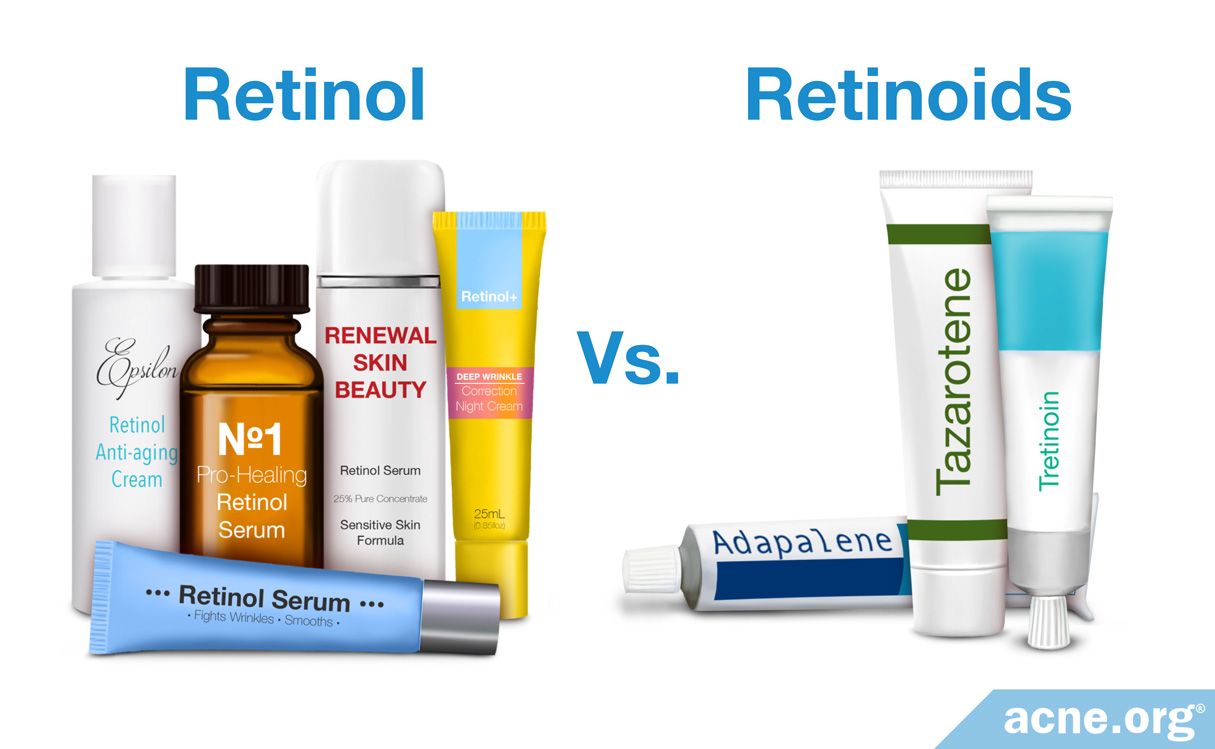 The Essential Information
You have probably heard commercials for anti-aging creams touting the benefits of retinol. You may also have heard about prescription anti-acne gels/creams that contain retinoids (tretinoin, adapalene, tazarotene).
The names "retinol" and "retinoids" sound similar, and that's because they are chemically similar compounds that are derived from vitamin A. However, even though they are similar and are both derived from vitamin A, they have subtle yet important differences that result in unique therapeutic effects.
In short:
Retinol: Available over-the-counter. Weaker than retinoids. Work on mild-to-moderate acne to some degree. Usually used for cosmetic purposes, particularly anti-aging.
Retinoids: Available only as a prescription (except for 0.1% adapalene). Stronger than retinol. Work on mild-to-moderate acne to some degree (more than retinol). Often prescribed for cosmetic purposes as well, particularly anti-aging.
The Science
Retinol and retinoids are compounds derived from vitamin A that are often confused with one another because they sound similar and are frequently used to treat the same skin conditions. Both retinol and retinoids are usually formulated into topical products, and for the purposes of this article, we will discuss the topical versions of these compounds.
Research investigating the effectiveness of retinol and retinoids has shown that both are effective for treating skin ailments like mild-to-moderate acne, rosacea, psoriasis, and skin cancers, as well as helping fade stretch marks, aiding in wound healing, and combating aging.1-9 However, retinol and retinoids come from different sources, have distinct chemical structures, and work differently in the skin. Let's have a look at how they differ.
Retinol (over-the-counter): An inactive form of vitamin A. The body must convert retinol into its active form after it is applied to the skin. It is available in many over-the-counter anti-aging creams and some over-the-counter acne treatments.
Retinoids (prescription): An active form of vitamin A. It is available in the prescription medications tretinoin, adapalene, and tazarotene. (One exception - the lowest 0.1% strength form of adapelene is now available in over-the-counter products as well.)
Side Effects of Retinol & Retinoids
As with any medication, patients using retinol or retinoids to treat various skin conditions can develop side effects.
Retinol: People using topical retinol treatments can develop skin irritation like itching, burning, and rashes.
Retinoids: Patients applying topical retinoid treatments can develop irritation, scaling, and redness on the skin. For retinoid therapy, a medical professional monitors patients receiving retinoid prescriptions, and therefore controls or prevents side effects by altering the type or dosage of the retinoid therapy.4,31-33 Note: The oral retinoid prescription isotretinoin comes with many more side effects, some of which can be severe and lifelong. It also causes severe and life-threatening birth defects.
References:
Elewa, R. M. Z., C. C. in Nutrition and Skin: Lessons for Anti-Aging, Beauty and Healthy Skin 7 - 23.
Zouboulis, C. C. Retinoids-Which dermatological Indications Will benefit In the Near Future? Skin Pharmacol Appl Skin Physiol 14, 303 - 315 (2001).
Rathi, S. K. Acne Vulgaris Treatment: The Current Scenario. Indian J Dermatol 56, 7 - 13 (2011).
Mukherjee, S. et al. Retinoids in the treatment of skin aging: an overview of clinical efficacy and safety.Clinical Interv Aging l, 327 - 348 (2006).
Rittie, L., Fisher, G. J. & Voorhees, J. J. Retinoid Therapy for Photoaging. Springer Berlin Heidelberg 143 - 153.
Brandleone, H. & Papper, E. THE EFFECT OF THE LOCAL AND ORAL ADMINISTRATION OF COD LIVER OIL ON THE RATE OF WOUND HEALING IN VITAMIN A-DEFICIENT AND NORMAL RATS. Ann Surg 791 - 798 (1941).
Ehrlich, H. P. & Hunt, T. K. Effects of Cortisone and Vitamin A on Wound Healing. Ann Surg. 167, 324 - 328 (1968).
Bollag, W. & Holdener, E. E. Retinoids in cancer prevention and therapy. Ann Oncol 3, 513 - 526 (1992).
Ross, C. Retinoid production and Catabolism: Role of Diet in Regulating Retinol Esterification and Retinoic Acid Oxidation. J Nutr 291s - 296s (2003).
Roos, T. C. et al. Retinoids Metabolism in the Skin. American Soc Pharmacol Exp Ther 50, 315 - 329 (2012).
Rastinejad, F. Retinoids. Medical Pharmacology Faculty University of Virginia. 1 - 10.
Ishida, S. et al. Clinically Potential Subclasses of Retinoid Synergists Revealed by Gene Expression Profiling. Mol Cancer Ther 2, 49 - 58 (2003).
Vitamin A (retinol) (Mayo Clinic, 2013).
Vitamins and minerals (National Health Science).
Jensen, N. C. & Bobroff, L. B. Facts about Vitamin A. Report No. FCS8639, (University of Florida IFAS Extension).
O'Byrne, S. M. & Blaner, W. S. Retinol and retinyl esters: biochemistry and physiology. J Lipid Res 54, 1731 - 1743 (2013).
Raverdeau, M. & Mills, K. H. Modulation of T cell and Innate Immune Responses by Retinoic Acid. J Immunol 192, 2953 - 2958 (2014).
Blomhoff, R. & Blomhoff, H. K. Overview of Retinoid Metabolism and Function. J Neurobiol; 606 - 630 (2005).
Adamo, A. et al. Mode of Action of Retinol. J Biol Chem 256, 3279 - 3287 (1979).
Kafi, R. et al. Improvement of Naturally Aged Skin with Vitamin A (Retinol). JAMA Dermatol 143, 606 - 612 (2007).
Omori, M. & Chytil, F. Mechanism of Vitamin A Action. J Biol Chem 257, 14370 - 14374 (1982).
Fisher, G. J. & Voorhees, J. J. Molecular mechanisms of retinoid actions in skin. FASEB J 10, 1002 - 1013 (1996).
Fisher, G. J., Datta, S. C. & Voorhees, J. J. Retinoic Acid Receptor-γ in Human Epidermis Preferentially Traps All-Trans Retinoic Acid as its Ligand Rather Than 9-cis Retinoic acid. J Investig Dermatol 297 - 300 (1997).
Tsukada, M. et al. 13-cis Retinoic Acid exerts its Specific Activity on Human Sebocytes through Selective Intracellular Isomerization to All-trans Retinoic Acid and Binding to Retinoid Acid Receptors. The Journal of Investigative Dermatology 321 - 327 (2000).
Rolewski, S. L. Clinical Review: Topical Retinoids. Dermatology Nurs 15, (2003).
Decker, A. & Graber, E. M. Over-the-counter Acne Treatments: A Review. J Clin Aesthet Dermatol 5, 32 - 40 (2012).
Fuse809. (ed Structure of Retinoids) (Wikipedia, 2014).
Ishida, S. et al. Class Prediction of Synthetic Retinoids and Synergists(National Institute of Health Sciences).
Therapeutic Class Review: topical retinoids (University of Massachusetts Medical School, 2012).
Kang, S. et al. Application of Retinol to Human Skin In Vivo Induces Epidermal Hyperplasia and Cellular Retinoid Binding Proteins Characteristic of Retinoic Acid but Without Measurable Retinoic Acid Levels or Irritation. J Investig Dermatol 105, 549 - 556 (1995).
Chien, A. L. et al. Treatment of Acne in Pregnancy. J Am Board Fam Med 29, 254 - 262 (2016).
Ehrlich, S. D. Vitamin A (Retinol) (University of Maryland Medical Center, 2015).
Tantibanchachai, C. in The Embryo Project Encyclopedia (2014).