What Is Mineral Oil, and Is It Safe to Use on Acne-prone Skin?
Mineral Oil Is Safe to Use, but It Is Not Likely to Help Acne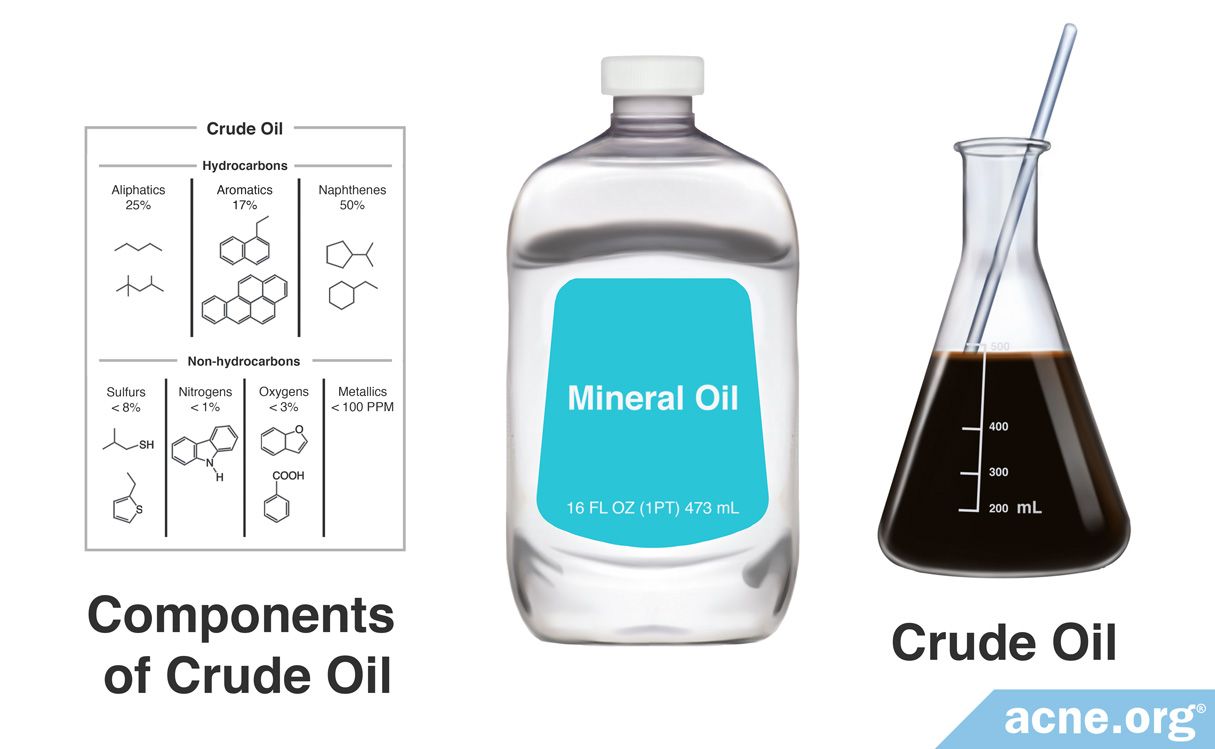 The Essential Information
Mineral oil, also known as "baby oil" at drugstores, is a highly refined and purified oil that is created as a byproduct of refining petroleum. When applied to the skin, it creates an artificial barrier, reducing water loss from the skin.
Mineral oil is used as an ingredient in many skincare products, medications, and even some foods. It has been used in skincare products for more than 100 years and scientists generally consider it to be safe.
Mineral oil will not clog pores and is safe to use on acne-prone skin, but there are no studies evaluating the effectiveness of it in treating acne, and based on its chemical properties, there is no reason to think it would affect acne in a positive or negative way. It is likely an inert substance when it comes to acne.
The Bottom Line: If you have acne-prone skin, you can be confident that mineral oil is a safe thing to use. It is non-toxic, unlikely to cause skin reactions, and won't clog pores, so if you see it on an ingredient list, don't fret. It may help soothe dry and irritated skin, but it does not offer any advantages over other non-pore-clogging oils such as jojoba oil, sunflower oil, or safflower oil, and it may not work as well to soothe your skin as these other oils do.
From Dan: When I see mineral oil listed on a product label, I still feel totally comfortable using that product, but I prefer seeing jojoba oil, sunflower oil, or safflower oil listed instead.
The Science
Mineral oil is a highly refined and purified synthetic oil that is created as a byproduct of refining petroleum. It is used in multiple products, including foods, skin care products, and medications.1-3
Mineral Oil Safety
Scientists generally consider mineral oil to be safe for humans to use in both topical (applied to the skin) and oral forms. There is some concern about long-term use of oral mineral oil, as some studies in animals have shown signs of mineral oil toxicity after 90 days of oral use. However, the evidence indicates that topical use of mineral oil is quite safe, and there is no evidence of any danger in exposure to topical mineral oil.4
Mineral Oil in Cosmetics
Mineral oil has been used in cosmetic products for more than 100 years. The best-known cosmetic product containing mineral oil is baby oil. Baby oil is mineral oil with fragrance added, and people use it to moisturize and soften skin, soothe skin inflammation, help treat mild eczema (an inflammatory skin disease), and clean inside the ears.
Mineral oil comes from petroleum, which is a natural oil. However, because of the chemical processing involved in creating mineral oil, it does not qualify as a "natural" oil in skin care products.3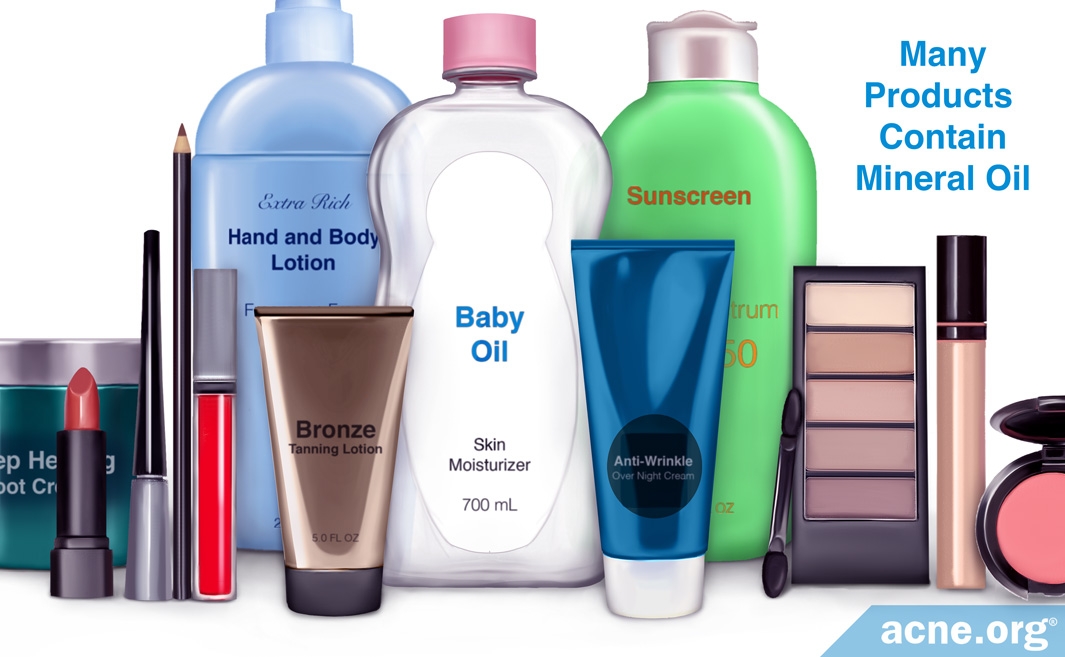 Mineral Oil and the Skin
Mineral Oil vs. Vegetable Oils
Topical skin care products, cosmetics, and medications often contain some sort of oil, either a vegetable oil - such as safflower oil - or a petroleum-based product like mineral oil. All oils act as a skin moisturizer, but vegetable oils do this differently than mineral oil:
Vegetable oils penetrate the deeper layers of skin and interact with molecules in the skin to increase moisture.
Mineral oil does not penetrate beyond the outermost layer of the skin and is inert, meaning that it does not interact with skin molecules. Instead, it moisturizes by "sitting on top" of the skin and providing a barrier that keeps moisture inside the skin.3,5
In addition to moisturizing skin, vegetable oils provide other benefits that can help heal the skin, whereas mineral oil lacks these properties:
Vegetable oils contain antioxidants (molecules that prevent cell damage from harmful molecules called oxidants), while mineral oil does not. Some vegetable oils also have antibacterial and anti-inflammatory properties. Lastly, because vegetable oils penetrate into the skin, they can help deliver topical medications into the skin.3,5
Mineral oil does not contain antioxidants, does not have antibacterial or anti-inflammatory properties, and sits on top of the skin, which means it cannot help deliver topical medications.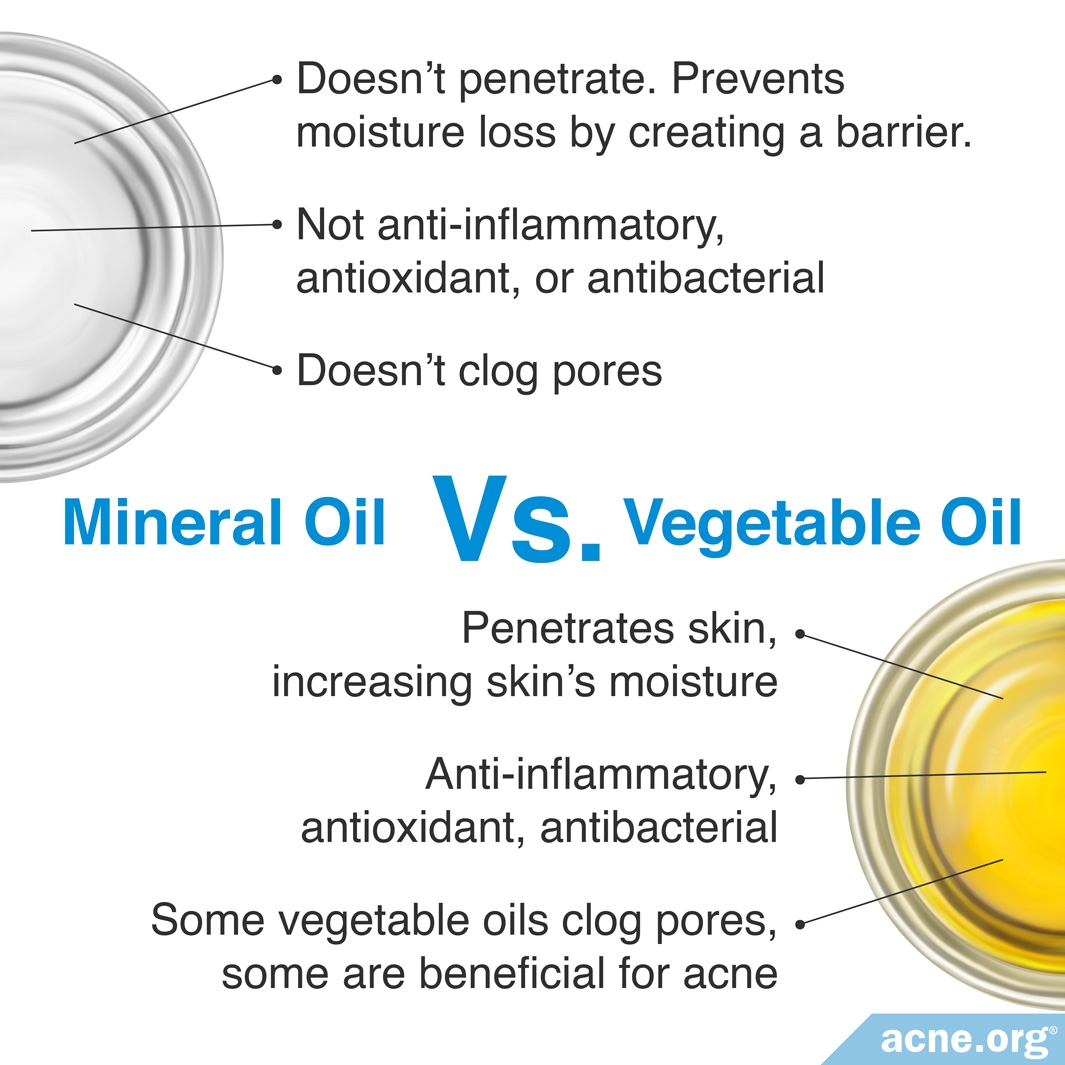 Skin Penetration and Delivery of Medications
It is important for topical medications to be able to penetrate the skin to deliver the medication to where it is needed. Vegetable oils can help with this penetration, whereas mineral oil cannot:
Vegetable oils penetrate into the skin, and are thus often added to topical medications to aid with the penetration of the medication into the skin.
Mineral oil does not penetrate into the skin, and several studies have confirmed that it is not effective at delivering medications into the skin.3,6,7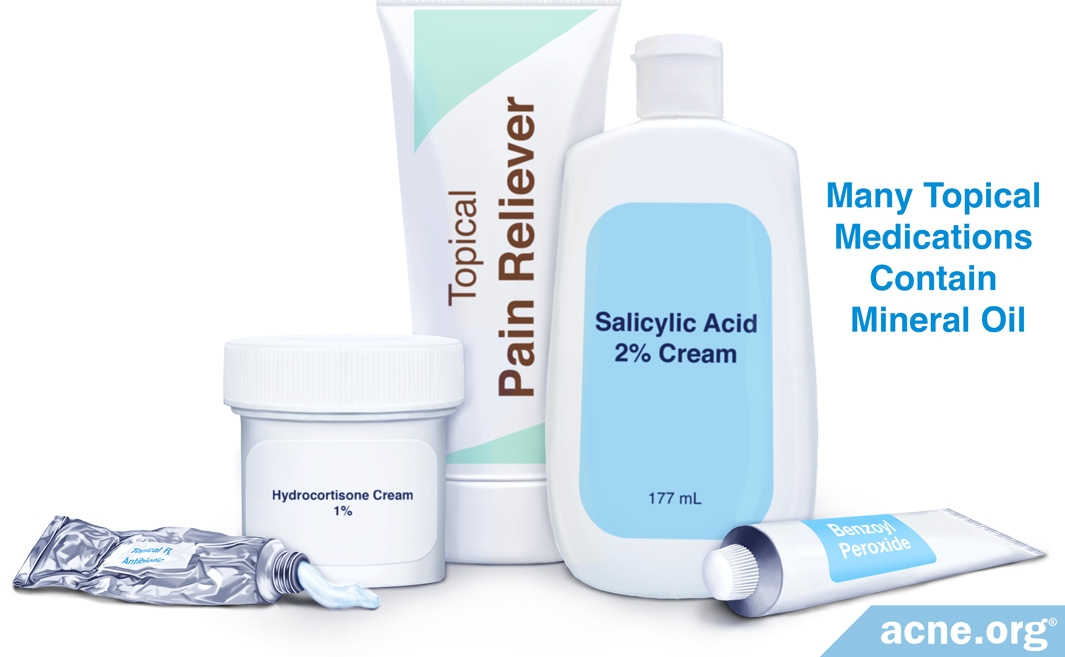 Reducing Side Effects of Medications
However, mineral oil may help to reduce the negative side effects of medications that cause skin irritation. For example, one study found that adding mineral oil to a topical treatment containing lactic acid reduced the stinging and burning caused by the treatment.8
Expand to read quote from study
Skin Barrier Function
The term skin barrier function refers to the protective barrier of the outermost layer of skin. This outermost layer of skin prevents water from evaporating and drying out the skin. The skin barrier also protects skin against the environment. When skin barrier function is impaired - as it is in acne and some other skin diseases - too much water evaporates from the skin, causing irritation. Because mineral oil sits on top of the skin, it creates an artificial barrier that traps moisture inside. This may help improve skin barrier function, at least in the short term, which could, hypothetically, be beneficial for acne. Whether mineral oil improves skin barrier function is a matter of debate among scientists: some studies indicate that it does not improve skin barrier function, while many other studies indicate that it does.3,9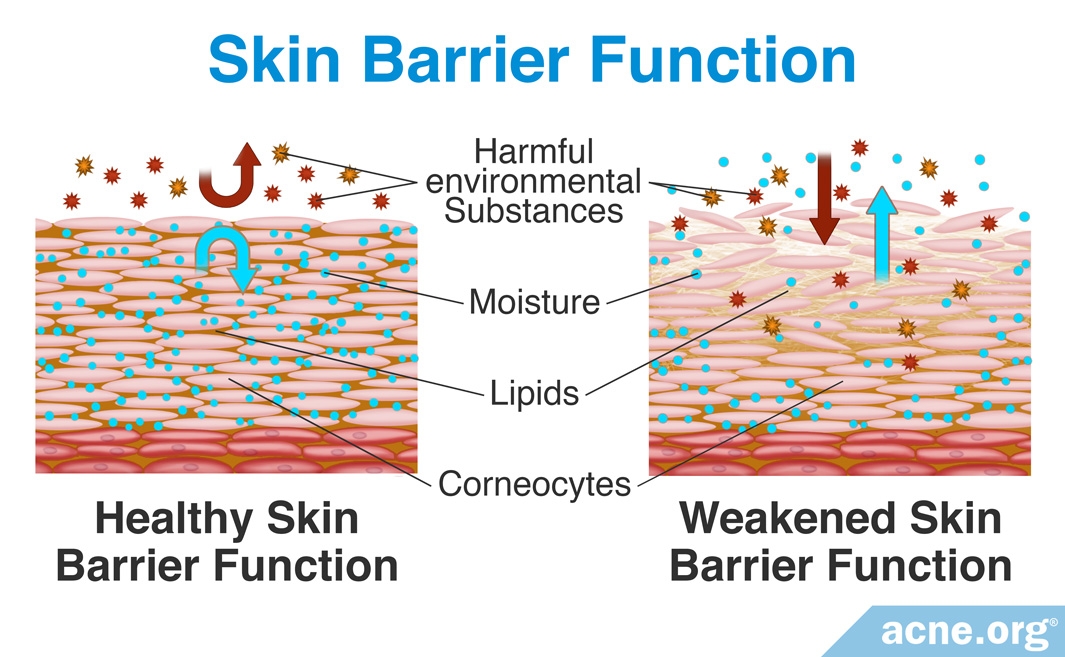 Comedogenicity (Potential to Clog Pores) of Mineral Oil
When using any oil on acne-prone skin, we need to consider whether it is comedogenic (tends to clog pores). Some oils are comedogenic, and other oils are not. Mineral oil is non-comedogenic, so it is safe to use on acne-prone skin.3
Mineral Oil in the Treatment of Acne and Other Skin Conditions
There is no research concerning the use of mineral oil in treating acne. There are a few studies that suggest that it may help in treating skin dryness and irritation in other skin conditions, though these studies also indicate that mineral oil is not as effective as other treatments for dry and irritated skin.10 - 12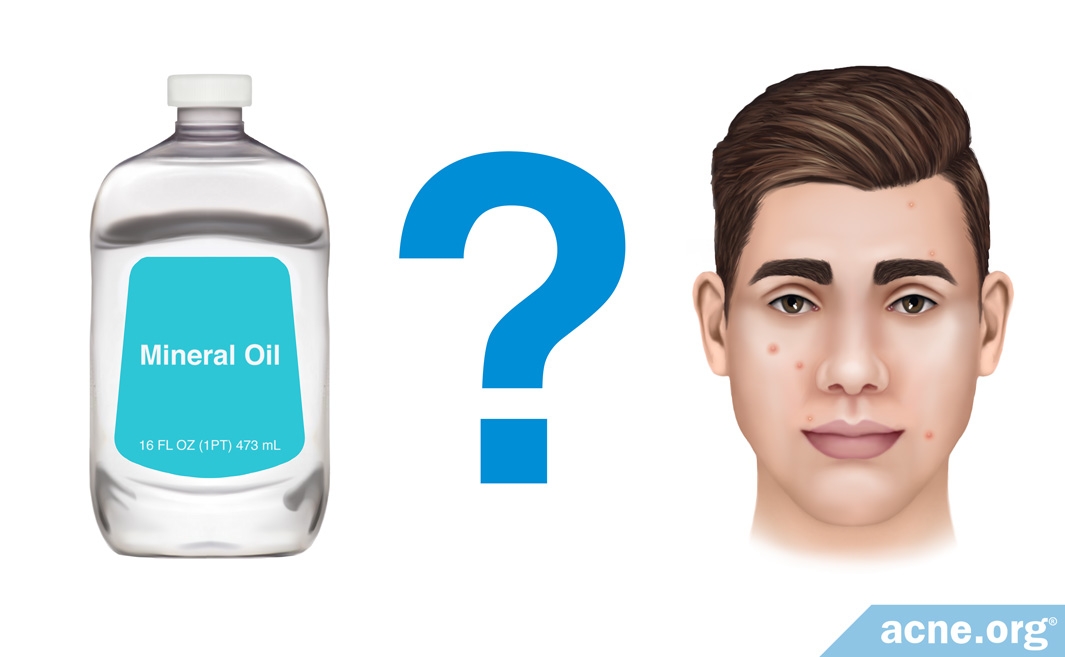 Mineral Oil for Atopic Dermatitis
People with atopic dermatitis, which is a very common skin condition that shows itself as a red, itchy rash on the skin, have impaired skin barrier function that leads to irritation and inflammation of the skin. This is potentially interesting when it comes to acne, since people with acne also tend to have an impaired barrier function.
In one 2014 study, mineral oil reduced symptoms of atopic dermatitis, but only to a moderate degree. Would it also do the same for acne? Since atopic dermatitis and acne are different skin conditions, and mineral oil only worked to a small degree on atopic dermatitis, until we get direct research on mineral oil and acne, we should not assume mineral oil will reduce acne symptoms.
The 2014 study showed that mineral oil reduced symptoms of atopic dermatitis by 38%. Again, it is important to keep in mind that what works for atopic dermatitis may not necessarily work for acne.10
Expand to read details of study
Mineral Oil for Skin Irritation
Any type of repeated physical irritation to the skin can lead to acne. The two studies we have on mineral oil and skin irritation show us that it might help reduce irritation either to a small degree or not at all.11,12
Expand to read details of studies
The Bottom Line
While mineral oil does not appear to hold a lot of promise in treating skin conditions, including acne, it has been used for over 100 years and the evidence shows us that it appears to be a safe and inert oil that will not clog pores and should help keep the skin moisturized.