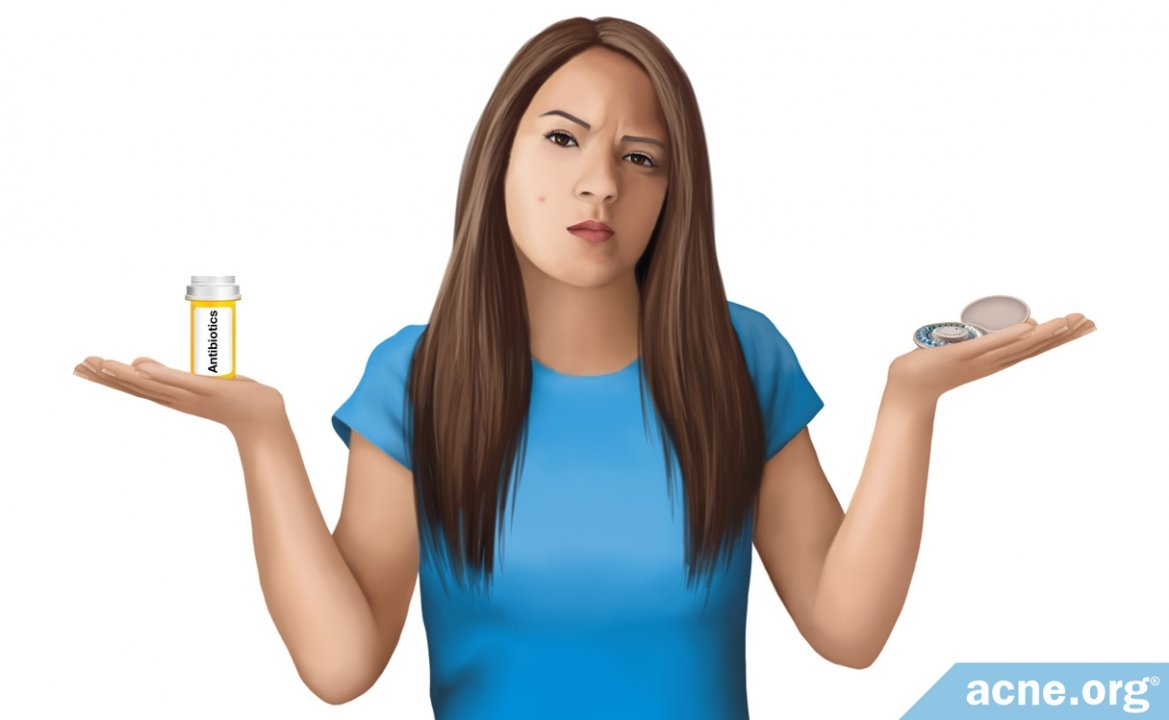 Article Summary
Doctors sometimes prescribe both birth control pills and antibiotics at the same time for women who suffer from acne. Birth control pills help with the hormonal aspects of acne, and oral antibiotics help with both the bacterial and inflammatory aspects of acne. Research indicates that there is a negligible risk of breakthrough pregnancy (pregnancy while on birth control) in women taking antibiotics. Even though this risk is so slight, scientists recommend using a second method of birth control while taking these two medications at the same time.

Note: Antibiotics should be a last resort when it comes to acne treatment. Antibiotics often do not provide satisfying results, offer only temporary relief, and cause resistant strains of bacteria in about half of users, particularly when they are used for longer periods of time. 
Doctors sometimes prescribe both birth control pills and oral antibiotics to treat acne in women. In addition, many women use birth control pills to prevent pregnancy and to treat other conditions, such as menstrual problems, and then their doctors prescribe antibiotics for acne. Research indicates that there is an extremely small risk that taking antibiotics while on birth control pills results in breakthrough pregnancy, which occurs when a woman gets pregnant even though she uses birth control. Because of this risk, scientists recommend caution and using a second method of birth control when taking these medications at the same time, particularly when using the antibiotic rifampin.
First, let's look at the roles that birth control pills and antibiotics play in acne treatment. Then we will consider the risks of breakthrough pregnancy when taking these two types of medication at the same time.

Birth Control Pills in Acne Treatment
The menstrual cycle influences acne. Many women report acne symptoms that coincide with their period, with an increase in acne lesions approximately 7–10 days before menstruation and then improvement once menstruation starts. These acne symptoms result from the fluctuation of several different hormones during the menstrual cycle. Each of these hormones plays a role in acne:
Estrogens (female hormones that are present in both males and females) reduce skin oil production. Estrogens also may reduce the production of androgens (male hormones that are present in both males and females). The reduction of skin oil and androgen levels each can result in less acne.
Androgens increase skin oil production, which can trigger acne. Progesterone (hormone present in both males and females) might play a role in the changing levels of skin oil throughout the menstrual cycle, therefore affecting acne. However, the role that progesterone plays in acne is unclear and is a matter of debate among scientists.1-3
Birth control pills prevent pregnancy, but they also regulate the menstrual cycle by stabilizing the levels of hormones during the month. This hormonal stabilization helps clear acne during the whole month.1-3
The most commonly prescribed birth control pills for acne are called combination oral contraceptives (COCs), meaning that they contain a combination of ethinyl estradiol (a synthetic form of estrogen) and progestin (a synthetic form of progesterone). In addition to preventing ovulation, the estrogen in COCs reduces the production of skin oil and may reduce androgen levels. The lower levels of skin oil and androgens lead to improved acne management. The role of progestin in acne treatment is unclear. Some studies indicate that progestin reduces androgen and skin oil levels, while other studies suggest that it worsens acne.3,4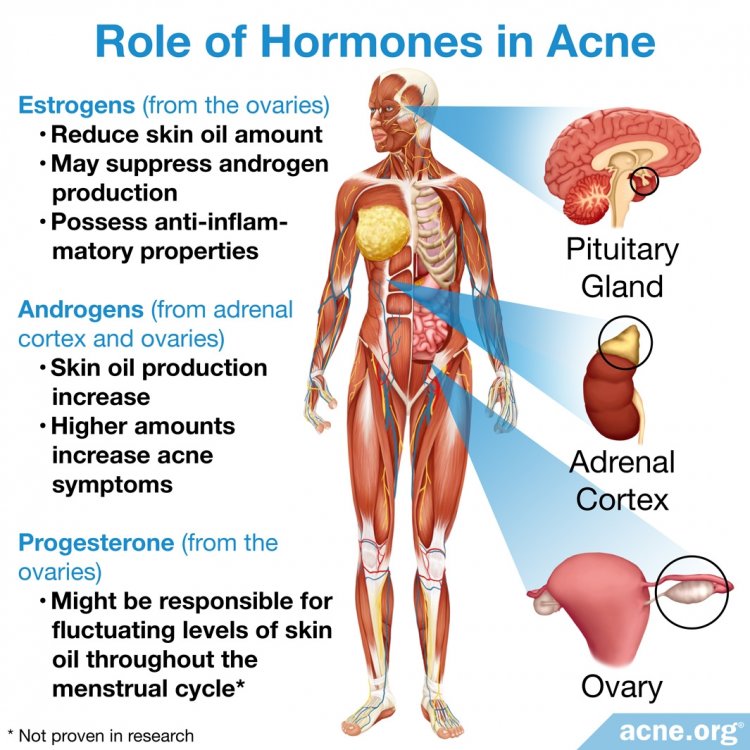 Antibiotics in Acne Treatment
While acne is primarily an inflammatory disease, a type of bacteria called P. acnes also plays a role. Oral antibiotics used in acne treatment kill or prevent the growth of P. acnes. At the same time, those prescribed for acne also are anti-inflammatory, as emphasized in a recent scientific article.4

Oral antibiotics that research has shown to be at least somewhat effective for acne are:
Doxycycline
Tetracycline
Minocycline
Erythromycin
Trimethoprim/sulfamethoxazole
Trimethoprim
Azithromycin
Amoxicillin
Cephalexin4
Despite antibiotics' side effects, limited effectiveness, and the fact that they should be used for no longer than 3-6 months, doctors continue to consider antibiotics first-line therapy for moderate-to-severe acne. A recent article in a medical journal demonstrates this worrisome view.4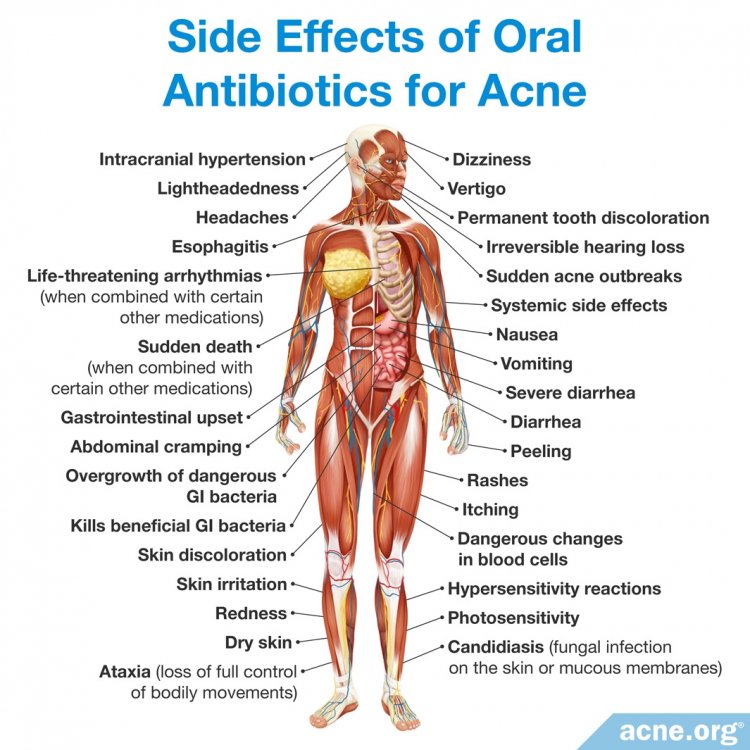 While doctors commonly prescribe oral antibiotics for moderate-to-severe acne, oral antibiotics come with significant drawbacks:
Antibiotics contribute to a phenomenon called antibiotic resistance, in which bacteria stops responding to an antibiotic, and that antibiotic loses its ability to kill the bacteria. Antibiotic resistance is a serious, worldwide problem that is made worse by over-prescribing antibiotics.
Because of the danger of antibiotic resistance, oral antibiotics should not be taken for more than 3-6 months, and they should be combined with a topical (applied to the skin) treatment.
Though serious side effects of oral antibiotics are rare, unpleasant side effects such as stomach cramps and diarrhea are common.
Oral antibiotics are only somewhat effective for treating acne and do not completely clear the skin.4

Do Oral Antibiotics Make Birth Control Pills Less Effective?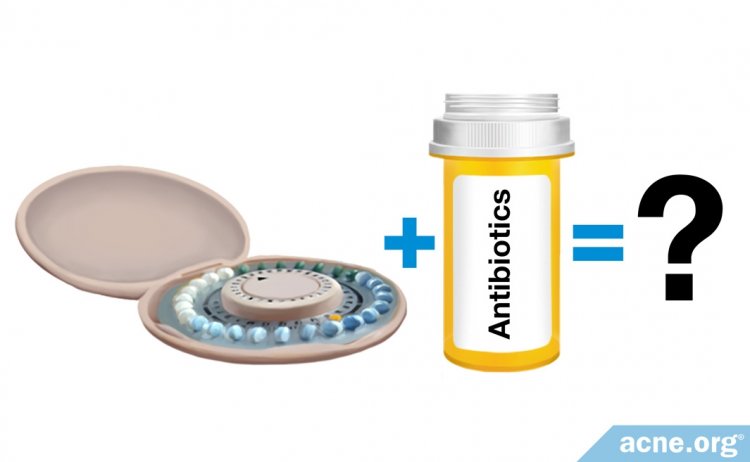 One concern about using birth control pills and antibiotics at the same time is that antibiotics can make birth control pills less effective and lead to breakthrough pregnancy. Three large systematic reviews investigated the evidence concerning whether antibiotics make birth control pills less reliable or not. Systematic reviews are rigorous literature reviews that review multiple studies and pool the results into a combined analysis. This type of review is considered to be the highest level of evidence. Overall, these reviews have found that there is little chance of breakthrough pregnancy when using antibiotics prescribed for acne, but particular care should be taken in women who are using an antibiotic called rifampin.5-7

Two newer but less rigorous studies came to conflicting conclusions. While one study found that antibiotics increased the risk of breakthrough pregnancy while on birth control, the second study found no connection between taking antibiotics and breakthrough pregnancy.8,9

The World Health Organization stated in 2004 that, while there are suspicions that antibiotics reduce the effectiveness of birth control pills, breakthrough pregnancy rates among women taking both antibiotics and birth control pills are similar to those taking only birth control pills.10
We can conclude from these studies that the only scientific evidence thus far is that rifampin reduces the reliability of birth control pills and that the question of whether other antibiotics also reduce their effectiveness or not is unanswered. However, multiple cases of breakthrough pregnancies have been reported over the years when antibiotics and birth control pills are taken simultaneously. These reports include a variety of antibiotics. Given the many cases of breakthrough pregnancies, it is prudent to employ a second method of birth control while taking antibiotics.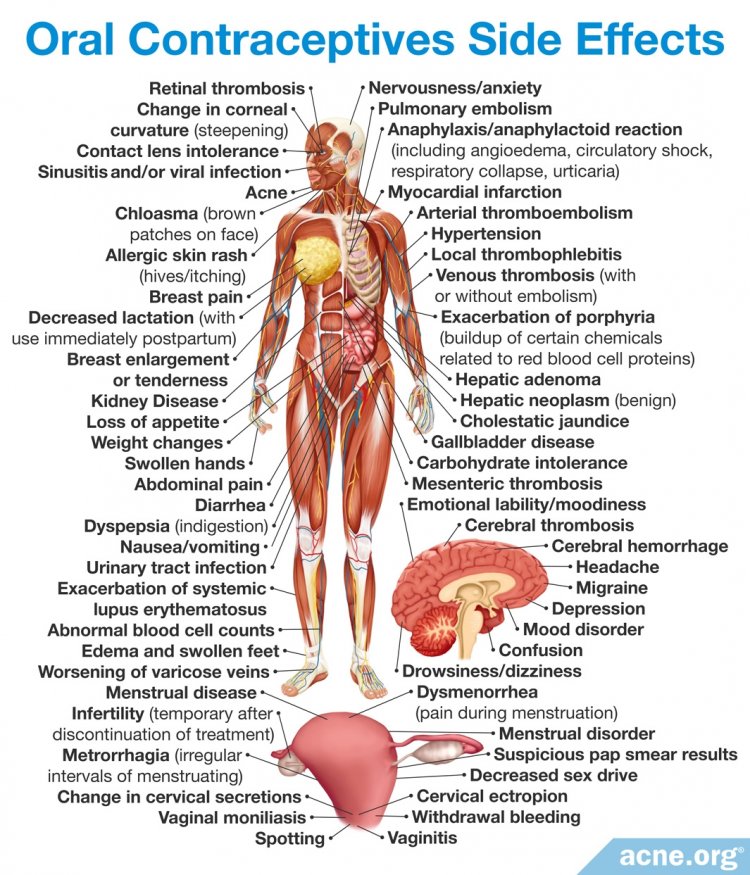 [[Template articles/admin/articles/undefinedInjection does not exist. This theme may be out of date. Run the support tool in the AdminCP to restore the default theme.]]
The Experts at Acne.org
Our team of medical doctors, biology & chemistry PhDs, and acne experts work hand-in-hand with Dan (Acne.org founder) to provide the most complete information on all things acne. If you find any errors in this article, kindly use this Feedback Form and let us know.
References:
Farage, M. A., Neill, S. & MacLean, A. B. Physiological changes associated with the menstrual cycle: a review.

 

Obstet. Gyneco.l Surv.

 

64, 58–72 (2009).
Arora, M. K., Yadav, A. & Saini, V. Role of hormones in acne vulgaris.

 

Clin. Biochem.

 

44, 1035–1040 (2011).
Lam, C. L. & Zaenglein, A. L. Contraceptive use in acne.

 

Clin. Dermatol.

 

32, 502–515 (2014).
Zaenglein, A. L. et al. Guidelines of care for the management of acne vulgaris.

 

J. Am. Acad. Dermatol.

 

74, 945–973 (2016).
Zhanel, G. G., Siemens, S., Slayter, K. & Mandell. L. Antibiotic and oral contraceptive drug interactions: is there a need for concern?

 

Can. J. Infect. Dis.

 

10, 429–433 (1999).
Dickinson, B. D., Altman, R. D., Nielsen, N. H. & Sterling, M. L. Drug interactions between oral contraceptives and antibiotics.

 

Obstet. Gynecol.

 

98, 853–860 (2001).
Archer, J. S. & Archer, D. F. Oral contraceptive efficacy and antibiotic interaction: a myth debunked.

 

J. Am. Acad. Dermatol.

 

46, 917–923 (2002).
Koopmans, P. C., Bos, J. H. & de Jong van den Berg, L. T. Are antibiotics related to oral combination contraceptive failures in the Netherlands? A case-crossover study.

 

Pharmacoepidemiol. Drug Saf.

 

21, 865–871 (2012).
Toh, S., Mitchell, A. A., Anderka, M., de Jong-van den Berg, L. T. & Hernandez-Diaz, S. Antibiotics and oral conceptive failure- a case-crossover study.

 

Contraception

 

83, 418–425 (2011).
Bauer, K. L. & Wolf, D. Do antibiotics interfere with the efficacy of oral contraceptives?

 

J. Fam. Pract.

 

54, 1079–1080 (2005).