As of 2017, the FDA Has Approved 17 Active Sunscreen Ingredients in the U.S., Though Only 8 of Them Are Commonly Used
Sunscreen protects the skin from the sun's damaging ultraviolet (UV) rays. In order to ensure the safety and efficacy of sunscreen ingredients, several countries, including the United States, have issued guidelines concerning the types of active ingredients that sunscreen should contain.1-3 This article includes the active ingredients approved only by the U.S. FDA (Food and Drug Administration).
UVA Protection, UVB Protection, and Broad-spectrum Protection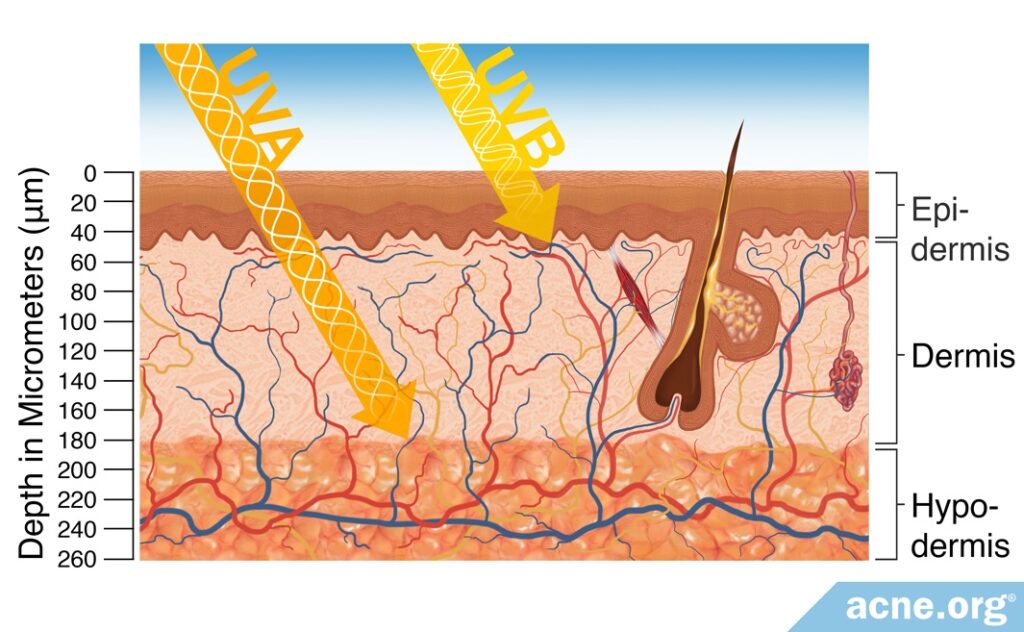 The sun emits two types of UV rays, both of which are harmful to humans: UVA and UVB. It is important to protect the skin against both types.
UVA rays penetrate deeply into skin and connective tissue. They can cause extensive damage, including wrinkles, sunlight-caused skin diseases, and skin cancer. They are the main type of UV ray that causes the skin to tan.
UVB rays do not penetrate as deeply as UVA rays, but they can cause severe damage, including sunburn and skin cancer.1 They are the main type of UV ray that causes burning of the skin, and can also contribute to tanning of the skin.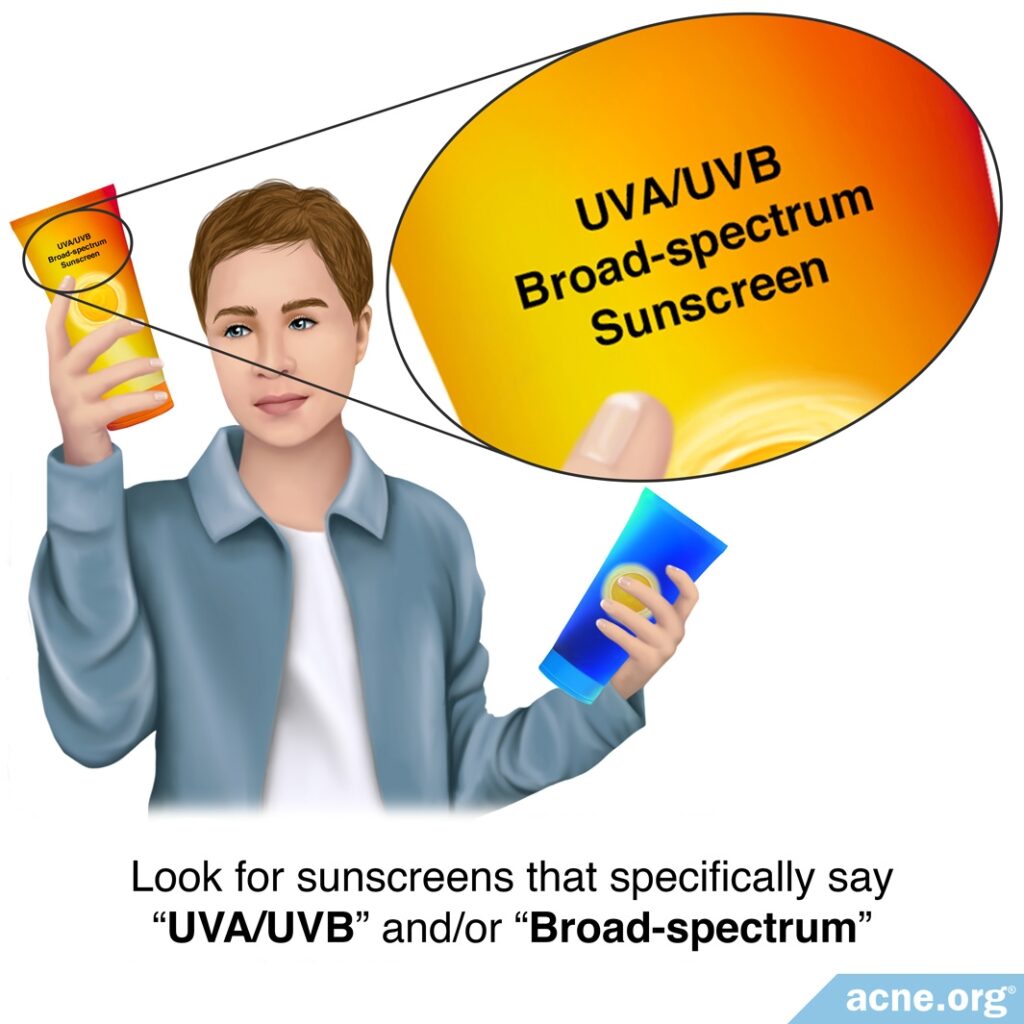 Researchers measure protection against UVB rays using the SPF (Sun Protection Factor) rating, which is displayed on sunscreen containers. Higher SPF numbers indicate a greater level of protection against these rays. While there is no similar standardized measure for UVA protection, many modern sunscreen products contain ingredients that protect against UVA radiation as well. These products are usually labeled as "broad-spectrum," meaning that they protect against both UVA and UVB rays. The U.S. FDA guidelines encourage the production of sunscreen that provides broad-spectrum protection.1,2,4
Physical Filters and Chemical Filters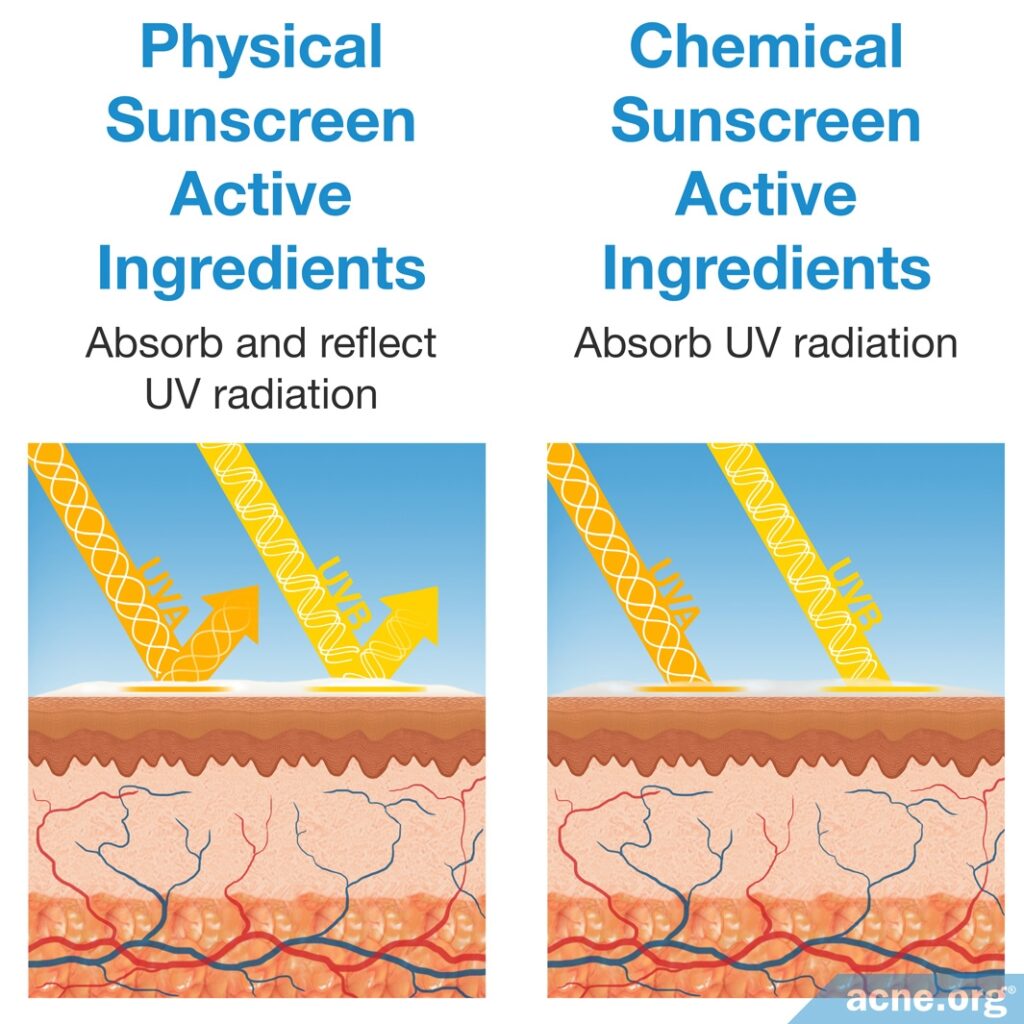 Scientists classify the active ingredients in sunscreen into two groups, both of which can be effective against both UVB and UVA radiation, depending on the ingredient.
Physical filters are made from tiny physical particles that, when applied on top of the skin, absorb and reflect UV radiation. Zinc oxide and titanium dioxide are the only two physical filters approved by the FDA. They are the safest and most effective sunscreen ingredients and provide protection for a longer period of time when compared to chemical filters. However, they often appear white on the skin, and can leave an uncomfortable "film" type of feel on the skin. In an attempt to lessen these negative qualities, manufacturers now produce micronized (extremely small particle) zinc oxide and titanium dioxide, which help, but do not eliminate, the whitening and somewhat uncomfortable feel of physical sunscreen ingredients.
Chemical filters are liquid ingredients that are added to sunscreens, which absorb UV radiation before it can penetrate the skin. Most active sunscreen ingredients are chemical filters. They don't produce a white hue on the skin, and are more comfortable than physical filters to wear. However, chemical filters offer a shorter time of protection (2 hours), and are more apt to produce harmful molecules, called free radicals, when exposed to the sun.1,2
Active Sunscreen Ingredients Approved by the U.S. FDA
As of 2016, the U.S. FDA has approved 17 active sunscreen ingredients. Only 8 of them are commonly used in sunscreen in the U.S.3,5-7
Commonly Used Ingredients
Rarely Used Ingredients