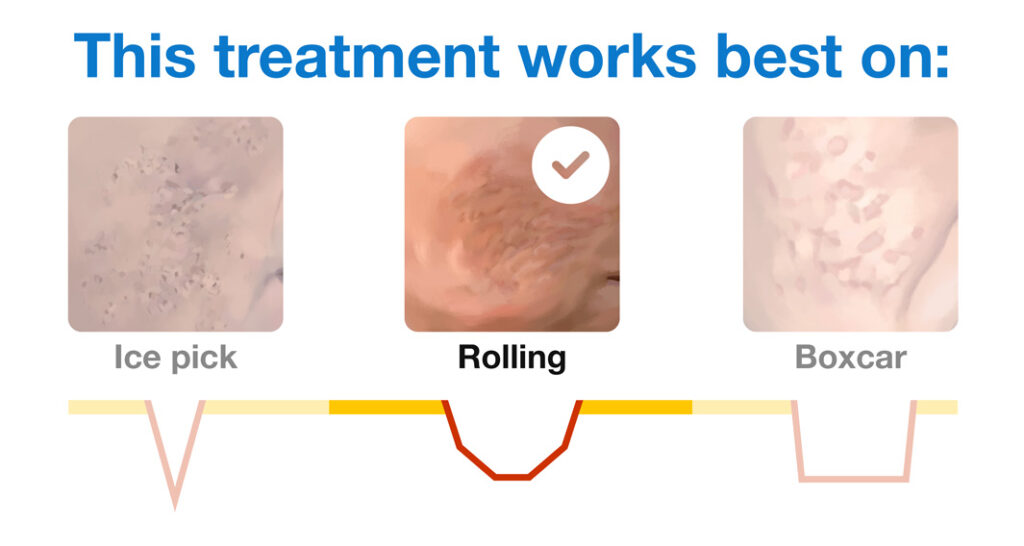 Subcision is a procedure that uses a needle to probe under a rolling acne scar. The reason why subcision is effective for rolling scars and not for other types of acne scars is that in rolling scars, fibrous tissue strings extend from the skin to deeper tissues, resulting in dimpling of the skin. The goal of subcision is to break those fibers.1
The movement of the needle under the skin separates the scarred skin from the deeper tissues that are pulling the scarred skin down. The needle also causes a controlled injury so that a blood clot forms under the scar. The blood clot takes up space under the scar and eventually is replaced by new collagen, helping to level out the skin.2
As with all scar revision treatments, subcision is sometimes combined with other scar revision treatments to achieve desired results.
People with active acne should not undergo acne scar repair of any kind, including subcision. It is important that your skin is clear of acne before you begin scar treatment.
Before agreeing to undergo subcision, ask multiple physicians for their opinions, proposed treatments, expected outcomes, and prices.
Procedure details:
In a rolling scar, fibers (strings) of connective tissue run from the skin down to deeper tissues, causing the skin to dimple.3
During subcision, a doctor inserts a needle at an angle right next to the scar and pushes it into the dermis (the second layer of the skin) beneath the scar.3 By manipulating the needle under the scar, the doctor cuts and releases the connective tissue fibers that are holding the scar down.1
Some connective tissue fibers may extend lower than others. Depending on how deep the connective tissue fibers are, the doctor may need to perform the procedure at multiple depths. Several sessions (2 or 3) may also be necessary to obtain the desired effect.2,3
Anesthesia:
Before performing subcision, the doctor will inject a local anesthetic subcutaneously (under the skin).4
Before-and-after:
Acne scars before (left) and 10 months after (right) subcision.
Acne scars before (left) and 10 months after (right) subcision.
References

Zaleski-Larsen LA, Fabi SG, McGraw T, and Taylor M. Acne Scar Treatment: A Multimodality Approach Tailored to Scar Type. Dermatol Surg. 42 Suppl 2, S139-49 (2016).
Rivera, AE. Acne scarring: a review and current treatment modalities. J Am Acad Dermatol 59, 659-676 (2008).
Levy LL, and Zeichner JA. Management of acne scarring, part II. A comparative review of non-laser-based, minimally invasive approaches. Am J Clin Dermatol. 13(5), 331-340 (2012).
Jacob CI, Dover JS, and Kaminer MS. Acne scarring: a classification system and review of treatment options. J Am Acad Dermatol. 45(1), 109-17 (2001).
Uptdate.com. Management of acne scars. Available from: https://www.uptodate.com/contents/management-of-acne-scars?source=search_result&search=subcision&selectedTitle=1~4. Last retrieved on 16 May, 2017.
Alam M, Omura N, and Kaminer MS. Subcision for acne scarring: technique and outcomes in 40 patients. Dermatol Surg. 31(3), 310-7 (2005).
Balighi K, Robati RM, Moslehi H, and Robati AM. Subcision in acne scar with and without subdermal implant: a clinical trial. J Eur Acad Dermatol Venereol. 22(6), 707-11 (2008).
Vaishnani JB. Subcision in rolling acne scars with 24G needle. Indian J Dermatol Venereol Leprol. 74(6), 677-9 (2008).
Ramadan SA1, El-Komy MH, Bassiouny DA, and El-Tobshy SA. Subcision versus 100% trichloroacetic acid in the treatment of rolling acne scars. Dermatol Surg. 37(5), 626-33 (2011).
Sage RJ, Lopiccolo MC, Liu A, Mahmoud BH, Tierney EP, and Kouba DJ. Subcuticular incision versus naturally sourced porcine collagen filler for acne scars: a randomized split-face comparison. Dermatol Surg. 37(4), 426-31 (2011).
Al-Dhalimi MA, and Arnoos AA. Subcision for treatment of rolling acne scars in Iraqi patients: a clinical study. J Cosmet Dermatol. 11(2),144-50 (2012).
Barikbin B1, Akbari Z, Yousefi M, Dowlati Y. Blunt Blade Subcision: An Evolution in the Treatment of Atrophic Acne Scars. Dermatol Surg.43 Suppl 1, S57-S63 (2017).