Immediately after treatment:
Immediately after subcision, most patients experience:



Swelling of the skin
Bruising
Pain
Skin redness

Bruising will disappear within a week after the procedure. Most of the other symptoms disappear within two weeks after the procedure.
Days and weeks after treatment:
In rare cases, a hematoma (a swollen and bruised area under the skin) may persist for up to 4 months after subcision.
Longer term:
Some people may need multiple subcision sessions to obtain the desired results.3
In rare cases, patients may experience long-term side effects, such as:



Excessive formation of skin (hypertrophia)
Formation of fibrous tissue leading to a bump under the skin (subcutaneous nodule)
Cysts from disruption of skin oil gland and nearby structures
Additional scar or worsening of the scar2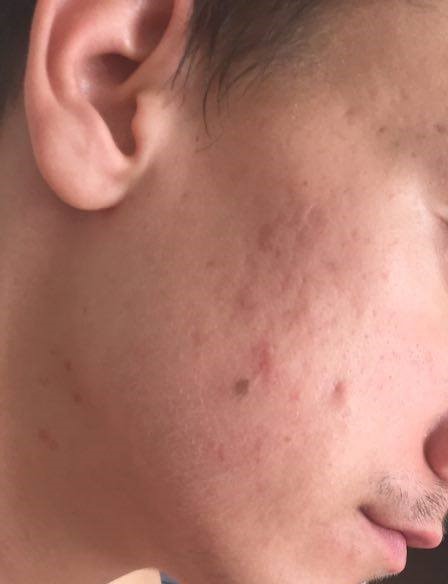 Additional scars and/or worsening of scars 2.5 months after subcision (source: posted on Acne.org message board) note that they did not post a "before picture" so it is hard to say.
References

Zaleski-Larsen LA, Fabi SG, McGraw T, and Taylor M. Acne Scar Treatment: A Multimodality Approach Tailored to Scar Type. Dermatol Surg. 42 Suppl 2, S139-49 (2016).
Rivera, AE. Acne scarring: a review and current treatment modalities. J Am Acad Dermatol 59, 659-676 (2008).
Levy LL, and Zeichner JA. Management of acne scarring, part II. A comparative review of non-laser-based, minimally invasive approaches. Am J Clin Dermatol. 13(5), 331-340 (2012).
Jacob CI, Dover JS, and Kaminer MS. Acne scarring: a classification system and review of treatment options. J Am Acad Dermatol. 45(1), 109-17 (2001).
Uptdate.com. Management of acne scars. Available from: https://www.uptodate.com/contents/management-of-acne-scars?source=search_result&search=subcision&selectedTitle=1~4. Last retrieved on 16 May, 2017.
Alam M, Omura N, and Kaminer MS. Subcision for acne scarring: technique and outcomes in 40 patients. Dermatol Surg. 31(3), 310-7 (2005).
Balighi K, Robati RM, Moslehi H, and Robati AM. Subcision in acne scar with and without subdermal implant: a clinical trial. J Eur Acad Dermatol Venereol. 22(6), 707-11 (2008).
Vaishnani JB. Subcision in rolling acne scars with 24G needle. Indian J Dermatol Venereol Leprol. 74(6), 677-9 (2008).
Ramadan SA1, El-Komy MH, Bassiouny DA, and El-Tobshy SA. Subcision versus 100% trichloroacetic acid in the treatment of rolling acne scars. Dermatol Surg. 37(5), 626-33 (2011).
Sage RJ, Lopiccolo MC, Liu A, Mahmoud BH, Tierney EP, and Kouba DJ. Subcuticular incision versus naturally sourced porcine collagen filler for acne scars: a randomized split-face comparison. Dermatol Surg. 37(4), 426-31 (2011).
Al-Dhalimi MA, and Arnoos AA. Subcision for treatment of rolling acne scars in Iraqi patients: a clinical study. J Cosmet Dermatol. 11(2),144-50 (2012).
Barikbin B1, Akbari Z, Yousefi M, Dowlati Y. Blunt Blade Subcision: An Evolution in the Treatment of Atrophic Acne Scars. Dermatol Surg.43 Suppl 1, S57-S63 (2017).