On Average, 31.9% of Women and 20.5% of Men Between the Ages of 20 and 70 Years Are Affected by Acne, but the Answer Varies and Depends on Gender, Age, and Ethnicity

The Essential Info
After compiling all of the available studies, the stats show us that 31.9% of women and 20.5% of men between the ages of 20 and 70 years have acne.
However, this is all people between 20 and 70. Rates of acne in adults decline steadily with age. Therefore, when we look at adults in their 20s, rates are higher, with over 50% of women and over 40% of men battling acne.
The reason rates are thought to be higher among women is due to fluctuating hormones during the monthly menstruation cycle.

The Science
For most adolescents, acne begins to subside by the time they become young adults.1 But a surprising amount of adults continue to experience acne, or even begin experiencing it for the first time after the age of 25. This is known as adult acne.2 Based on the evidence we have, I estimate that 31.9% of women and 20.5% of men between the ages of 20 and 70 years have acne.
Most acne research is devoted to adolescent acne. However, the authors of a 2008 study published in the Journal of the American Academy of Dermatology argue that adult acne is deserving of more attention because it can result in long-term consequences for those who are affected by it. They stated: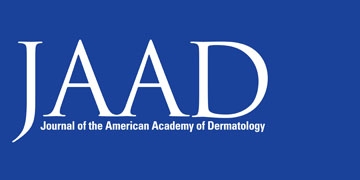 "The importance of providing treatment for these adults is heightened by the awareness that acne that persists for longer periods is more likely to lead to scarring."3
The study also noted that 10% of all people who see a dermatologist for acne are adults between the ages of 35 and 44 years, so we can see that a substantial amount of adults, even adults in their late 30s and 40s, continue to experience acne.3
Since research-studies devoted to adult acne are not as common as studies devoted to adolescent acne, precise numbers of how many adults over the age of 25 suffer from acne are hard to find. Furthermore, most studies on adult acne are based on surveys, which can be less reliable than physical examinations by dermatologists. But still, we have some good evidence to pull from.
In this article, we will explore the question of how frequently adults are affected by acne, and we will consider how the answer may depend on three particular factors:
Gender
Age
Ethnicity
Let's dive in. This is going to get super thorough, so get ready. I looked at every single study out there.
Gender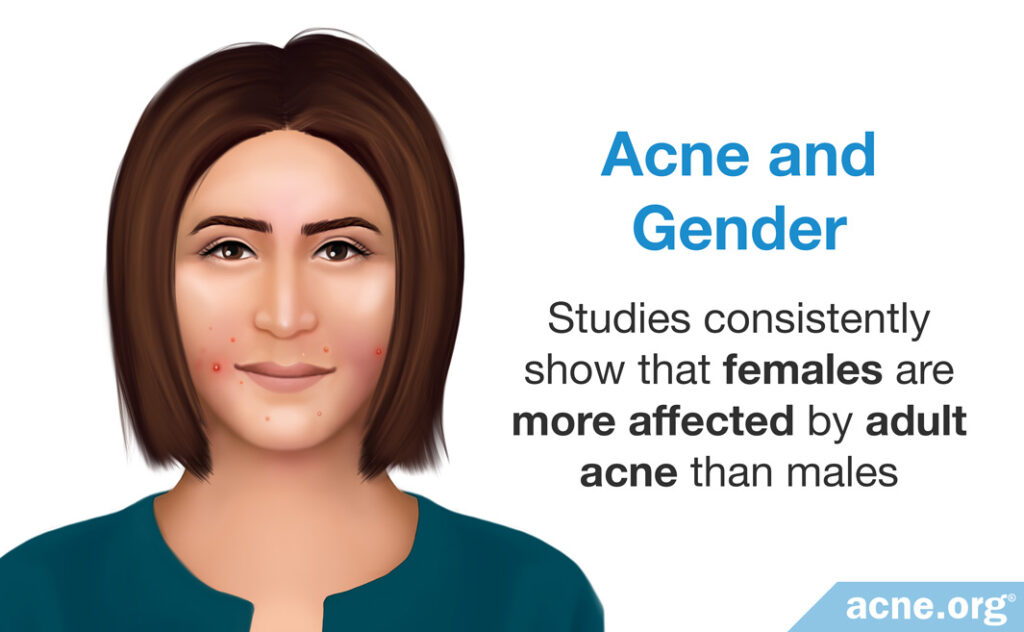 Studies consistently show that adult females are more affected by acne than adult males. This is opposite from adolescent acne, which affects males more than females, except at the earliest stages.
This change in how acne affects the genders was described in a 2015 study published in the British Journal of Dermatology: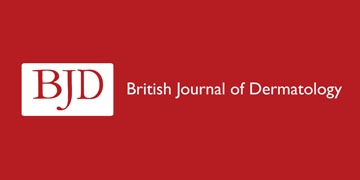 Larger studies evaluating sex differences have shown that acne is more prevalent in girls at younger age ranges, with increasing prevalence in boys as they reach puberty. Male subjects also tend to have more severe acne. Following the teenage years, the prevalence in women again tends to be higher than in men.4
The following table summarizes findings from six different studies that compared how often acne occurs, according to gender. 2,3,5-8 As we can see, there is a strong trend showing that women experience adult acne more than men.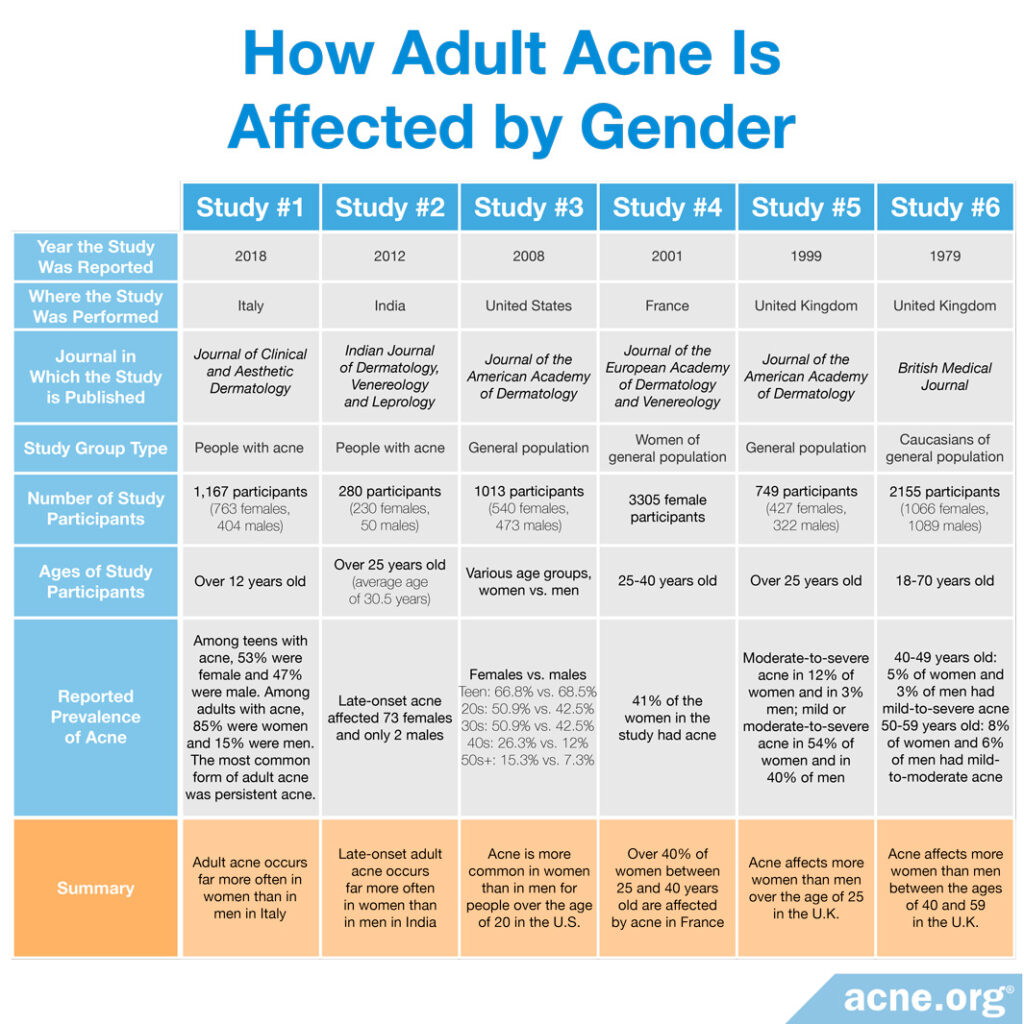 One reason that adult acne affects women more often than men is that they go through menstrual cycles, tending to break out 7 – 10 days before the onset of menstruation. One study found that a full half of women who started experiencing acne in adulthood have premenstrual flares.5
Expand to read details of study

A 2001 French study from the Journal of the European Academy of Dermatology and Venereology reported that premenstrual flares of acne happened in 78% of women who have scars due to acne and in 50% of women who began experiencing acne in adulthood.5
Age
As you might expect, acne becomes less common with age, for both women and men. A 2008 study confirmed this by examining women and men of different ages.3
The graph below shows the detailed results of this study, which also provided further evidence that women are affected by acne more than men.
Expand to read details of study

A 2008 research study published in the Journal of the American Academy of Dermatology confirmed this. The study examined women and men in different age groups to estimate how quickly acne diminishes with age. While 42.5% and 50.9% of women and men, respectively, had acne in their 20s, this percentage fell to 26.3% and 12% by the 40s, and continued to decline thereafter.3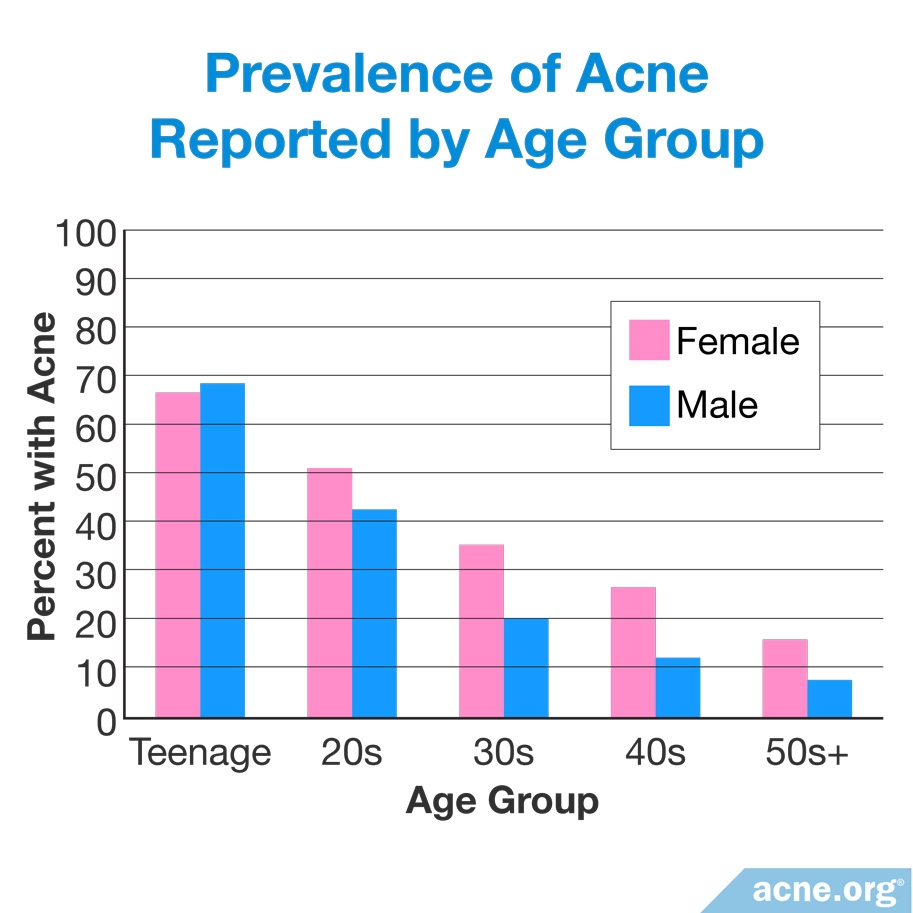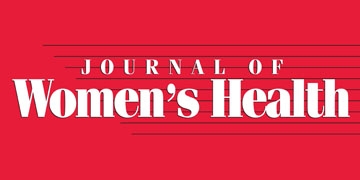 A 2012 study published in the Journal of Women's Health also looked at how the prevalence of acne decreases with age, but this study focused only on women and included 2895 females between the ages of 10 and 70 years. This is one of the most reliable studies on acne prevalence in females because, unlike most studies on adult acne, the researchers used physical examinations to obtain data rather than just relying on participant surveys. The researchers found that:
45% of women in their 20s had clinical acne
26% of women in their 30s had clinical acne
12% of women in their 40s had clinical acne
"Clinical" acne in this study was defined as having more than five lesions of acne. In total, 55% of the women had some form of acne.9 The graph below shows the clinical acne data from this study in the different age groups that were examined.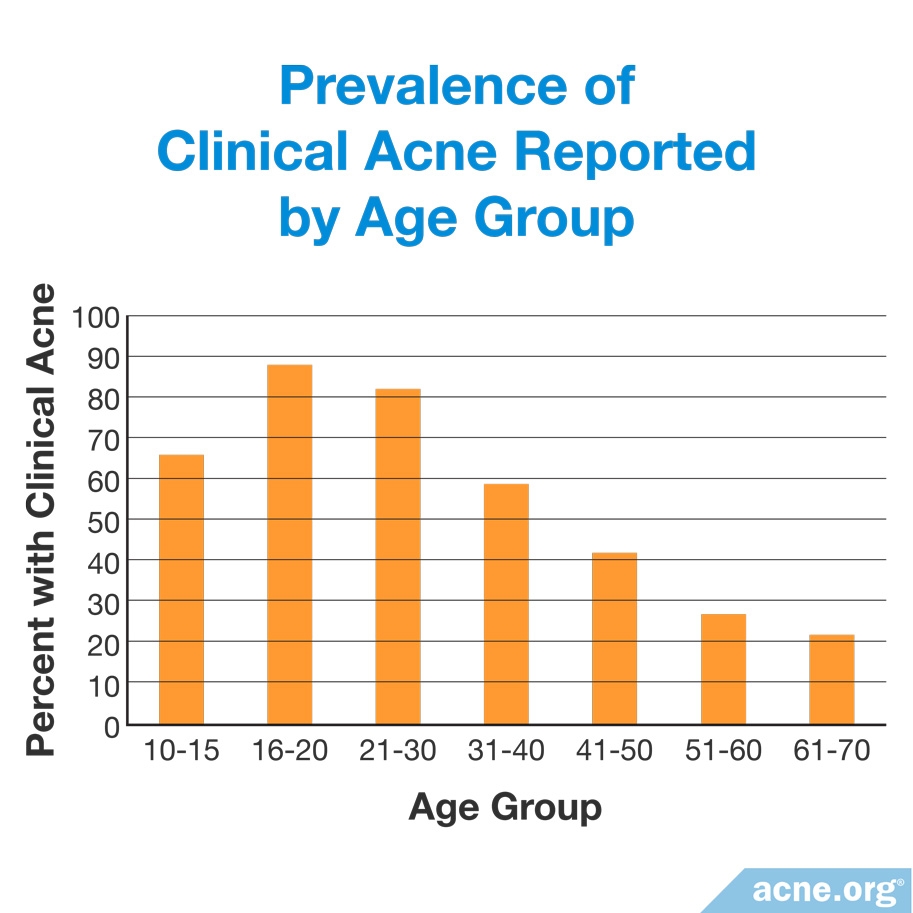 The table below shows further details of the methods and results reported in these two studies on acne and age. As we can see, rates of acne decrease steadily with age.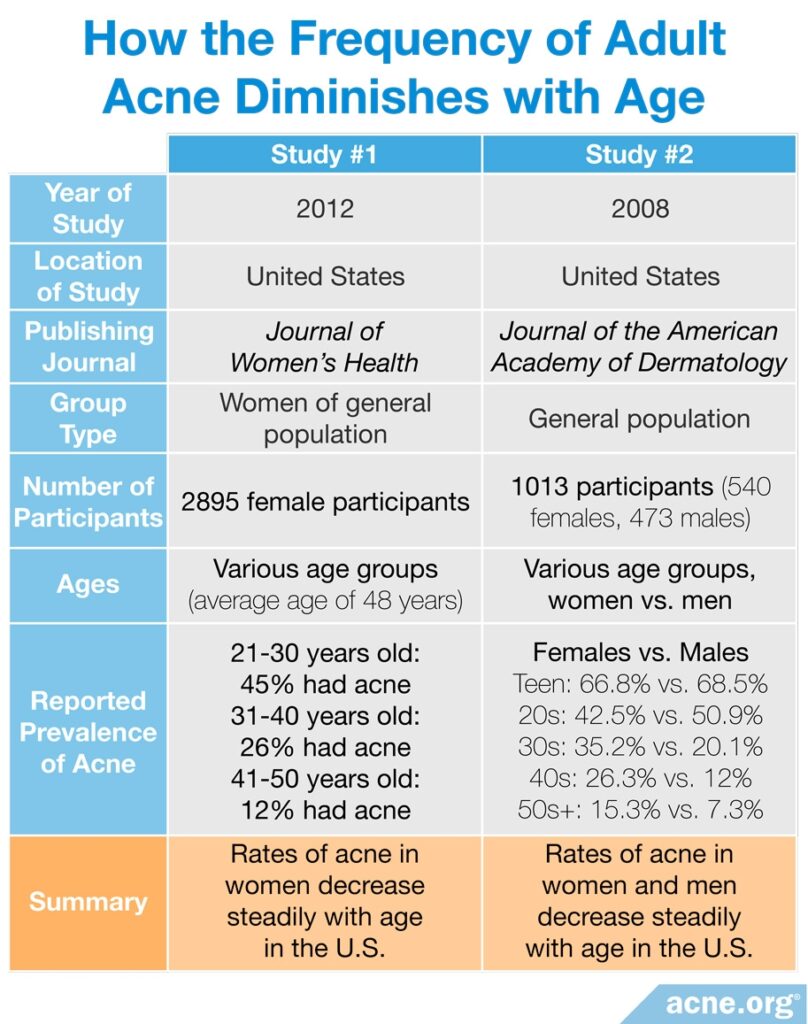 Ethnicity
Acne is a disease that affects adolescents and adults of all ethnicities, but some studies show that it may be more likely to impact adults with darker skin types.10
The Global Disease Project estimated that 9.4% of all people currently have acne, which ranks it as the eighth most prevalent disease in the world.4 But estimates within specific populations vary widely from 0.1% in northern Tanzania to 17% in Iraq.11
The number of adults with acne likely depends, in part, on their ethnicity. This factor is important to consider because most of the recent large-scale acne studies have been conducted in the United States or United Kingdom, so the results may not accurately reflect how acne affects adults worldwide.4
Although it is impossible to produce a global estimate of adult acne incidence, we can look specifically at the data from separate studies on different ethnic groups.
The following table summarizes three studies that compared how often adult acne strikes people of different ethnic backgrounds. As we can see, it is still difficult to decipher exactly how adult acne affects people of various ethnic backgrounds, but there is perhaps a slight trend toward adult acne affecting non-Caucasian people more often.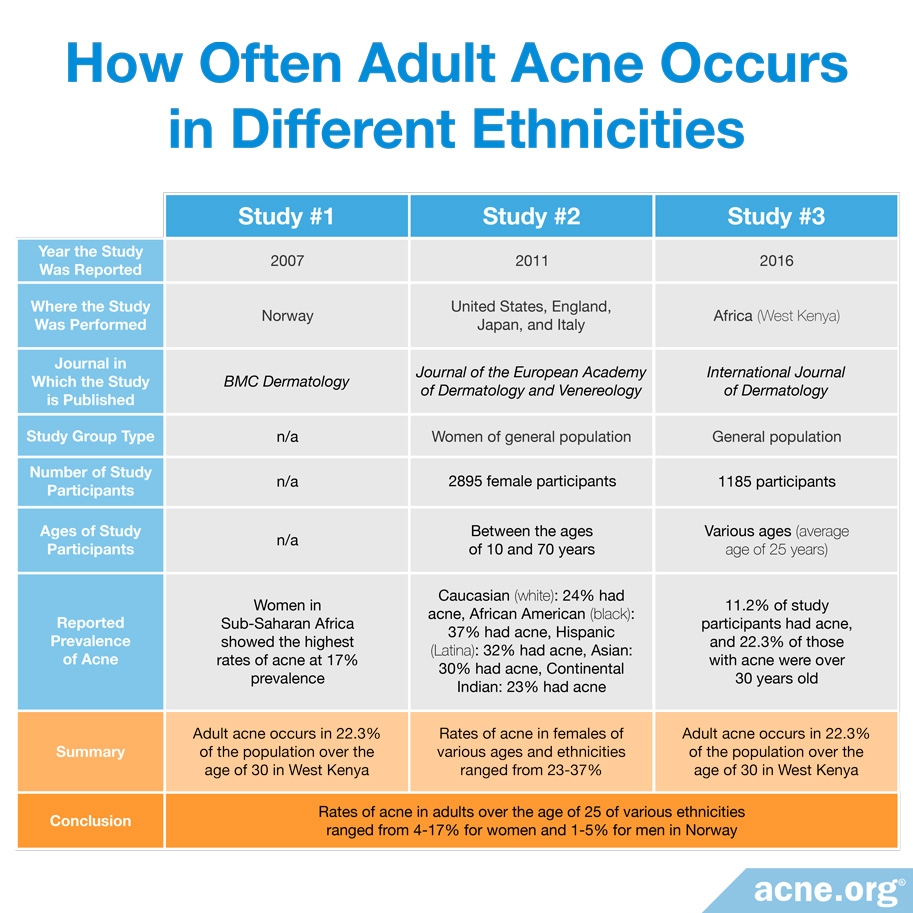 Below is a graph from the 2011 study in the Journal of the European Academy of Dermatology and Venereology that is mentioned in the table above, which looked at acne in people from four different countries, across age groups. This graph is helpful in showing how adult acne varies according to ethnic group, and how it decreases with age for all ethnicities.10 We can see that people of African descent may suffer more than other ethnicities and people of Asian descent may suffer less, but again, this is only one study and it is too soon to draw this conclusion definitively.
Data from the 2007 Norwegian study, published in the journal BMC Dermatology, is shown graphed below. Although this study only included people from Norway, this graph is helpful in illustrating how gender and ethnicity both are factors that cause variation in acne among adults. Women with darker skin types showed the highest rates of acne. However, the authors of the study noted that this may simply have been because some women were more likely to report acne than men.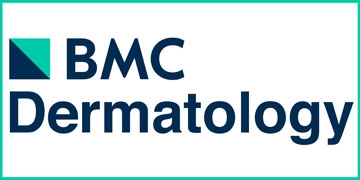 Women from Sub Saharan Africa, but also East Asia and Middle East/North Africa report significantly more pimples than Norwegian women; on the other hand, there are no significant ethnic differences among men. Our study points out gender differences in self-reported pimples.12
Not all the data from the studies on adult acne and ethnicity are in direct agreement and surely more research on adult acne and ethnicity needs to be done, but the currently available data discussed here indicates that acne may be more common in darker skin types.10
Conclusion
On average, acne affects 31.9% of women and 20.5% of men between the ages of 20 and 70 years.3
However, it is difficult to produce an exact number of how many adults have acne because it would depend on factors such as gender, age, and ethnicity. Although adult acne is not as common as adolescent acne, studies and surveys do show that it affects large numbers of people. Studies also show that adults who are female, younger in age, and of a darker skin type may be more prone to acne.