The charts below show the chances of developing various side effects from punch techniques procedures.4 For some side effects, we currently do not have enough data to provide a percentage.
Certain/Likely Side Effects (% = Incidence)
| | |
| --- | --- |
| SHORT TERM Itching | up to 25% |
| SHORT TERM Scabbing | up to 20% |
| SHORT TERM Swelling immediately after procedure (edema) | up to 15% |
| SHORT TERM Wound discharge | up to 10% |
| SHORT TERM Pain | up to 5% |
Possible/Rare Side Effects
| | |
| --- | --- |
| LONG TERM Rest scar tissue (some scar tissue remains from acne scars, or new tissue forms after stitching up) | incidence not known |
| LONG TERM Punch grafting only: Mismatch of skin color and texture | incidence not known |
| LONG TERM Punch grafting only: Graft failure (the skin rejects the graft, and the grafted skin comes off) | incidence not known |
Studies:
One study has looked at the side effects of punch elevation:
Study 1:



Authors: Faghihi et al.4
Total # of patients: 21
# of female patients: not reported
# of male patients: not reported
Age of patients: Average: 23.4
Duration of treatment and follow-up: 1 session punch elevation, followup at 16 weeks
Side effects:



Itching: 25%
Scabbing: 20%
Edema: 15%
Wound discharge: 10%
Pain: 5%  
Study 1: In a study published in 2015 in the Indian Journal of Dermatology, Faghihi and colleagues randomly assigned 42 patients to one of two groups. The first group received punch elevation followed by fractional CO2 laser treatment, and the second group received only fractional CO2 laser treatment. To determine which side effects were due to punch elevation, the researchers compared the side effects in the two groups.4
The graph below shows a comparison of the side effects on the third day after treatment.4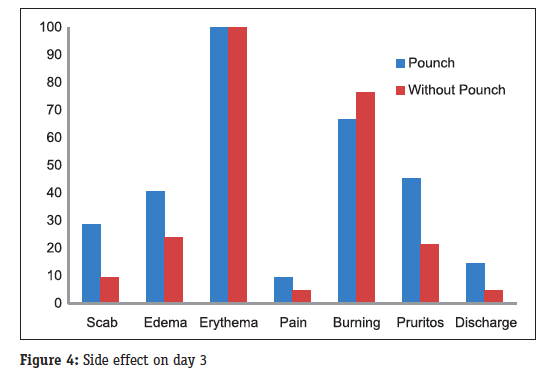 References

Uptodate.com. Management of acne scars. Available from: https://eresources.library.mssm.edu:3285/contents/management-of-acne-scars?source=search_result&search=management%20of%20acne%20scars&selectedTitle=1~26. Last retrieved on 15 August, 2017.
Levy LL, and Zeichner JA. Management of acne scarring, part II. A comparative review of non-laser-based, minimally invasive approaches. Am J Clin Dermatol. 13(5), 331-340 (2012).
Jacob CI, Dover JS, and Kaminer MS. Acne scarring: a classification system and review of treatment options. J Am Acad Dermatol. 45(1),109-17 (2001).
Faghihi G, et al. Efficacy of Punch Elevation Combined with Fractional Carbon Dioxide Laser Resurfacing in Facial Atrophic Acne Scarring: A Randomized Split-face Clinical Study. Indian J Dermatol. 60(5): 473–478, 2015.