Hypertrophic and keloid scars are raised scars containing excessive collagen. Intralesional corticosteroid treatment consists of injecting drugs called corticosteroids directly into the scar ("intralesionally") to stimulate collagen breakdown and decrease the production of new collagen, with the goal of reducing the size and thickness of the scar. The treatment can be painful and often requires multiple (4-8) sessions. 1,2
Because it is relatively safe and inexpensive, intralesional corticosteroids are one of the first line of treatment for hypertrophic and keloid scars, but results are mixed, and sometimes it does not work at all. Many patients also stop treatment before obtaining desired results due to pain.2
As with all scar revision treatments, intralesional corticosteroids are sometimes combined with other scar revision procedures to achieve desired results.
People with active acne should not undergo acne scar repair of any kind, including intralesional corticosteroid treatment. Ensure that your skin is clear of acne before beginning scar repair.
Before agreeing to undergo intralesional corticosteroid treatment, discuss your options, expected outcomes, and prices with multiple doctors.
Procedure details:
Corticosteroids are synthetic (made in a laboratory) drugs that work similarly to natural human hormones. While corticosteroids play many different roles in the human body, when they are injected into raised scars, they may help reduce scar size by:
Stimulating collagen breakdown
Decreasing collagen production
Decreasing fibroblasts (cells that produce collagen)
Reducing inflammation (which is what led to scar formation in the first place)1-3
The most commonly used intralesional corticosteroid for hypertrophic and keloid scar treatment is triamcinolone acetonide. This drug is injected into the middle of the dermis, the deeper skin layer that is still intact underneath the raised scar. The dermis contains blood vessels and glands, which are necessary for corticosteroid treatment to work. In addition, injecting the drug into the middle of the dermis reduces the chances of skin thinning (atrophy), which can be a side effect of intralesional corticosteroids.2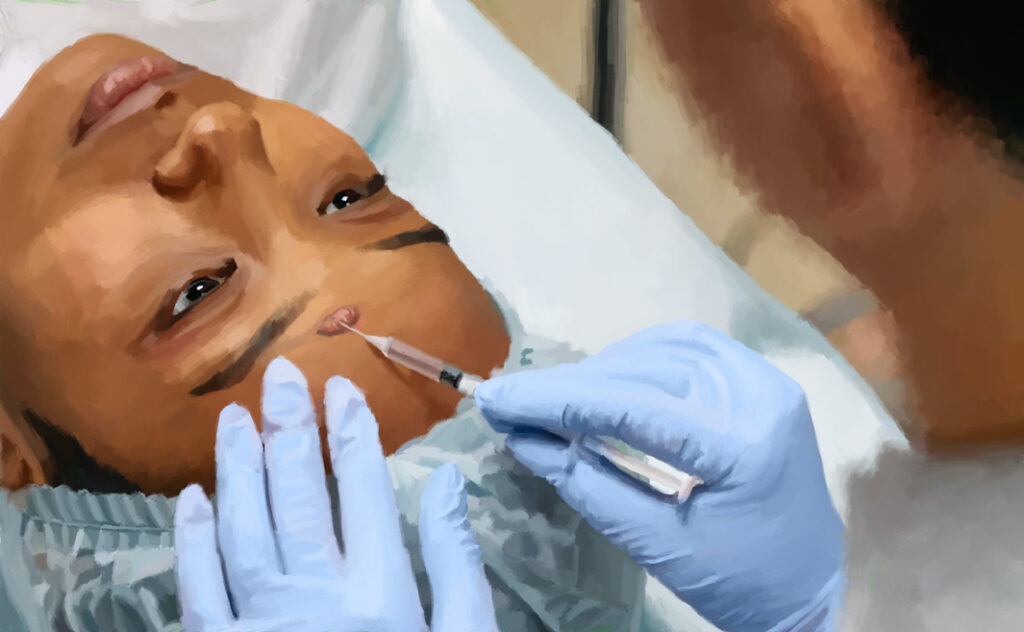 Depending on the extent of the scarring, the doctor may adjust several factors in intralesional corticosteroid treatment:
Number of treatment sessions: Larger scars require more sessions than small scars. In general, multiple sessions (4-8) are usually necessary. If there is no improvement at all after 4 treatment sessions, treatment is normally stopped.
Time between treatment sessions: The time between sessions can vary from 1 to 6 weeks, but is usually 4-6 weeks.
Corticosteroid dose: Typical doses are 10-20 mg/ml, but can be as high as 40 mg/ml for very thick scars. The doctor must weigh the efficacy of the treatment, which tends to increase with a higher dose, against the risk of side effects, which also increases with a higher dose.1,3
Anesthesia:
Before the treatment, the doctor may numb the scar using either:
A topical numbing cream
An injection of a local anesthetic
Before-and-after:
A hypertrophic scar before (left) and after (right) 6 sessions of intralesional corticosteroid treatment.
References

Levy LL, and Zeichner JA. Management of acne scarring, part II. A comparative review of non-laser-based, minimally invasive approaches. Am J Clin Dermatol. 13(5), 331-340 (2012).
Ledon JA, Savas J, Franca K, Chacon A, and Nouri K. Intralesional treatment for keloids and hypertrophic scars: a review. Dermatol Surg. 39(12), 1745-57 (2013).
Uptodate.com. Management of acne scars. Available from: https://www-uptodate-com.eresources.mssm.edu/contents/management-of-acne-scars?source=search_result&search=management%20of%20acne%20scars&selectedTitle=1~27. Last retrieved on 24 October, 2017.
Manuskiatti W, and Fitzpatrick RE. Treatment response of keloidal and hypertrophic sternotomy scars: comparison among intralesional corticosteroid, 5-fluorouracil, and 585-nm flashlamp-pumped pulsed-dye laser treatments. Arch Dermatol. 138(9), 1149-55 (2002).
Darzi MA, Chowdri NA, Kaul SK, and Khan M. Evaluation of various methods of treating keloids and hypertrophic scars: a 10-year follow-up study. Br J Plast Surg. 45(5), 374-9 (1992).