Select Camouflage Makeup That Is Free of Pore-clogging Ingredients and Apply It Gently

The Essential Info
Before buying camouflage makeup for acne-prone skin, take a look at the ingredients. Avoid camouflage makeup that contains pore-clogging ingredients.
Also avoid products with fragrances, which may irritate the skin and aggravate acne, or may cause allergies in some people.
Camouflage makeup containing salicylic acid and/or sunscreen may be preferable, if you can find it.
Important Considerations When Using Camouflage Makeup
Apply it gently: Physical irritation of the skin can lead to more acne, so apply camouflage makeup as gently as possible.
Remove it before bed: Very gently remove all makeup before bed.
Don't use expired makeup: Expired makeup products can be rancid or grow bacteria. Use only fresh camouflage makeup.

The Science
Camouflage makeup is used to cover especially severe skin conditions like:
Vitiligo
Tattoos
Skin imperfections such as scars, stretch marks, and burns1,2
Severe or very red acne
The most popular camouflage makeup products are:
Camouflaging foundations
Camouflage concealers
Camouflaging creams and powders2
People with acne may wish to use camouflage makeup to cover acne lesions, acne scars, and/or hyperpigmentation (darkened spots that sometimes remain after acne lesions have healed). However, since makeup itself can potentially trigger acne,3 applying camouflage makeup to acne-prone skin may seem like a Catch-22. The good news is that you can find camouflage makeup that is safe for acne-prone skin by following these guidelines:
Guidelines for Choosing Camouflage Makeup for Acne-prone Skin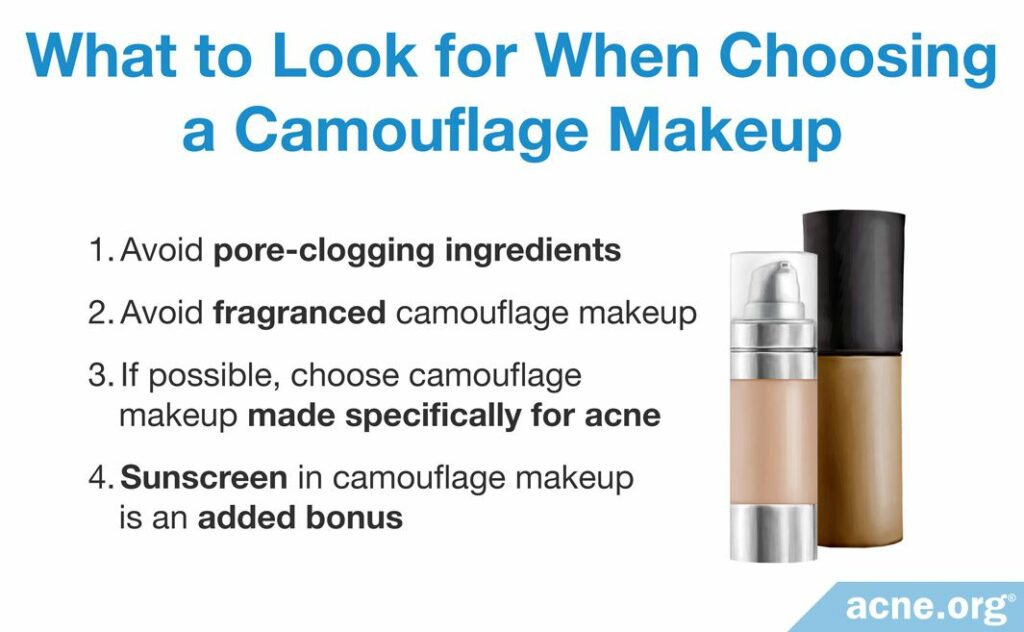 Avoid pore-clogging ingredients: Before buying camouflage makeup, take a look at the ingredient list. Avoid camouflage makeup that contains pore-clogging (comedogenic) ingredients. The table below provides a full list of common comedogenic ingredients.
Avoid fragranced camouflage makeup: Some camouflage makeup contains fragrances, which are the ingredient most likely to cause allergies. Even if you do not have allergies to fragrances, they may irritate your skin and thereby make acne worse. The safest approach is to select fragrance-free camouflage makeup.
If possible, choose camouflage makeup made specifically for acne: Some manufacturers produce camouflage makeup for acne by adding salicylic acid, which is an over-the-counter active ingredient that can help somewhat in keeping the skin clear. The concentration of salicylic acid in over-the-counter products like makeup is low, so it is unlikely to lead to a dramatic improvement in acne. Still, it may be a good idea to wear camouflage makeup with this ingredient if you can find it.
Sunscreen in camouflage makeup is an added bonus: If you spend a lot of time in the sun, it is important to protect your skin from the sun's rays. Camouflage makeup containing broad-spectrum sunscreen is a good choice, but you can also purchase a separate sunscreen product if your camouflage makeup does not contain this ingredient.
List of Common Comedogenic Ingredients in Makeup
Many studies have explored how likely various ingredients are to cause clogged pores (comedones).4 We have thoroughly reviewed this research and compiled two lists:
Definitely avoid: These are ingredients that people with acne-prone skin should definitely avoid, because a solid body of evidence shows that they are comedogenic.
Consider avoiding: These are ingredients that people with acne-prone skin may want to consider avoiding, because some evidence suggests that they might be comedogenic.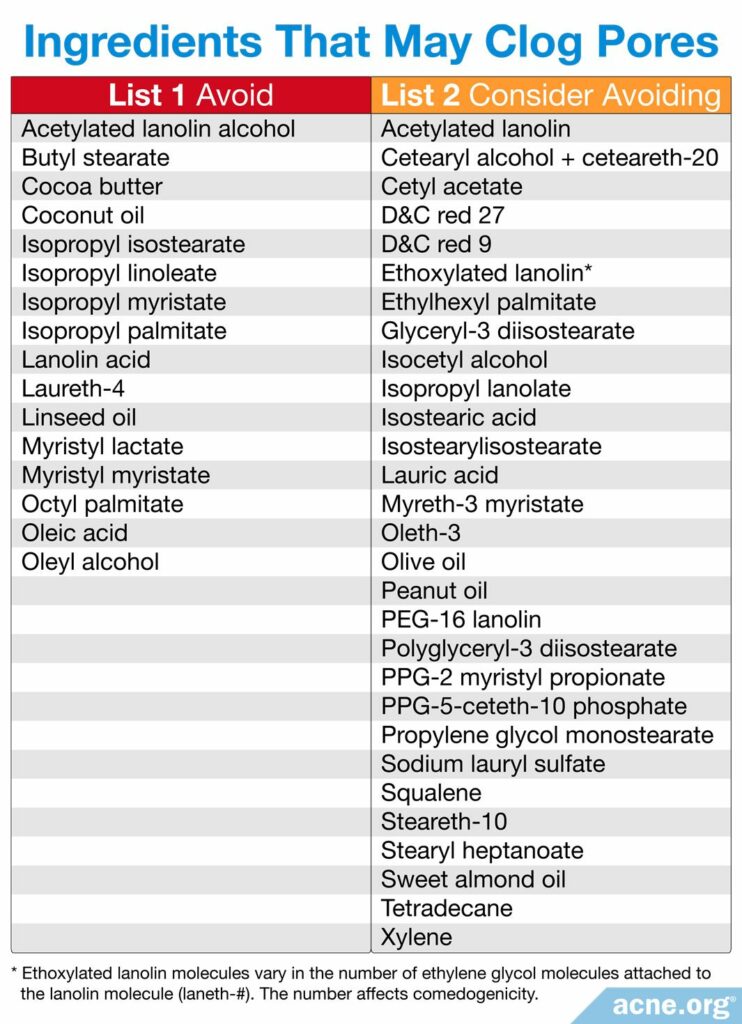 Tips for Using Camouflage Makeup on Acne-prone Skin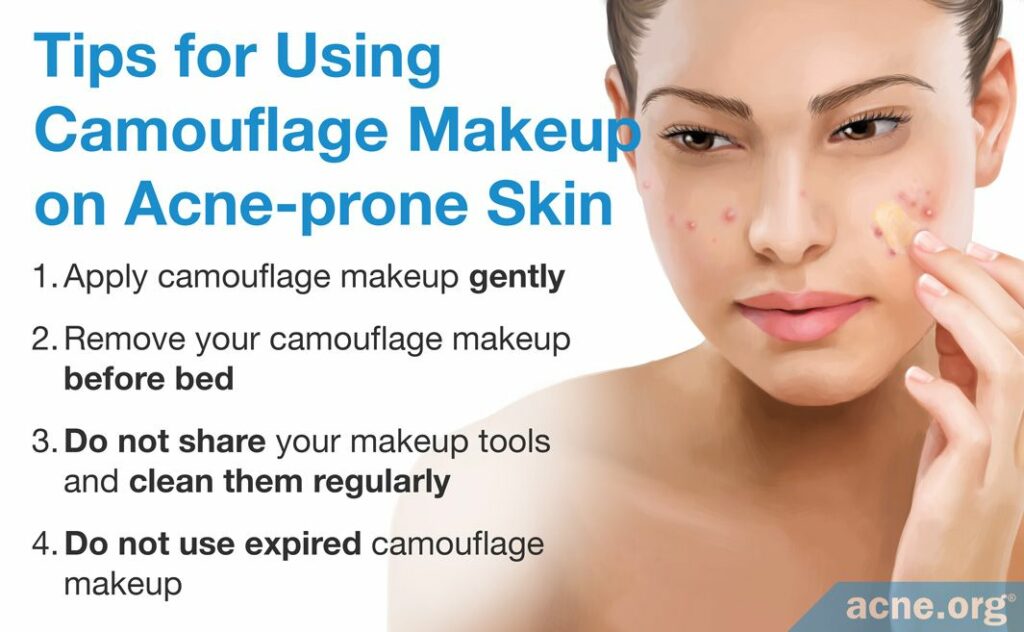 Physical irritation of the skin can aggravate acne, which is why it is important to avoid irritating the skin whenever you apply camouflage makeup or any other cosmetics to acne-prone skin.4 To prevent skin infections, it is also essential to practice good hygiene. Keep these tips in mind when you use camouflage makeup on acne-prone skin:
Apply camouflage makeup gently: Select the softest makeup brushes or sponges, or simply use your fingertips, and be gentle when applying camouflage makeup to avoid irritating the skin.
Remove camouflage makeup before bed: It is important to remove camouflage makeup and any other makeup before you go to bed because the skin is more vulnerable at night. Since camouflage makeup is thicker than regular makeup and usually waterproof, you may need to use a water-in-oil cleanser to fully remove it. Be gentle when cleansing your skin so as not to irritate it.
Do not share your makeup tools and clean them regularly: Do not share your makeup brush or other tools with anyone, as sharing makeup tools increases your chances of contracting a skin infection. Use disposable tools or clean your tools regularly to prevent the growth of mold and bacteria.
Do not use expired camouflage makeup: Expired camouflage makeup may start to break down or begin to harbor bacteria. Never use makeup that has expired.
Camouflage Makeup Ingredients: The Full Scoop

Camouflage makeup is a class of makeup products that are used to cover:

Skin imperfections such as burns, stretch marks, and scars after surgical interventions or tattoo removal1,2

Compared to regular makeup, camouflage makeup is:

More opaque (less transparent)
More waterproof
Heavier1,2

Applying camouflage makeup requires a different technique than applying regular makeup.

Types of camouflage makeup

Camouflage makeup can come in liquid, cream, stick, mousse, or powder form.1,2 Four of the most common types of camouflage makeup are:

Camouflaging foundation
Camouflage concealer
Camouflaging cream
Camouflaging powder

Camouflage makeup ingredients

Camouflage makeup ingredients vary depending on the product. The table below shows the most common types of ingredients in camouflage makeup.2,5 Some of these ingredient types are marked with an asterisk (*) because they may be comedogenic or irritating. Before buying camouflage makeup, check the list of ingredients and verify that none of them appear in the list of comedogenic ingredients at the beginning of this article.

In addition, avoid camouflage makeup with ingredients to which you are allergic. If you are not sure whether you are allergic to a makeup product, you can perform a patch test. Place a small amount of product on an inconspicuous patch of skin and wait several hours to see whether you experience itching or skin irritation.


Sunscreen in camouflage makeup

If you spend a significant amount of time in the sun, it is a good idea to protect your skin from the sun's rays. Excessive sun exposure can cause sunburn, and in people with acne, it can also contribute to so-called post-inflammatory hyperpigmentation (darkening of acne lesions after they heal). Therefore, if you plan to spend a lot of time in the sun, opt for camouflage makeup that contains broad-spectrum sunscreen or use a separate sunscreen product in addition to your camouflage makeup.

Salicylic acid in camouflage makeup

Some camouflage makeup contains salicylic acid or willow bark extract, which is a natural source of compounds similar to salicylic acid. Salicylic acid is somewhat beneficial for acne-prone skin. However, over-the-counter products like makeup are legally only allowed to contain a small amount of salicylic acid: 2% at most. At this low concentration, salicylic acid in your camouflage makeup is unlikely to dramatically improve acne. Still, if you can find camouflage makeup with this ingredient, it might be beneficial–but makeup without this ingredient can be a good choice as well.

The History of Camouflage Makeup

Camouflage makeup first came into use after World War II, when medical practitioners used it to cover severe burns in pilots. Today, dermatologists recommend camouflage makeup to patients who have difficult-to-treat skin conditions or imperfections that impair their quality of life.2 In fact, studies show that wearing camouflage makeup can considerably improve the quality of life of patients with acne and other skin conditions.6,7