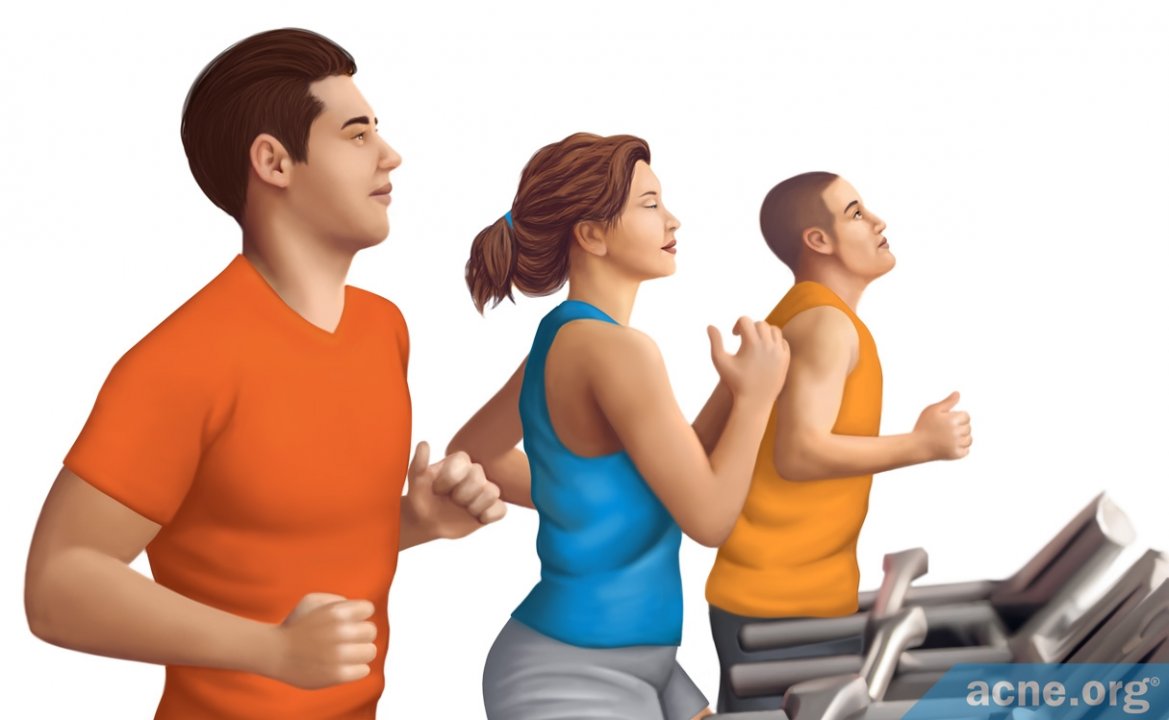 Article Summary
There is a possibility that regular, moderate exercise may improve acne. However, suddenly starting to engage in intense exercise may have the opposite effect. And don't worry about sweat. Sweat contains a chemical called dermcidin that may help to control acne bacteria. 
There is no direct scientific evidence indicating what effect exercise has on acne. However, indirect evidence suggests that, in general, exercise does not make acne worse and in fact may be beneficial. Let's have a look at some of the ways exercise might help with acne-related issues.

Exercise and Wound Healing
Acne lesions are wounds. Wound healing is especially relevant for acne since acne is primarily an inflammatory disease, and inflammation can prevent acne lesions from healing properly. Impaired wound healing can cause pimples to heal more slowly and can make scarring from acne worse.
Two studies on mice provide some indirect evidence suggesting that exercise might help the body heal more quickly. While results from animal studies often do not predict human results, these studies show that exercise may improve wound healing, at least in some animal models.1,2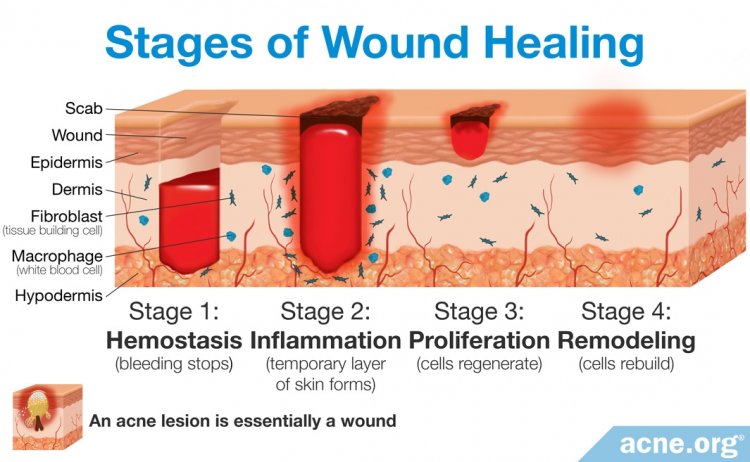 Exercise and Oxidative Stress In the Skin
Oxidative stress refers to an imbalance between free radicals in the skin and antioxidants that combat those free radicals. In other words, there are too many free radicals and not enough antioxidants to neutralize them. Oxidative stress is an important factor in acne since it can bring about inflammation, and acne is by its very nature an inflammatory disease.

In the skin, oxidative stress leads to chronic inflammation, which may lead to acne.3The anti-inflammatory effects of moderate, regular exercise might help reduce this inflammation, and thus combat acne, by enhancing the natural antioxidant mechanisms that cells use to transform free radicals into harmless molecules. On the other hand, sporadic, intense exercise may actually cause oxidative stress and therefore might increase inflammation.4

So does this mean you should avoid intense exercise? No. It simply means if you wish to engage in intense exercise, you should slowly up the intensity. For example, one study showed that intensive exercise itself does not appear to increase inflammation, as long as the exercise is regular and progressive rather than sporadic.5

What about sweat? 
From the evidence we have, sweat not only does not make acne worse, it might even help somewhat.

One small study published in 2008 found that exercise-induced sweat had no effect on acne.6

While the study mentioned above showed no effect, some evidence indicates that sweat itself may help fight acne. Sweat contains a chemical called dermcidin, which is released constantly from sweat glands. Dermcidin possesses antimicrobial (antibacterial) properties that can kill several types of bacteria, including P. acnes, the bacteria most commonly associated with acne. Some researchers hypothesize that dermcidin helps keep P. acnes populations under control.

A recent study found that people with acne may produce less dermcidin compared to people without acne.7 This finding suggests that people with acne could benefit from exercising and thus increasing the amount of sweat, and with it the amount of dermcidin, that comes into contact with their skin.

Conclusion
Exercise has many known health benefits to the body. With respect to acne in particular, regular, moderate exercise may be beneficial by reducing inflammation, promoting wound healing, and reducing oxidative stress. Additionally, sweat induced by exercise contains a chemical called dermicidin which has antibacterial properties that can kill the P. acnes bacteria, which might, in turn, improve acne symptoms.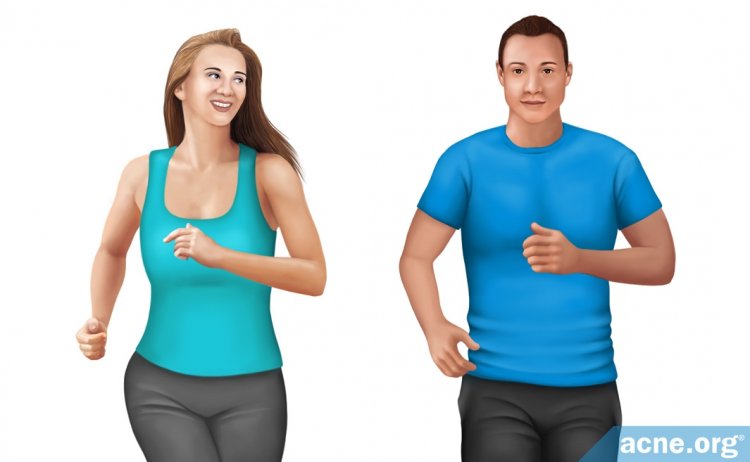 The Experts at Acne.org
Our team of medical doctors, biology & chemistry PhDs, and acne experts work hand-in-hand with Dan (Acne.org founder) to provide the most complete information on all things acne. If you find any errors in this article, kindly use this Feedback Form and let us know.
References:
Keylock, K. T. et al. Exercise accelerates cutaneous wound healing and decreases wound inflammation in aged mice. Am. J. Physiol. Regul. Integr. Comp. Physiol. 

294

, R179–184 (2008).
Pence, B. D., DiPietro, L. A. & Woods, J. A. Exercise speeds cutaneous wound healing in high-fat diet-induced obese mice. Med. Sci. Sports Exerc. 

44

, 1846–1854 (2012).
Kruk, J. & Duchnik, E. Oxidative stress and skin diseases: possible role of physical activity. Asian Pac. J. Cancer Prev. 

15

, 561–568 (2014).
Al-Shobaili, H. A., Alzolibani, A. A., Al Robaee, A. A., Meki, A. R. & Rasheed, Z. Biochemical markers of oxidative and nitrosative stress in acne vulgaris: correlation with disease activity. J. Clin. Lab. Anal. 

27

, 45–52 (2013).
Rall, L. C. et al. Effects of progressive resistance training on immune response in aging and chronic inflammation. Med. Sci. Sports Exerc. 

28

, 1356–1365 (1996).
Short, R. W., Agredano, Y. Z., Choi, J. M. & Kimball, A. B. A single-blinded, randomized pilot study to evaluate the effect of exercise-induced sweat on truncal acne. Pediatr. Dermatol. 

25

, 126–128 (2008).
Nakano, T. et al. Reduced expression of dermcidin, a peptide active against propionibacterium acnes, in sweat of patients with acne vulgaris. Acta Derm. Venereol. 

95

, 783–786 (2015).