Cytotoxic drugs, also known as cytotoxic agents, are anti-cancer drugs that can be used to treat hypertrophic and keloid scars. These drugs carry a lower risk of side effects compared to some other raised scar treatments such as radiotherapy.1 Cytotoxic drugs are used "intralesionally"–in other words, injected directly into scars.
Hypertrophic and keloid scars are raised scars caused by an overgrowth of collagen. This out-of-control growth makes raised scars somewhat similar to benign (non-cancerous) tumors. In cancer treatment, cytotoxic drugs are used to kill tumor cells. The word "cytotoxic" means "toxic to cells." When it comes to raised scars, cytotoxic agents work by killing or slowing the production fibroblasts (cells that make collagen) in the scarred skin. Fewer fibroblasts should lead to less collagen production and a smaller and flatter scar.1-3
The two cytotoxic drugs most commonly used for scar treatment are:
5-FU (5-fluorouracil): 5-FU works by slowing the production of fibroblasts in the scarred skin.
Bleomycin: Bleomycin works by killing overactive fibroblasts in the scarred skin.2,3
As with all scar repair treatments, treatment with intralesional cytotoxic drugs is sometimes combined with other scar epair procedures to achieve desired results.
People with active acne should not undergo acne scar revision of any kind, including treatment with intralesional cytotoxic drugs. Make sure that your skin is clear of acne before beginning scar revision.
Before agreeing to undergo treatment with intralesional cytotoxic drugs, consult multiple doctors about your options, expected outcomes, and treatment prices.
Procedure details:
Before administering the treatment, the doctor will clean the scar. Next, the intralesional cytotoxic agent will be placed inside scars in one of the following ways:
Injection with a syringe and needle (normally used for 5-FU): The doctor injects the cytotoxic agent into the center of the scar mass until the scar turns slightly white. Sometimes, the cytotoxic agent is first mixed with an anesthetic to reduce pain during treatment, or with a corticosteroid (a drug that decreases inflammation) to help reduce side effects, and injected into the scar as a mixture.2,4-9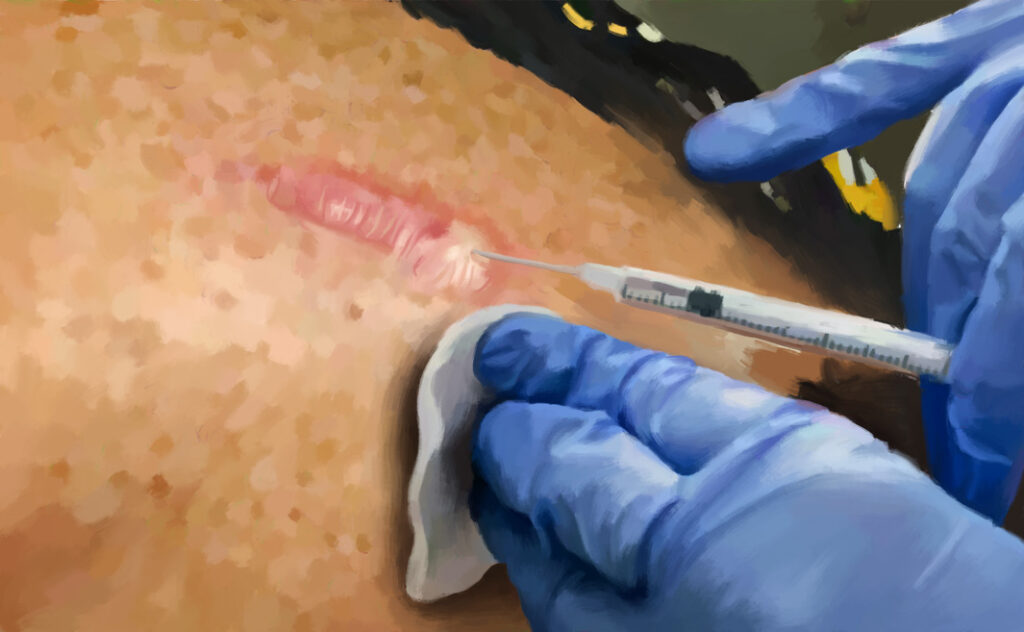 "Tattooing" (normally used for bleomycin): The doctor drips the cytotoxic agent onto the surface of the scar and then uses a small needle to make multiple tiny punctures (holes) in the scar so that the cytotoxic agent can seep inside.2,10-12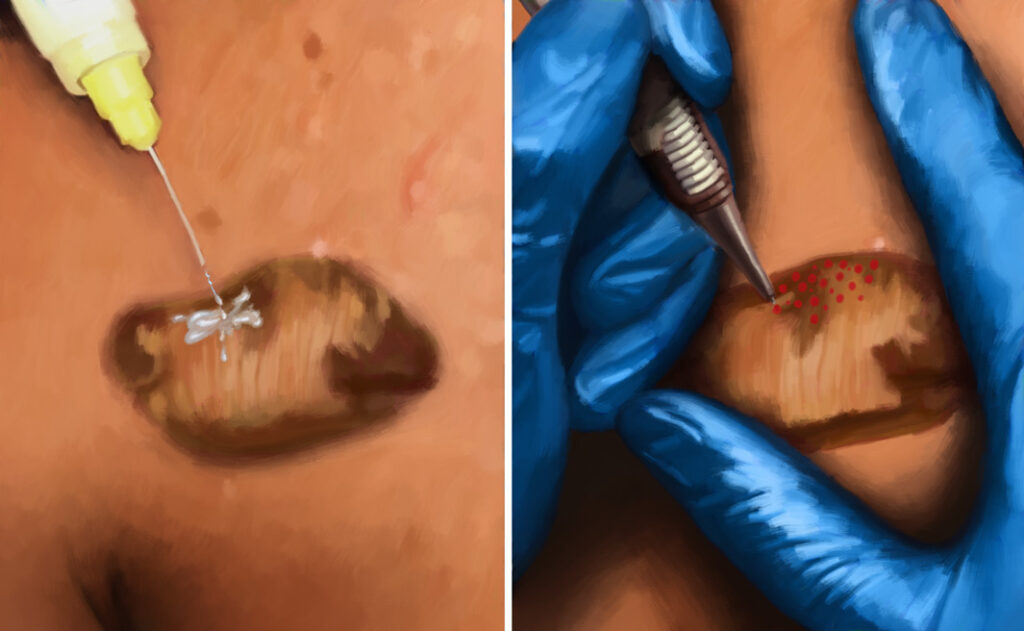 Bleomycin is dripped on top of a scar using a syringe. Please note that although it looks like the drug is being injected, the doctor is placing drops on top of the scar. Tiny holes are made in the scar to allow the bleomycin to seep inside.
Depending on the extent of the scarring and on how well the scar responds to the treatment, the doctor may adjust several factors:
Number of treatment sessions:



5-FU: 5-FU is typically administered over at least 4 and sometimes as many as 16 total sessions.

Bleomycin: Bleomycin is sometimes administered in a single session, but it is more common to receive 2-6 sessions of treatment.

Time between treatment sessions:



5-FU: The first few treatment sessions with 5-FU are usually spaced 1 week apart. As treatment continues, the doctor may start spacing the sessions out more (about 2-4 weeks apart).

Bleomycin: Treatment sessions with bleomycin are spaced at least 2 weeks apart, but often 1-4 months apart.

Dose of cytotoxic agent:



5-FU: Most doctors administer 25-150 mg of 5-FU per session.

Bleomycin: Most doctors administer 5-10 IU of bleomycin per session.4-14
| | | |
| --- | --- | --- |
| | 5-FU | Bleomycin |
| # of treatment sessions | 4-16 | 1-6 |
| Time between treatment sessions | 1 week for first few sessions, 1-4 weeks for later sessions | 2 weeks-4 months |
| Dose | 25-150 mg/session | 5-10 IU/session |
Anesthesia:
Most patients experience mild-to-moderate pain during intralesional treatment with cytotoxic drugs. To make patients more comfortable, doctors sometimes administer anesthesia before treatment. Anesthesia can be in the form of:
Mixing the cytotoxic agent with an anesthetic: Sometimes the doctor will mix the cytotoxic agent with an anesthetic and inject both together into the scar.
Injecting an anesthetic before beginning treatment with cytotoxic agent: Sometimes the doctor will first inject an anesthetic, such as lidocaine, into the scar to numb the area before beginning intralesional treatment with the cytotoxic agent.5-14
Before-and-after: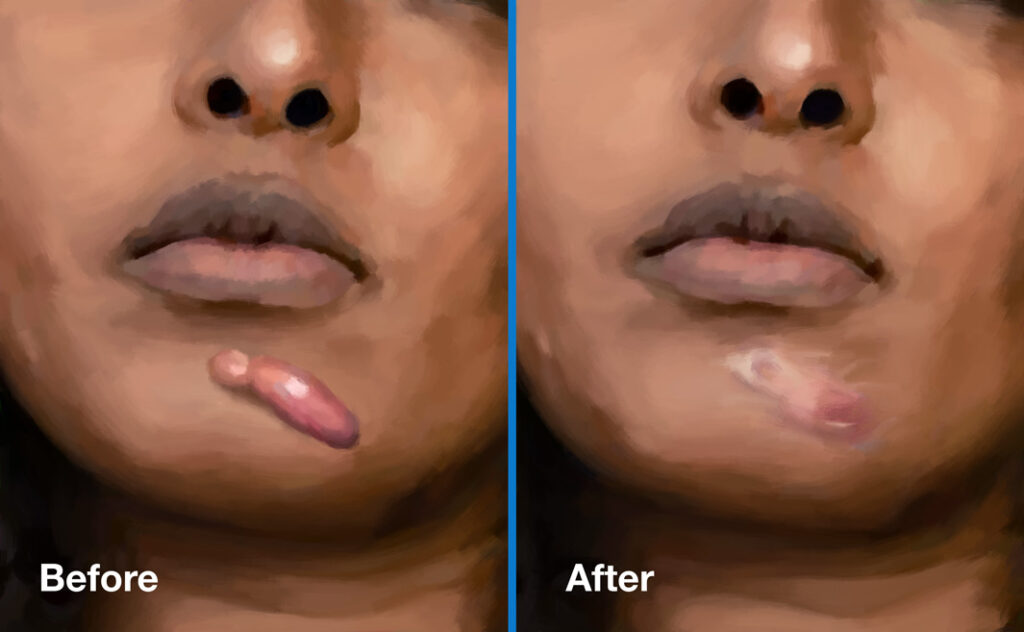 A keloid scar before (left) and after (right) intralesional treatment with 5-FU.
Keloid scars before (left) and 21 months after (right) intralesional treatment with bleomycin.
References

Bijlard E, Steltenpool S, and Niessen FB. Intralesional 5-fluorouracil in keloid treatment: a systematic review. Acta dermato-venereologica. 95(7), 778-82 (2015).
Levy LL, and Zeichner JA. Management of acne scarring, part II. A comparative review of non-laser-based, minimally invasive approaches. Am J Clin Dermatol. 13(5), 331-340 (2012).
Ledon JA, Savas J, Franca K, Chacon A, and Nouri K. Intralesional treatment for keloids and hypertrophic scars: a review. Dermatologic Surgery. 39(12), 1745-57 (2013).
Kontochristopoulos G, et al. Intralesional 5-fluorouracil in the treatment of keloids: an open clinical and histopathologic study. J Am Acad Dermatol. 52(3 Pt 1):474-9 (2005).
Manuskiatti W, and Fitzpatrick RE. Treatment response of keloidal and hypertrophic sternotomy scars: comparison among intralesional corticosteroid, 5-fluorouracil, and 585-nm flashlamp-pumped pulsed-dye laser treatments. Arch Dermatol. 138(9), 1149-55 (2002).
Nanda S, and Reddy BS. Intralesional 5-fluorouracil as a treatment modality of keloids. Dermatol Surg. 30(1), 54-6; discussion 56-7 (2004).
Saha AK, and Mukhopadhyay M. A comparative clinical study on role of 5-flurouracil versus triamcinolone in the treatment of keloids. Indian Journal of Surgery. 74(4), 326-9 (2012).
Sharma S, Bassi R, and Gupta A. Treatment of small keloids with intralesional 5-fluorouracil alone vs. intralesional triamcinolone acetonide with 5-fluorouracil. Journal of Pakistan Association of Dermatology. 22(1), 35-40 (2017).
Prabhu A, Sreekar H, Powar R, and Uppin VM. A randomized controlled trial comparing the efficacy of intralesional 5-fluorouracil versus triamcinolone acetonide in the treatment of keloids. Journal of the Scientific Society. 39(1), 19 (2012).
España A, Solano T, and Quintanilla E. Bleomycin in the treatment of keloids and hypertrophic scars by multiple needle punctures. Dermatol Surg. 27(1), 23-7 (2001).
Naeini FF, Najafian J, and Ahmadpour K. Bleomycin tattooing as a promising therapeutic modality in large keloids and hypertrophic scars. Dermatol Surg. 32(8), 1023-9; discussion 1029-30 (2006).
Aggarwal H, Saxena A, Lubana PS, Mathur RK, and Jain DK. Treatment of keloids and hypertrophic scars using bleom. J Cosmet Dermatol. 7(1), 43-9 (2008).
Gupta S, and Kalra A. Efficacy and safety of intralesional 5-fluorouracil in the treatment of keloids. Dermatology. 204(2), 130-2 (2002).
Saray Y, and Güleç AT. Treatment of keloids and hypertrophic scars with dermojet injections of bleomycin: a preliminary study. Int J Dermatol. 44(9), 777-84 (2005).
Uptodate.com. Keloids and hypertrophic scars. Available from: https://www-uptodate-com.eresources.mssm.edu/contents/keloids-and-hypertrophic-scars?source=see_link&sectionName=MANAGEMENT&anchor=H151854186#H151854186. Last retrieved on 7 November 2017.