Massive boils on face causing beard loss (after being clear for 4 years using benzoyl peroxide)
Hi all. I am a 30 years old man and have been clear of acne for 4 years using Benzoyl Peroxide.
Two years ago, I started developing some boils on my neck (maybe 1 or 2 every six months). They weren't a concern since they never came to head and would go away on their own. I have a neck beard so they would be hidden by it. No pus, just hard lumps that went away after months.
This year in March, I developed a very large boil right under my jaw and a month later I noticed there was no beard hair over it anymore. It led to beard-loss in that region (maybe permanent) after taking 3 months to heal. I didn't squeeze on it ever and it would leak a bit on it's own after 1.5 months or so, but in very minute amounts. It went away after almost 3 months on it's own (I was slathering it with BP or anti fungal shampoos) but I believe this boil may have led to scarring and hair may never grow back in that region again. I have attached some pics of the aftermath.
Just 2 weeks ago, I got 2 more of these boils, this time near my jaw line and I am now starting to get concerned because I think it leads to scarring and kills hair follicles. Upon some heavy research, I have found that it could either be bacterial (Folliculitis Declavans - which apparently has no cure and antibiotics may merely manage it) or a fungal infection like ring worm (in which case I may need oral antifungals).
The boils can be described as following from another users post on here - "The size of the thing was absolutely absurd and the skin around it was elevated, too, like a mini pyramid. The diameter of elevation was maybe about an inch. It was the biggest spot/nodule/cyst/whatever-it's-called that I've ever had in my life by far."
Has anyone ever gone through this and had something that worked for them? It's the beard loss in these areas that is worrying since I have always kept a heavy beard all my life and it's something I love about my face.
I have attached a few pics here.
---
I had been on antibiotics (doxy and mino) for 2 years from 2013 to 2014 every single day. They worked while I was on them but in the long run they gave me secondary infections like folliculitis (white pustules all over my mouth and chin) which I was later able to get rid of using Benzoyl Peroxide in 2018. I have been clear since and now these boils have started popping up.
---
Pics
This is the most recent boil that is developing which I am worried will result in hair loss again. Ignore the yellow (I tried some natural treatment that didn't do anything lol).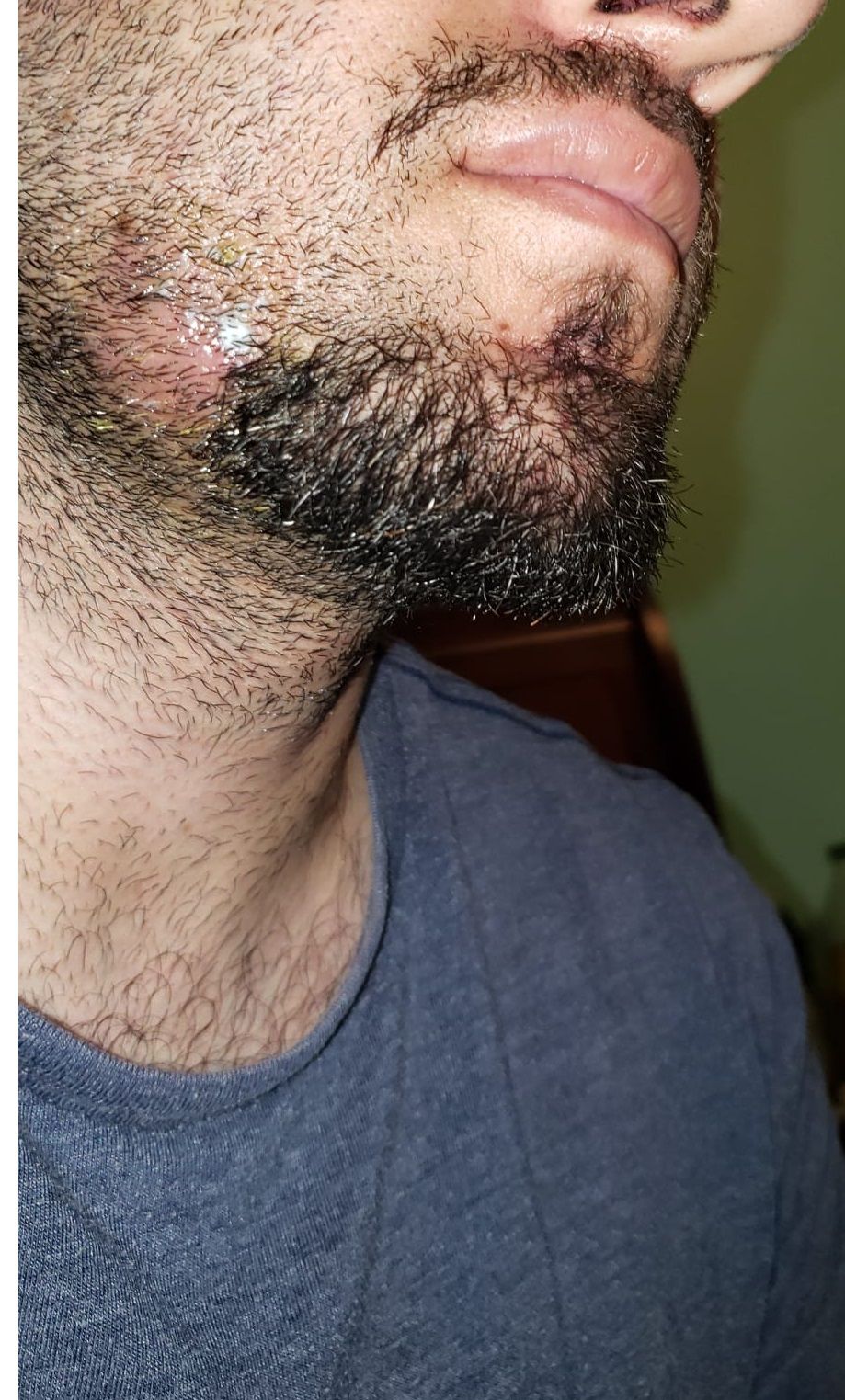 This pic below shows the second boil developing although smaller. If I press it, it feels like a very hard lump with 0 pain.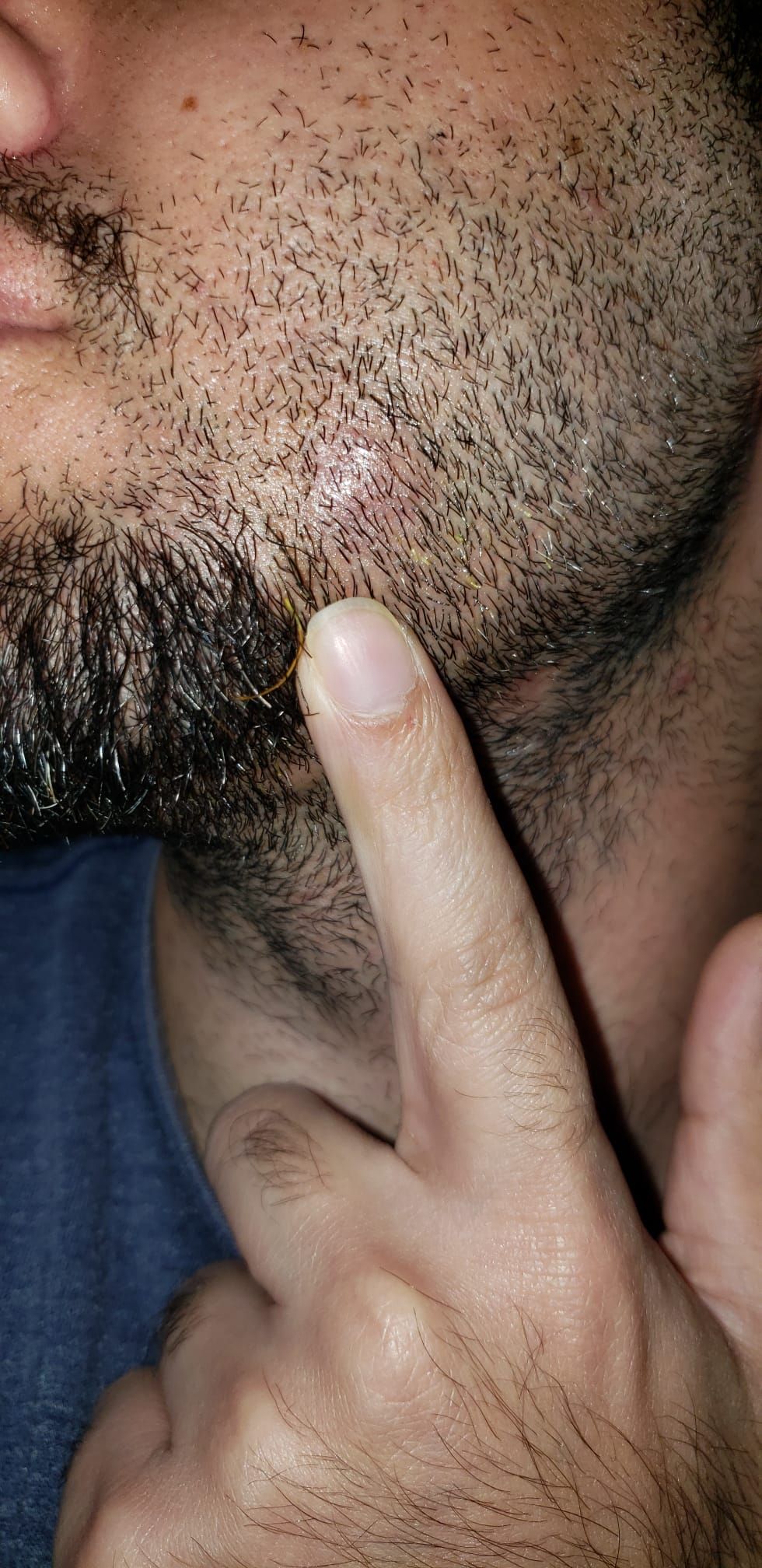 The pic below shows the spot left hairless from the boil in March. (Pic was taken few days ago)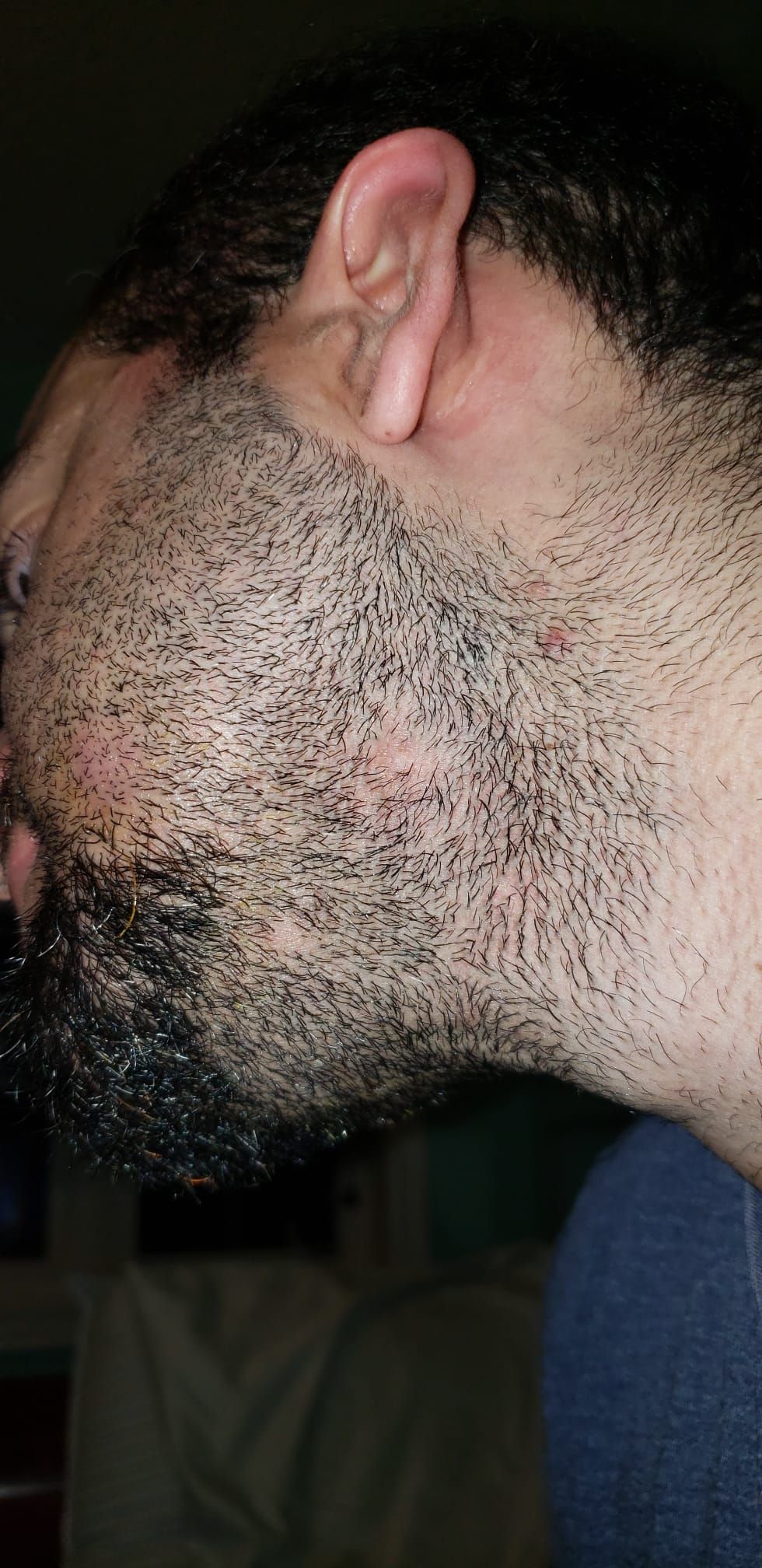 I am going to see a doctor tomorrow but since I am in Canada, dermatologist wait list will probably be 2 to 3 months so I'm not very hopeful.
Please let me know if anyone has dealt with this before.
Update: the doctor said it's just acne and prescribed clindamycin antibiotic which really felt like a lazy diagnosis on his end. Referred me to a dermatologist too. So I haven't taken the antibiotic since I used to be on them for 2 years and they caused long term damage (recurring folliculitis which i now manage with benzoyl peroxide).
The boil itself seems to be spreading and not draining yet. It's the same one from the first pic which has now expanded down to a bit under my goatee.
The fact that it's expanding like that makes me feel it could be a fungal infection vs bacterial