Benzoyl Peroxide Burn Permanent?
Hi.
I was on accutane 30mg daily and my last dose of it was 4 months ago. I don't have ANY acne and my face was so clear for last 6-7 month. But a week ago, I get 3-4 small acne, and I used Benzoyl Peroxide %5 on them for 4-5 days. They completely disappeared. I was so happy.
I wanted to dermaroll my skin with my 1.0 dermaroller. I done dermarolling 4-5?times before, and even I was on accutane, but everytime I done it, my face gets a bit red, then, it will go away in 2-5 hours. If it was very very red, it will %100 go away overnight. This is the maximum healing time and after that my face become completely un-red(!) and like before.
BUT, My question is:
I dermarolled my skin friday afternoon(~6:00 pm) , and face became very red like everytime. I think that it will go away before I sleep(11:00 pm) . Allof face redness gone excluding my laugh line(2 left and right lines next to my lip). It was very red and it didnt healed at all. I applied some Avene Xeracalm, applied Zind Oxide %25 overnight, applied spf50 sunscreen Saturday and Sunday(today) but the redness isnt gone. It's came like a hot water burning

what can i do to cure it?
Also from Today morning, i got lots of skin peels, like when you take accutane for some weeks for first time. I got peeling in that place on the rednesses.
Will it become permanent? I 'm so worried and i got panic attacks about it from yesterday:(
I'm not an impatient person, i can wait even for 2-3 months with no problem; but im scared that if its permanent? Please answer me thank you.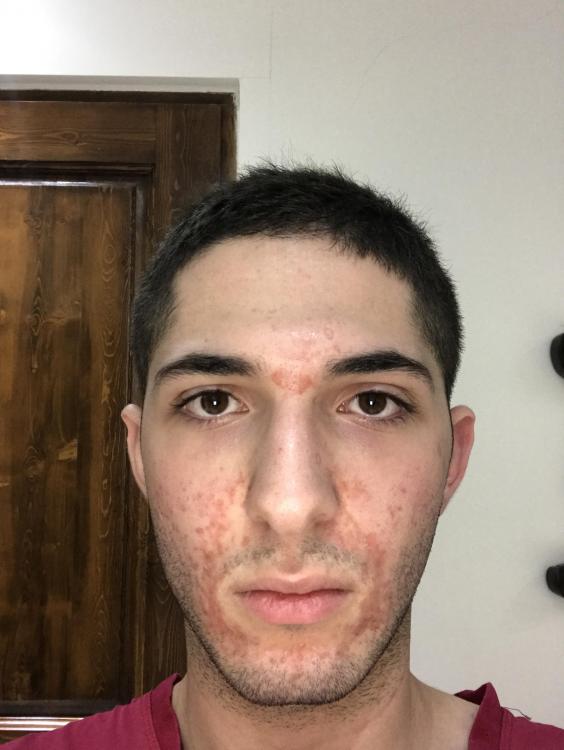 About Pic: those small red leftovers are from my past acne s that i got before and trated with accutane. What i talking about is only redness on my laugh lines and between my eyebrows.