Review of the phenol peel (1+ year later)
Hi everyone,
I've been a viewer of this forum for many years now (when I was a teenager maybe 13,14?) and now I am thankful to be able to contribute back (late 20s).
Short background:
I had cystic acne as a kid and continued to have it through out my early-mid 20s. I finally have my acne under control but am left with probably one of the worst acne scars.
Ethnicity: Asian
Skin Type: Unsure but not pale, not brown. Maybe in between?
Past procedures:
May 2016: Ematrix (0% improvement)
Jan 2017: TCA Cross with some local doctor (scars definitely widened but less shallow (?))
Nov 2018: Trio with Rullan
Dec 2019: Trio with Rullan
March 2020: Trio with Rullan
Nov 2020: Trio with Rullan
End of April 2021: Phenol Peel with Rullan
Procedure Day 1:
Rented an airbnb + hired a care taker recommended by Dr Rullan's office.
Went in for color matching (makeup which I never ended up using).
4 shots in the mouth to numb the face
Dr Rullan pumped the saline then performed subcision (cannula)
He then performed phenol cross on specific scars then applied a wide spread amount of phenol across my cheeks, forehead, temple. It stung around the eyes.
He also put the powder on the entire face.
The procedure felt extremely short (probably because of the meds).
Caretaker drove me back to the airbnb and I became more and more swollen by the hour.
Pain was not bad because of the meds
Procedure Day 2:
Felt great the morning of the 2nd day (0 pain).
Eyes were almost completely shut because of how swollen it is and my vision were almost completely impaired.
Nurse hooked my up with some IV that help with the pain.
Dr Rullan + nurses cleaned off the powered mask and he started performing dermabrasion with a tongue depressor.
The pain was pretty bad until the nurse started the pain reliever from the thing that was hooked up.
I was bleeding throughout the dermabrasion.
(I think a 2nd layer of phenol was applied(?) but not entirely sure)
The powdered mask was applied again.
I took a picture of myself after the dermabrasion was finished and can still see my scars.
Care taker drove me home and pain was manageable but not pleasant. (felt like a very bad sunburn)
Day 3 (worst day):
Wokeup with throbbing pain on my face at 4am. Took a pill and fell asleep.
Later woke up and it was still painful but not as bad.
Face felt itchy, burning sensation, and can feel my face pulsating.
Eyes are less swollen.
Day 4:
90% of the pain is gone
Drove home from San Diego to LA that night.
Day 7:
Finally took mask off. Initial result looks good but I can still see all my scars. My face seems to be poreless (but pores later return days later).
First Month (May):
Red as a tomato. I wore a oversize mask and a hat to cover most of my face.
Day by day, I can see my scars coming back in full force. I wasn't happy about this at all. (It became a lot better toward the end of the 2nd month.)
Second Month (June):
Face was still red but not as bad.
Face was also a lot lighter (paler) compared to the neck.
I was able to see results toward the end of the month since the redness in the first month amplifies the scar.
6th month (October):
It wasn't until 6th month post procedure where I felt the redness is truly gone.
Cost:
I lived in LA during this time so thankfully I didn't have to fly. I drove back on the 4th night.
Prescription Drugs: $110
Airbnb near Chula Vista: $650 for Monday-Friday (4 nights) (I choose an airbnb because I didn't want to deal with hotel staffs)
Phenol Peel Procedure: $6000 (it is cheaper in 2021)
Care Taker: $1100 (350/night + $50 in food)
Reflective Visor: $20 (highly recommend so people won't stare) https://www.amazon.com/dp/B07KFZVVTN
Total: $7880
Before and after pictures:
Left Side:
Base line (before any procedure other than Ematrix): Dec 2016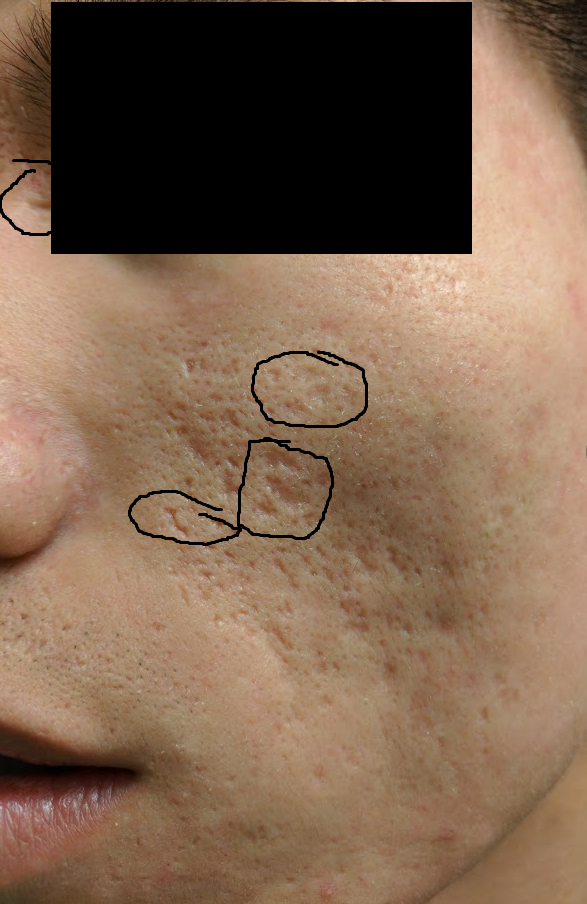 (Nov 2020 before 5th trio vs June 2022)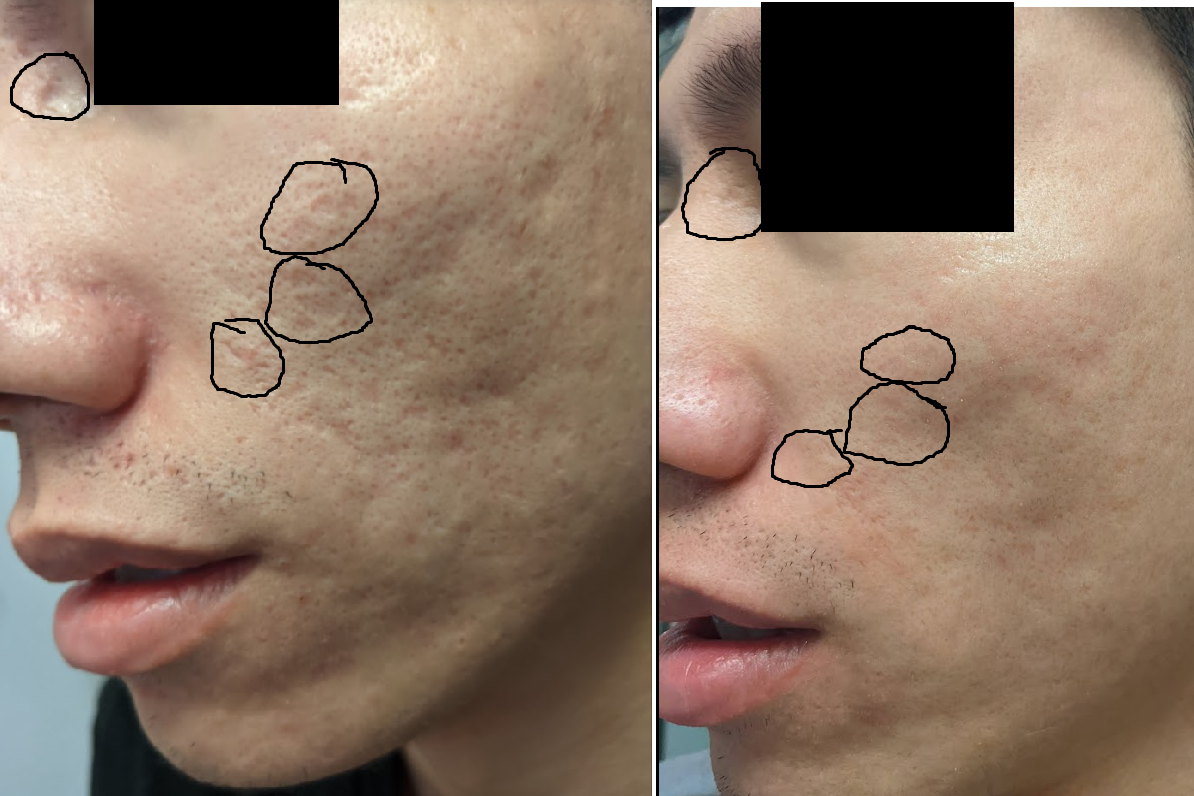 Harsher angle showing the rolling scars: (post-procedure Dec 2021)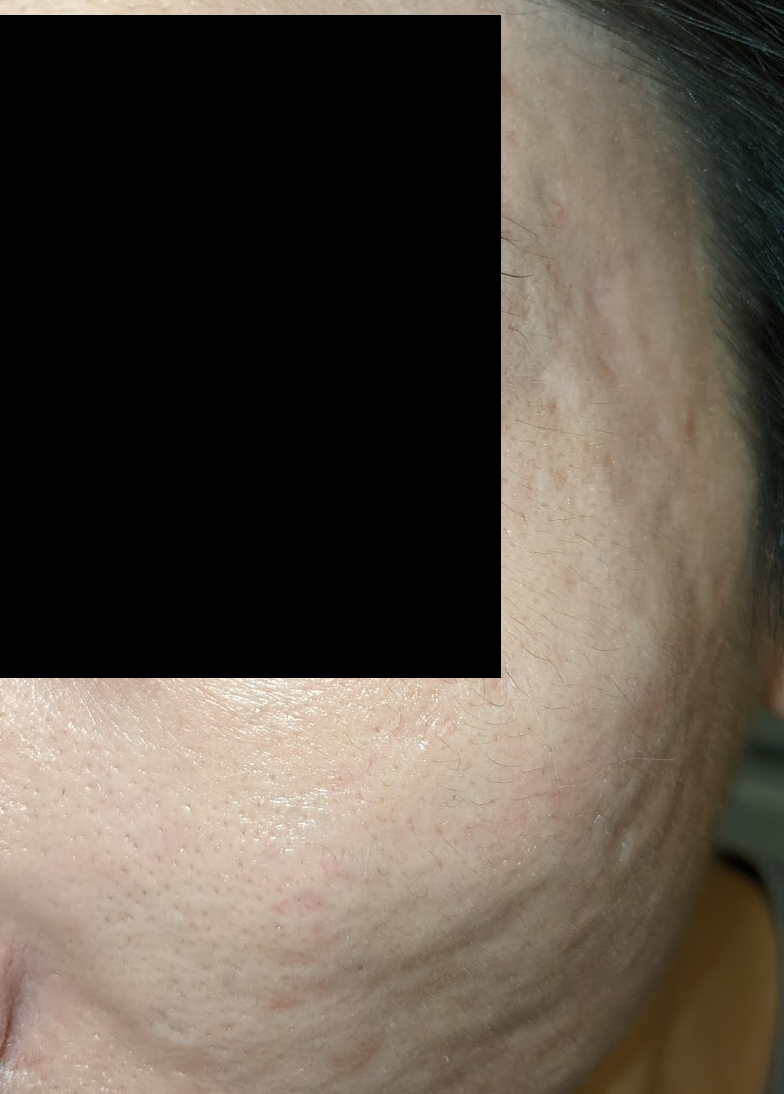 Right Side:
(Nov 2020 vs June 2022)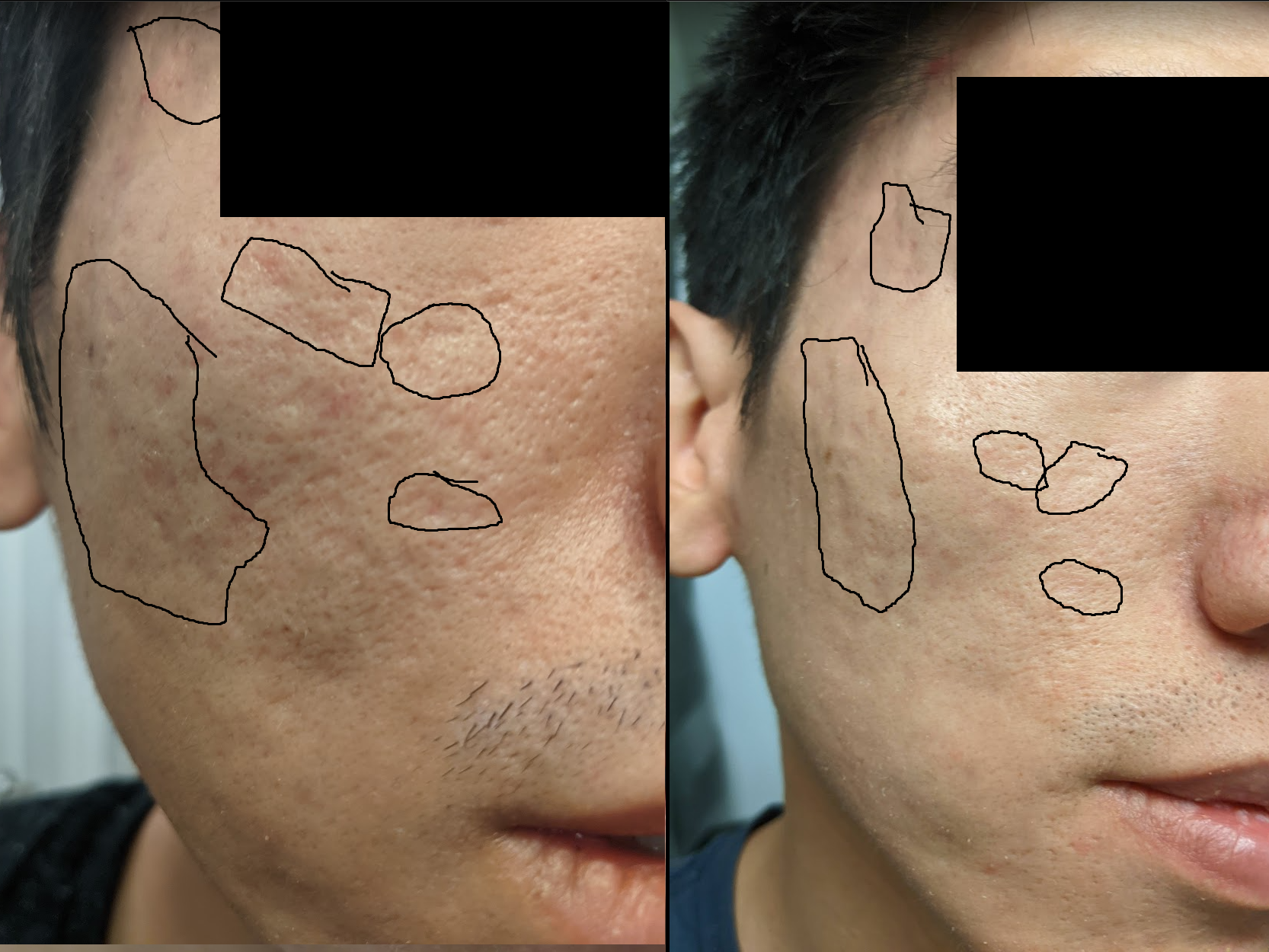 Harsher angle showing it doesn't help much with rolling scars (March 2022):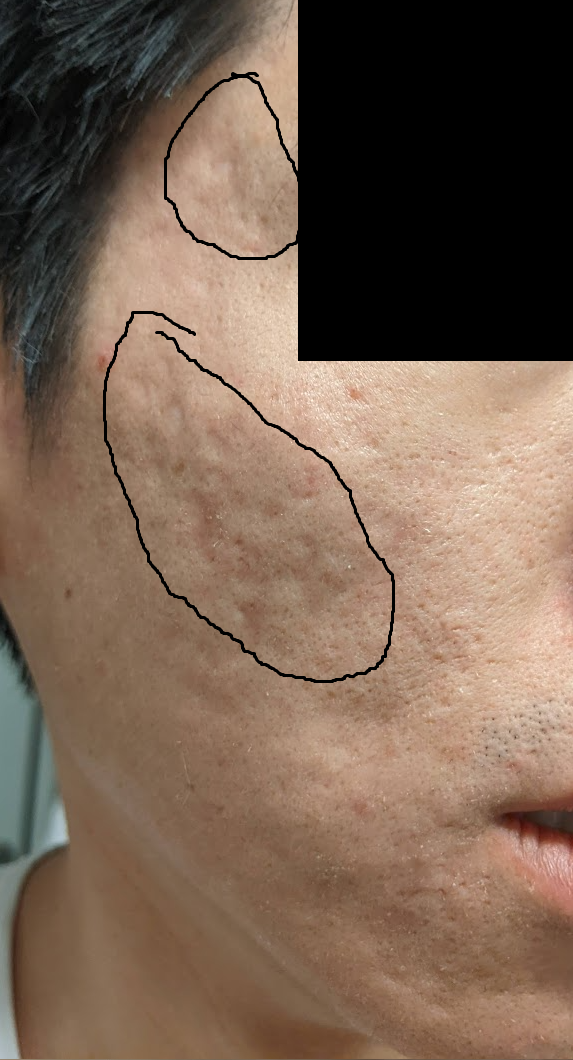 This was also taken on the same day/time/location (March 2022) showing that angles do matter: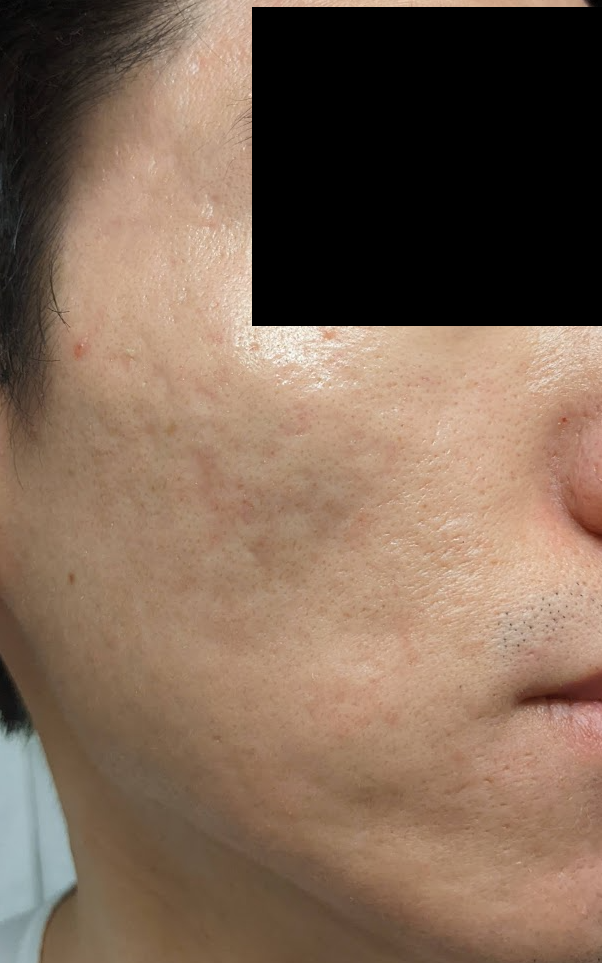 Was it worth it?
For me, yes even though it didn't cure every and all scars. It made me a lot more confident in my skin and myself. It evaporated many of the icepick/box scars on my cheeks. Many of the smaller scars looks like large pores (which I'm okay with!). My skin looks smoother overall. I would never be able to capture the "smoothness" in the photos about if I never had the procedure.
Final Thoughts:
If you have wide spread facial scars (shallow box/icepick), phenol peel is definitely worth trying. (I haven't have fully ablative laser so I cannot comment on that procedure.)
If you have mostly rolling acne scars, phenol peel would probably not be worth it. Go with subcision + filler/suction method.
I consider acne scar to be a disease that affects mental health and I wish it would be covered under insurance in the US. Acne scaring procedure is not cheap and the amount of effort I have spent researching different procedures and reading scientific papers is probably in the hundreds. I spent a lot of time worrying about how I look in different angles and what people think about it. It is a disease that people without it would not understand. Something I wish I can tell my past teenage self is to get my acne under control (stop eating tons of carbs and sugar).
Also, you are your biggest critique. It may look bad to you, but other people may not find it as bad.