MAC Studio Fix Powder Plus Foundation - Reviews
MAC Studio Fix Powder Plus Foundation
---
---
View Ingredients
Ingredients
Talc, Silica, Isostearyl Palmitate, Methicone, Caprylyl Glycol, Hexylene Glycol, Phenoxyethanol [+/- Titanium Dioxide (CI 77891), Iron Oxides, (CI 77491, CI 77492, CI 77499). Chromium Oxide Greens (CI 77288), Ultramarines (CI 77007)]
.

The list of ingredients above is provided for informational purposes only. Always check the actual product label in your possession for the most accurate ingredient information due to product changes or upgrades that may not yet be reflected on our web site.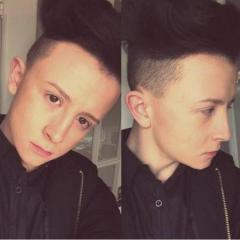 ---
Amazing. READ!

So I have Comb/Dry Skin which has always been Acne Prone. I started using powder foundation because I hated how heavy liquid looked on my skin, especially as a male. I work on a Make-up Counter so my days are long, I work near enough 40 hours a week most weeks and the stress of working in and around people can sometimes reflect on the condition of my skin. I expected to break out at first with this powder, I read some reviews of people saying it was awful and how it broke them out but everyone I know who has it and uses it has naturally flawless skin. I was concerned at first as to whether it was a waste of money. The first 3 or 4 times I used it, it broke me out in little pimples, on my nose, forehead and cheek. I kept up with my skincare regime, applying a good clearing gel by Dermalogica and Sudocream before bed after wearing it all day. I wore it daily so my skin could get used to it, my heart was set on powder foundation. Within a week my skin started clearing up, it looked a lot fresher, less discolouration. I use this powder with my Spa Find Comb Stabalizing Moisturiser alongside a Kiko Colour Correcting Primer in Purple everyday. I use a Mac 129 brush to apply it with and now I see myself with no issues whatsoever. If you stick with it you will be absolutely fine, recover from the breakouts and it'll become a holy grail product. I am so happy with the way my skin has reacted to it, I have next to no spots now!
---
Broke me out.

MAC powders and foundation are great for coverage but they broke me out badly.
---
Most horrible powder on earth

I have used many foundations before and my sister gave me this Mac powder last month, along with seventeen foundation, it was the most horrible breakout month I have had in my life, and the more you use the more you have break outs. I just stopped it last week and now I am trying to deal with the scares left. Had to use it today to left my spirits up, and there u go again two new break outs, who ever made this is evil.
---
WORKS FINE IF USED PROPERLY! USE BRUSHES NOT SPONGES

i love Mac honestly its the best powder that i was able to use. it does make my skin oily and i get breakouts because i'm not cleaning my brushes as often as i should lol. but i'm trying oil control moisturizer and its better! another thing is having acne you have to make sure a lot of brushes you used are cleaned at least once a week, and that sponges are thrown away after every use! and hands are washed before and after you put your makeup on. ---
Made me break out

I remember purchasing this several years ago when I was in grade 8, it was the first high end foundation I'd bought before so I had high hopes for it, also most MAC foundations I notice don't come in a shade pale enough for me and are too yellow undertoned so I thought a powder would be more forgiving... plus help with oil control better. The first time I used this I noticed the day afterwards that I had small whiteheads all over where I applied it and I've NEVER had that happen to me with any sort of product before, makeup or otherwise. I decided to give it a bit of a break then try it again in a smaller portion of my face and same exact thing happened... I think I gave this away to one of my friends and it worked alright for them but there's so way I'll be repurchasing this product again. Not sure which ingredient(s) may have triggered this reaction as I've been perfectly fine using other talc based powders in the past but it makes me somewhat reluctant to try other MAC foundations.
---
Covers Good But Has Comedogenic Ingredients.

Good coverage Comedogenic Ingredients Makes acne stand out if you use too much Expensive It looks good, feels nice, but you have to use a little bit or else it really makes your acne stand out. I don't like that it has ingredients that clog your pores, like talc. It was also very expensive. I bought the whole MAC set, besides the blush, and altogether it costed over $200. Just the powder costs about $30.
---
Great Coverage, Horrible Breakouts

colors coverage Bad Breakouts drying You can't beat the colors and the coverage, but every single time I use this makeup it makes me breakout. I have this powder and only use it when I'm in a bind and literally every time I do I breakout. I've tried soooooo many times, ugh!
---
Great coverage Easy to find your shade Good packaging Very good amount of product Over-powery if not applied correct I use this product every summer and fall and I do not get break outs from it. This is a good product to use if you don't want to wear something heavy or if you are in a rush. It gives a very good amount of coverage for a powder and is easier to carry around than liquid foundation. I would probably recommend using a kabuki brush for maximum coverage. If you apply too much you can spray some of MAC Fix Plus or something of the like and it will take away the cakey look. This will give you a more dewy finish while still absorbing oils since it is still a powder foundation. You can also lightly layer this over liquid foundation to give you more coverage. I would not recommend this for people with dry skin. I would suggest using a primer or lotion with SPF prior to application because this product has none.
---
covers blends very nicely with skin tone smells nice evens skin tone I have had a few breakouts with this powder. makes my skin dry/appear oily at the same time (sometimes) expensive I really like this powder! If you apply it right, it will not look cakey :) Makes skin tone very even and pretty. I have had a few breakouts with this powder, but most of the time it wont break me out.
---
lots of shades good coverage silly amount of evil ingredients made me break out like crazy expensive not worth it!
---
Covers acne very well just alone. Matches skin perfect buildble coverage Last up to 6 hours if you have oily skin. expensive I love this. At first it looked cakey on me but thats because I applied it differently . Now i apply it with just a powder brush and thats it and it looks natural. I love it I'm going to go buy more.
---
-Covers Acne -Lasts Long -Causes Breakouts everytime -Cakey The cover was really good in alot of light shining in my face but like going to school it looked very cakey & was soo bad for my skin.