Everyday Minerals Mineral Makeup - Reviews
Everyday Minerals Mineral Makeup
---
---
View Ingredients
Ingredients
Semi Matte
Mica (CI 77019), Lauroyl Lysine. May Contain: Titanium Dioxide (CI 77891), Zinc Oxide (CI 77947), Iron Oxides (CI 77491, CI 77492, CI 77499), Ultramarines (CI 77007).
Matte
Mica (CI 77019), Lauroyl Lysine. May Contain: Titanium Dioxide (CI 77891), Iron Oxides (CI 77491, CI 77492, CI 77499), Ultramarines (CI 77007).
IT
Mica (CI 77019), May Contain: Titanium Dioxide (CI 77891), Iron Oxides (CI 77491, CI 77492, CI 77499), Ultramarines (CI 77007).
Jojoba
Mica (CI 77019), Simmondsia Chinensis (Jojoba) Esters. May Contain: Titanium Dioxide (CI 77891), Iron Oxides (CI 77491, CI 77492, CI 77499), Ultramarines (CI 77007).
The list of ingredients above is provided for informational purposes only. Always check the actual product label in your possession for the most accurate ingredient information due to product changes or upgrades that may not yet be reflected on our web site.
---
Best Mineral Powder Makeup ever!

I have tried so many mineral powders - Pur minerals, Bare Essentials (Bare Minerals) - broke me out like CRAZY, Bobbi Brown, and Jane Iredale. Everyday Minerals is by far the best! I use the Matte formula. It offers medium coverage, a natural looking matte finish, but not a flat unnatural finish. Has pretty good staying power...better with a primer. Only has a few ingredients, so never breaks me out or clogs my pores. I have been using this foundation for years and will continue to use it for years to come :)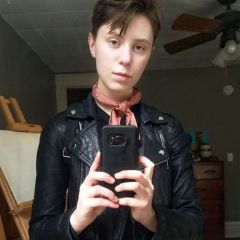 ---
Nice coverage, but still recovering from the resulting breakout

I got some matte foundation samples from my mother, who is hellbent on getting me into the full spectrum of makeup and not just eye and lip makeup - bless her heart - for Christmas. I have sensitive, mildly cystic acne-prone skin and I am not sure whether it's dry or combination; if I don't moisturize it turns into a rough, ashy, flaky mess. But it can sometimes appear oily, especially on my forehead and nose, if I'm somewhere with hard water or if I wash it with something too harsh. I use a lot of natural hippie junk to try to control this and also keep my mild psoriasis at bay. Shea Moisture is my go-to brand, but I'm almost always experimenting with DIY natural stuff, like washing my face with honey and making scrubs and masks. It's a running joke in my family that I'm the hippie and because I'm so picky about what I put on my skin, I refuse to go near most foundations, cleansers and moisturizers and I read ingredient labels on everything. So when my mom found this stuff, I was pretty pumped! Because of the redness and discoloration I sometimes get from acne breakouts, especially around my menstrual cycle, I was excited to try this makeup out! I've never worn foundation of any kind because my skin is already so temperamental, the last thing I wanted to do was exacerbate it - but the coverage was nice, buildable, and smooth, even though I had to put 2 or 3 applications on to get it nice and even looking. I didn't find that it was cakey or that it worsened the appearance of lines. It seemed to last all day without rubbing off or "melting," maybe because I was using it in winter and not summer. It made my skin look more even, albeit not miraculously perfect, without losing texture and making it obvious I had makeup on; however, I had to be careful how much I applied and in what lighting, because no matter how much I moisturized beforehand if I didn't make sure to be careful with my trouble spots, I would apply it in one room only to look in a mirror in the other and see where the foundation made a spot look flaky and gross and adding lotion would just wipe away the powder. Because my skin is so dry matte was definitely not the right choice for me and I wanted to order some of their jojoba and semi-matte samples, but I'm not sure if I will now. My mother got me the 1W, 2W, and 3N matte foundations and I found that the 3N was a perfect match for me. It looked natural and brought out all the best tones in my skin, making me look fresh and glowing. The 2W powder I decided to use as a concealer and applied light layers beneath my eyes and over particularly red spots and it worked a charm at balancing out red and dark tones if I used it before applying the 3N as an all-over foundation. I managed to make the little pinch of powder you get in a plastic pouch last about ten uses, I think. Because it was matte I had to over-moisturize a bit with a creamy lotion before applying it, and had to do so before my face completely dried. Maybe this had to do with my skin's reaction to it, or maybe I should have been washing my brushes every time because of how acne-prone I am. I'm not sure. All I know is that the more I seemed to use it, the worse my acne seemed to get, no matter how good I was about washing it off and exfoliating. Now I'm stuck with an uncharacteristically horrible breakout of painful, itchy cysts and tiny little bumps and gross pores all over my entire face that has been present, and gotten progressively worse, for about three weeks. 'm just left with more to be self-conscious about and cover up. Now that I haven't been using the foundation at all for a week my skin is slowly recovering and healing up with a lot of tentative care. Like I said, I've never used foundation before this and some of it might have been user error. Maybe it was that I had to over-moisturize before applying it; maybe I should have been washing my brushes every time; maybe applying 2 or 3 layers clogged my pores; maybe my skin is way more sensitive than I figured it was; maybe it was to do with the fact I got matte samples in the middle of winter. I'm reaching here. I'm pretty bummed out about it because it did provide lovely, realistic coverage and worked great on my skin until a week after using it. I think for now I'm just going to try to figure out a skin care regimen that keeps my face as clear as possible and give foundation a skip. I'd be wary of ordering more samples of this in the future, but I'm not gonna tell people not to try it - it might work great for people with less sensitive and acneic skin than me. It just sucks that we're kinda the ones who "need" foundation most but we're also the ones who can't find anything that works without making the underlying problem ten times worse.
---
none breaks me out poor coverage this isn't the best mineral makeup. i have to layer it a lot just to even skin tone so it takes longer than other mineral makeup brands with better coverage to apply. i ordered the free samples which came with 7 jars. the new samples are tiny pouches with a pinch of powder in them. the new sample sizes aren't worth trying. i prefer loreal mineral makeup, its about $12 at wal mart or cheaper if its on sale. ---
quick application great for pale skin! :) covers redness/evens skin tone (Sunlight color corrector) amazing coverage none! This is the best makeup I have ever used. I started experimenting with mineral makeup based on recommendations from this site, it is absolutely fantastic. I have very pale skin with mild-to-moderate acne that's mostly just really red, and ever since I started using the yellow "sunlight" color corrector, my skin looks perfectly clear until you get really close! I use it as a base to even out skin tone, and concealer, as well as under-eye color correction, and it really is miracle makeup -- it covers everything. I then apply the fair intensive base on top to balance it out, which minimizes the look of my massive pores! I find it looks a lot better with my new CeraVe moisturizer (also on recommendations from this site!) than anything else, so the texture of the moisturizer may be a factor. All in all, I would highly recommend trying this out, not to mention EM gives out a free 7-color sample with every order, so what have you got to lose :)
---
only a few ingredients broke me out looked powdery poor coverage
---
It USED to be the best mineral make up I have ever tried. They have changed their formula/ingredients. All of a sudden my face is breaking out like crazy and getting itchy, red and irritated. Their customer service sucks! It's too bad they changed their product and hid it from the consumer. Just research online and you will see that I'm not the only one that had had this problem. I would not recommend this. Going to try Pur or Jane Iredale next.
---
Dewy finish, Cheap! Makes me break out, looks chalky/fake This really irritated my skin and made my acne worse, didn't cover that well and looked unnatural and rubbed off in a few hours.
---
Light makeup that doesn't feel oily and really covers up. You know how you can use some concealers and it's painfully obvious that you're using concealer? Not with this, if you do it right. I definitely recommend the green concealer for red spots. They have these new roller tubes for some of the smaller sizes, which are a bit of a pain to use for detailed work I've been using their makeup for a couple of years. You have to experiment a bit to find the right shades for your skin, BUT they do have nice sample kits with a spectrum of shades that you choose. They also have a tendency to give you random free samples in your order.
---
covers nicely, doesn't break me out, good colors took a long time to come after I ordered it, can't tell the colors before you order, didn't cover well after a few hours nice makeup, one of the best mineral makeups that I've tried. I like that they have a yellow base to tone down my redness ---
No pore clogging ingredients All natural Cheap, and one package goes a looong way Vegan Actually helped me with recovering, when I use this my acne gets a lot better Lots of colors Can try for free Dusty when applied Annoying sifter When you accidentally put to much powder in the cap and then swirl your brush, the area around you gets dusty/covered with a superthin layer of powder Definitely worth a try! It is inexpensive and seems to work great for those with acne skin. It has almost no ingredients (compared to a normal foundation) and feels very natural on your face. It actually feels like you're not wearing any foundation and this is very comfortable. However, the durability really depends on what kind of moisturiser you use. With some bases/creams/moisturisers it seems to melt off the skin or get really oily, whilst with other products this is not the case. You will have to experiment with what you'll wear underneath. Personally I use several EDM products for the best effect. I use the concealer for under eyes and zits, the mint color corrector face powder (it's green) for reducing redness, an intensive(!) base foundation and a finishing powder. Ok, my way of using it: Following the regimen, but skip BP in the morning. Using a moisturiser or some jojoba oil very lightly (may sound weird, but the oil actually works kinda good with EDM!). Pay attention here, because you'll want to use a little. Let it sink in the skin. Note: in the steps below, always use little product! A few taps in the cap should be more then enough. First step: Put some finishing powder in the cap, swirl your kabuki brush in and apply all over the face, a very thin layer. Second step: use the mint color corrector. Put some in the cap, swirl your kabuki brush (also EDM) in. Apply and buff all over your face using circle movements. At this point you may look a bit green/grayish. If you happen to have very red spots, apply some mint color corrector with a smaller brush. No wories, this will not be visible when you are ready. Third step: now take a smaller brush and apply some EDM concealer over the bigger zits you have. Fourth step: Now put some base in a cap and swirl like you've done before. Do not use too much. Begin swirling and buffing the foundation base in like you've done in step 2. Reapply if needed. Fifth
---
This is the best makeup product I have ever used. That is saying alot since I have searched high and low for the perfect makeup. My search is over and I hope this product never goes out of business. I am tempted to by a lot so that I don't run out. The packaging is not as sturdy as other brands. But who cares, right, as long as the product is excellent. This has aided in my acne recovery along with acne.org products. I love love love this product and it covers my scars. YEAAAA Now it says I have light acne but it used to be severe before these wonderful products.