Dinair Air Brush Makeup System - Reviews
Dinair Air Brush Makeup System
---
---
Pores, pores and pores

First of all, cannot find a color that matches my skin. Tried so many shades and even mixing shades but they all come out red, orange or pink hues, not a natural beige skin tone. I look like a Halloween pumpkin! Then, although you get coverage, you can see all your pores, I mean pores, pores and more pores. Def, not a good option unless you have baby smooth skin with no pores at all.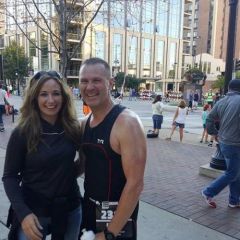 ---
PUBLIC SERVICE ANNOUNCEMENT: Never and I mean NEVER order from a DINAIR.

I purchased an airbrush makeup system from them in June. I bought the premier package which cost me about $317. I received the system on June 8th and tried it right away. Sadly, the airbrush system didn't work! On their packing slip, it stated that in order to receive a full refund, I needed to have an RMA from them within 5 days. I called the very next day, got the RMA number, boxed the unit up and returned it, certified mail, June 10th. I advised my CC company (TJXRewards, who was also no help in this frustrating process) what had happened so they would have documented that I returned the item in a timely manner, just in case there was a dispute. I waited and waited for a refund At the end of June, I didn't have a refund yet and called. I got the run around when trying to contact them. I spoke to Andrea who said I needed to speak to Karen Palma. I left several messages for Karen P but it was clear, she didn't want to talk to me. According to their packing list, they don't process a refund until EIGHT WEEKS after you've returned the merchandise. Well, as of August 31st, I FINALLY spoke to Karen, who said she would issue my refund and she even sent me an email confirmation but the refund was for $299. I'm not sure why they didn't refund the full amount but I was somewhat relieved to at least get back most of my money. Karen said that the refund will probably take 3-4 days to post to my account. Well, guess what?!?! It's Sept 8th and it has NOT posted. SOOOO I called Karen at 1:20pm PT today and was advised they could take a message because she wasn't at her desk. I reluctantly left a message and waited. As of 4:10pm PT, I had not heard back so I called again and was told she was not at her desk and I could leave a message. I advised that I had already left a message. I'm not sure how much more I have to do to get my money back from these people. If there is no resolution by tomorrow, I'll be taking this to the BBB. ---
Dinair does not care about customers

This review is about ordering Dinair online from their corporate headquarters store at Laurel Canyon Blvd. The makeup system is good. Their customer service not so much. Dinair doesn't care about their customers. I'm taking my business elsewhere. 1. Weeks of repeat emails and phone calls are required to get promised refunds issued. 2. Twice now I've received opened and used makeup in shipped orders. Dinair makes the customer pay to return opened product to get it swapped for unused makeup ~ and that is not right. 3. After agreeing to refund two items 100% on the telephone after I was steered to buy the wrong products by their customer service department, they arbitrarily decided to take a 30% restocking fee. This was after Dinair let my authorized return just sit on their desks for five weeks without doing anything about it, ignoring emails inquiring about the status of the return. 4. The "Color Matching" service is also a joke. I emailed Dinair specifics on the foundation colors my skin was professionally matched to along with my photo to get information on appropriate eyeshadow colors. They retyped everything to a yellow-based foundation and blush color recommendation that is simply wrong. I can understand that they're making decisions based on the color they see in photos, but if someone tells them "the correct foundation shade for me is your XYZ product, which eyeshadows should I buy" then they should believe that. When I emailed customer service pointing out that they had typed me incorrectly and again giving them the correct foundation and blush information, no one bothered to follow up with other makeup recommendations. I'll continue using their compressor but from now on I'm buying my makeup from their competition.
---
Highly Recommend Dinair!

Smooth coverage Does not affect regimen Long lasting A little shiny I spent a long time looking for makeup to use on the regimen and this is it!! I love this and will always use Dinair! Def. give it a try it is worth it!
---
Able to go over small dry patches without making them stand out too much. Is ok for healthy skin. The air gun and compressor are just fine to use. Colors are not very good(they go orange quickly and badly). Not a good match for pale skin ... Yes even the lightest shade is too dark and too orange. Not good for ppl with aging skin ie wrinkles or around the eyes as it sits in moves and its collected by lines. Hot spots are easy to make and a pain to fix. Won't cover blemishes easily, even with the jar of orangey concealer they give you ... They turn a bluish gray. Breaks me out all over. Doesn't come off well even if you use makeup remov Dinair isn't for everyone and just because I don't like their foundation doesn't mean they won't be great for you. If you need some makeup help I suggest visiting YouTube and searching Wayne Goss, pixiewoo and Cassandra Bankson.
---
Covers active acne better than standard makeup Fades less quickly than standard makeup Don't have to rub hands on face to apply Expensive - $200 for the compressor Takes about 10 - 15 minutes to apply foundation Coverage not much better than standard makeup (can still see blemishes after applying and applying too much causes a cakey look) Has to be cleaned after every application If you have money to burn, then give Dinair a try. It's not a bad makeup, but certainly not the miracle, "makeup of the stars" they boast about on tv. The coverage is better for active zits and scabs than other makeup I've tried, but after awhile, it looks discolored compared to the skin next to it (using regular or the paramedical type). The model they use in the ads with acne has baby-fine acne, which any makeup can typically cover better than a cyst breakout. I'm disappointed in this product, but I can't say it's bad--it's just not as good as advertised.
---
Coverage Coverage COVERAGE IS THE BEST without being heavy on skin Last a long time Doesn't break me out No need to clean brushes Does foundation, blush, liner, brows, concealer, eye shadow, bronzer, conturing, and even lip stain Looks better as the day goes on Paramedical is waterproof Doesn't block oil or shine unless you use a specific primer expensive first time buy but makeup is actually cheap This is the only makeup that covers my acne scars. Like im talking fresh scars.. i'm a picker and i get cystic acne so my skin is pretttty ugly =( but this makes my skin flawless up close and far away! It did take me about month t get the application perfect but it is sooo amazing! And i dont have to clean brushes evry other day. Also there is no need for touch ups. ---
Absolutely nothing. I have NEVER broken out to a product like this before. I'm talking about whiteheads, blackheads, and cystic acne ALL OVER my face, even in areas where I don't normally breakout. PLEASE do your skin a true favor by staying away from Dinair cosmetics. If you have oily acne-prone skin, this will transform your face into an active chain of volcanoes! I had the owner (Dina Ousley) test the product on my face, later that same day her "18 hour makeup" greased up, making my face look like an oil slick. On top of that, makeup began running down my face, creating a disgusting streaky look. Their website claims "paraben free" but when I begged the representatives (several times, on several occassions) to send me a list of their ingredients, both Glamour and Paramedical are OVERLOADED with parabens and talc!!! I have pictures to prove it! The concept of applying makeup using an airbrush system is great -- however, the foundation ITSELF is just as important, if not the most important aspect. Most likely their formulations haven't changed since 1981! Prior to Dinair, my skin had already cleared up and all I suffered from was hyperpigmentation. I wanted to try something new, and boy do I regret that to this day. I've never had breakouts this bad. I've had to go on Doryx and Ziana because of what this product did to my skin, so save yourself the pain. And no, I am not allergic to anything...this product contains the most potent ingredients - simply put.
---
everything!:) the coverage is buildable, and it makes your skin look flawless and poreless. you can choose the coverage and it covers every single blemish on your face! a must have:) it's expensive, and kind of a pain to clean. i got this as a graduation gift and i love it! you can mix the little foundation bottles to match your exact skin tone, and it's water based so it doesn't clog pores. it does make a noise, but it is definitely bearable. it takes about five minutes to apply and if you touch it while wet it takes it all off, so you must wait for a while. i've had it for a week, but overall great!! a must have for flawless skin:)