Clearasil Ultra Acne Clearing Scrub - Reviews
Clearasil Ultra Acne Clearing Scrub
---
---
View Ingredients
Ingredients
Active Ingredient:
Salicylic Acid (2%).
Inactive Ingredients:
Water, Polyethylene, PPG 15 Stearyl Ether, Glycerin, Mica, Stearyl Alcohol, Cetyl Betaine,
Cetearyl Alcohol
, Distearyldimonium Chloride,
Sodium Lauryl Sulfate
, Alcohol, Steareth 21, Sodium Chloride, Behenyl Alcohol, Synthetic Wax, Steareth 2, Xanthan Gum, Fragrance, Dimethyl Palmitamine, Hydrolyzed Milk Protein, Ferric Ammonium Ferrocyanide (CI 77510), Propylene Glycol, Magnesium Nitrate, Disodium EDTA, Isopropyl Alcohol, BHT, Dipropylene Glycol, Phenoxyethanol, Sodium Benzoate, Methylchloroisothiazoline, Magnesium Chloride, Methylisothiazolinone, Ethylparaben, Propylparaben, Blue 1 Lake (CI 42090), Sodium Sulfate.
Items marked with
orange
can be irritating and over-drying, especially to acne-prone skin.
The list of ingredients above is provided for informational purposes only. Always check the actual product label in your possession for the most accurate ingredient information due to product changes or upgrades that may not yet be reflected on our web site.
---
Did nothing too harsh

Too harsh. It tore my skin making it worse.
---
help!

i have some and haven't used it yet. i rarely get acne and after reading the reviews, I'm scared it will make my skin worse... what should i do?
---
dont use it

i have sentitive skin and it irritated my skin also it caused acne and peeling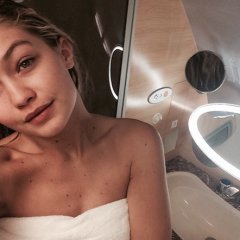 ---
Worst thing i have ever tried

If i could help one person by writing this review, i will be content. Last year i did not wash my face, not even in the shower. However 10 months ago i came across this wash in the bathroom and my mom had been using it for her acne. I tried it once and i loved how smooth it made my skin. I ended up purchasing over 15 of these and i used this for over 6 months, because i loved how smooth it made my skin. It was the only product i ever used. After the 3rd month of using my skin became itchy, dry and painful. So i bought a moisturiser, and it helped. I continued to use and i remember very clearly i started getting cysts on my cheeks, and i freaked out and starting using this more. 10 months after, i now have moderate cystic acne and i am going back to using water and natural products on my face, however my face will NEVER be the same. Please do NOT use this. If your skin is fine and you dont use anything on it, or if you're using something gentle STICK WITH IT. Less is more.
---
Iffy

The scrub has helped some of my acne. I made my skin soft because of the exfoliating beads (which sluff off dead skin). But every time a pimple goes away, another one come back! It's annoying. I don't know if its working or not, because pimples are going, and new ones come back.
---
horrible

i dont have sensitive skin but this really iritated it. it just made pimples bigger and t=not the ones thaat you can pop but the ones that just blow up really big. this isnt one of those fast treating ones either it burns but doesnt do anything
---
Just Horrible.

Nothing. Irritated skin Peeling Didn't help get rid of acne It left my skin red and irritated. Sometimes my skin would even peel! It did no good getting rid of acne... Do not use if you have sensitive skin.
---
Yuuuuck!

NONE! EVERYTHING! If I could give it half a star or no stars for the rating I would. My mother brought me this product when I was in school and all it did to my face was spread my pimples around, give me more pimples, big red irritated red cheeks, dry skin followed by my skin freaking out and becoming super oily and left me feeling even more depressed once i looked in the mirror. If you have sensitive skin like me DO NOT USE IT! Just don't...
---
Made skin feel tighter. Makes skin feel fresh. Didn't help my acne at all.
---
clears skin of acne skin red dry I use in the morning and at night with acanya in the am and epiduo in the pm and i went from moderate acne to 0 acne its great :) use moisturizer after (clearasil + acanya) and redness and dryness goes away in 5 min