Jaded's
---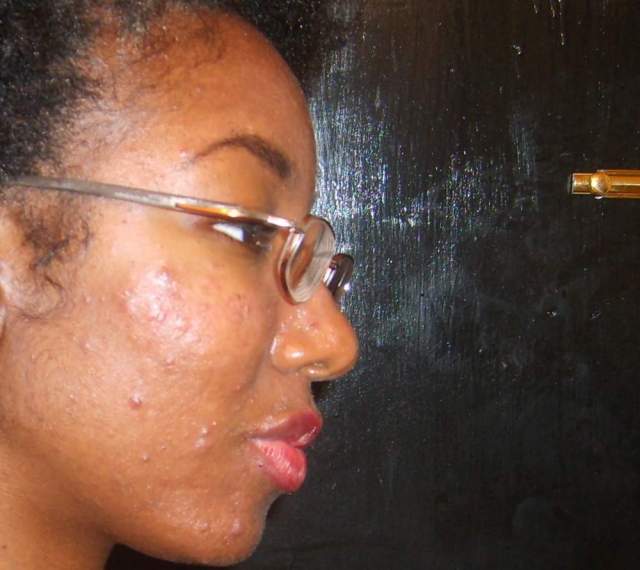 I used to have severe to very moderate acne. I once had boils all over my face when I was deployed and from there acne has been a battle. I would be sensitive to every single little thing so i"m happy to now say i'm in the light category...somewhat. :-) * I didn't have a camera at my extremely severe time so the first three pics show you my somewhat moderate acne time.*zoom in to see better at your own risk*

My methods:
I currently eat two apples a day, 1-2 cups of green tea *one spoonful of sugar and of honey*, and two spoonfuls of flaxseed.

I wash with black soap*an all natural soap* from nasabb and use lily of the desert's aloe gelly mixed with 4 drops of jojoba oil on my cheeks only. I use a shea moisturizer for my forehead and nose however and add 3 drops of jojoba oil in that. I use two different ones because of my combination skin. My cheeks are really dry but seem to respond better when they remain that way. LOL
My T-zone seems to not break out as bad with shea butter or the shea moisturizer. Ironic?

The past year wreaked havoc on my complexion so i'm splotched with a good deal uneveness still.Mainly noticeable when my skin is dry. I plan to exfoliate once a week with St. Ives apricot scrub not the acne prone one that one is to drying as well.

About to try out some turmeric juice soon but i'm still modifying my methods, my nose is still breaking out somewhat. Annoying!!

---
Pictures/Videos
5 pictures
Create an account or sign in to upload pictures or videos
You need to be a member in order to upload pictures and videos
Sign in
Already have an account? Sign in here.
Sign In Now