Epiduo & Erythromycin Treatment for Mild-Moderate Acne (Before & After)
---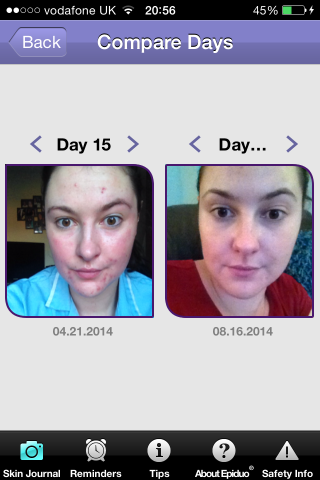 I use epitracker to take a photo of my face every day so that I could see the progress in my skin.. I first started using epiduo after being prescribed it in March 2014, I also took the medication oral antibiotic Erythromycin .. It has taken since late July/ beginning of August to show some improvement, for the first few weeks my skin went through a purging stage, things got worse before they got better! I had red, itchy, dry, flaky skin, I wasn't able to wear makeup whilst going through this progress, but I am glad I have stuck it out! I still have scars and the odd marks which can be covered up with makeup but so far I've only a had few pimples and a lot painless and smaller then the spots I use to have! Can't recommend epiduo enough, it's changed my life :) Without sounding too cliché it really has :)
I also use Cetaphil cleanser and moisturiser every morning and evening which works wonders with epiduo due to the heightened sensitivity of my skin!

---
Pictures/Videos
5 pictures
Create an account or sign in to upload pictures or videos
You need to be a member in order to upload pictures and videos
Sign in
Already have an account? Sign in here.
Sign In Now