Week One
---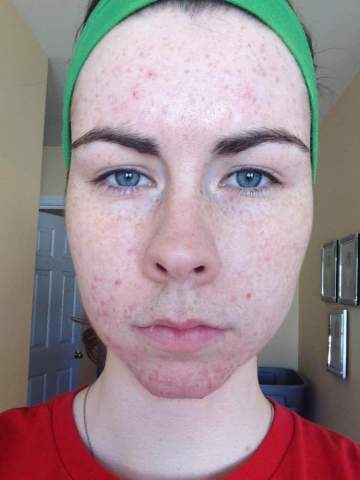 This is the beginning of my clear skin road. ( I have dry-normal skin)

I got off of birth control in August/September of 2013, for personal reasons. Before birth control, I never suffered from cystic acne, and I never had more than 4 or 5 isolated pimples at one time. While I was on birth control, I had clear, glowing skin, with the occasional breakout. When I stopped taking birthcontrol, my skin broke out like never before. I had small pimples, whiteheads, and large cystic deep acne around my mouth and chin, and along jaw line and hairline. I also suffered from hyper pigmentation of older acne marks.

I did some research and found that this was normal for up to a year after taking birth control, as our bodies are still polluted with the hormones from the pill. I tried various acne products, but nothing was strong enough. My acne never bothered me until December, when I started noticing it progressively getting worse. It was embarrassing and unbearable.

WEEK ONE
(I was using Proactiv until it ran out and then I switched to the Regimen because Proactiv was too harsh on my skin.) I decided to try Proactiv in February, as it had worked for me in my younger years. After starting Proactiv, my skin was very blotchy and irritated. I noticed that my skin began to flake, and where I had put the Benzol-Peroxide, my skin was "hardening" and becoming darker. This was very aggravating as I have fair skin, and my neck had an obvious line of darker skin, to fair skin on it.

I noticed areas that were inflamed were no longer, however, I was still getting new breakouts (cystic and whiteheads) all over my face. And I still had a lot of hyper pigmentation and redness.
---
Pictures/Videos
7 pictures
Create an account or sign in to upload pictures or videos
You need to be a member in order to upload pictures and videos
Sign in
Already have an account? Sign in here.
Sign In Now