I don't even know what these are anymore! The only think weird in my diet, has been the flax. But why is this happenign to my face! ? It's still the same spots from my last post, but they have mutated and become red! I have been exfoliating too much, probs why my face is so red. Deff with only exfoliate next week Friday. UGH! I will be seeing my boyfriend Sunday! I hope this gets under control What is with these spots! Is this really from flax! my gosh!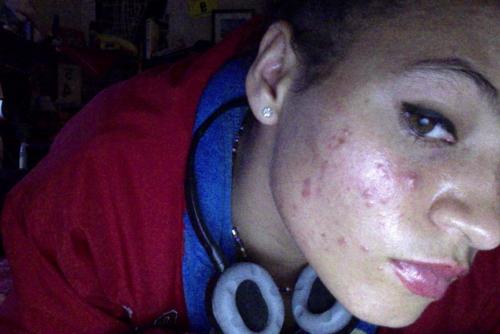 June 15th (2 days later):
Obviously seems to be healing...one new pimple cropped up yesterday, whatevsssss. These dark spots, are mostly scabs, so not fully healed or scarred skin yet. I really want them to heal and flake off so that I can start scar fading stuffs! Well, at-least I can cover them up with makeup! Neutrogena makeup, woot woot! I've got a grad party today and don't care about my skin cause I can cover it up!
I had been using a clean and clear moisterizer with 0.5 salicylic acid in it...but I don't think it's helping, if anything it's making my skin irritated and worse. It like tingles and has a cooling sensation when I put it on...I don't really like that. If anything. I'll be using it as a SPOT treatment! BAH. Me and my product dilemmas
. Just cleansed with some castor oil. Think my skin is thanking me for the hydration and nourishment instead of harshness -___-
Hoping this super heals by Friday! I see my boyfriend Sunday!! Hello Caribbean! Hello the love of my life!
Update June 17th (4 days later): Woot! Skin is clearing up! I'm way less stressed, eating whole and healthy! I'm so happy! Getting my nose pierced and eyebrows done for the first time ever on Thursday! Such a busy week with good friends! So happy! Hiding in my house is no way to live!
Update! June 20th (one week later) I'm healed up very nicely. With a touch of makeup, I'm very comfortable! I just got my nose pierced and am going to the caribbean Sunday for 6 weeks! I'm excited! I just got some Vitex (hormone berry) and Burdock Root for my liver. Hopefully these only help! WOOTTTTT! Oh, I also suspect some iron deficiency...or something...some cascade or something missing that has to do with iron absorption!
July 9th (My Flicken Birthday!)
Alright, so I only ever took two vitex pills, one a week for two weeks, and I had the worst PMS in my life! I was moody, sad, no sex drive for a whole week before my period even came! I would cry and my period came a little early, but I attributed that to being intimate with my boyfriend. I have also been breaking out really weirdly, and stopped eating anything with excess b vitamins and any multis with b viamins and iodine. I have been going to the bathroom the most in my life! And my tummy is flat and not bloated anymore! I'm eating tons of greens and whole healthy caribbean food! I have stopped using Aveeno Positively Radiant Moisterizer, eventhough it's supposed to be non-comedogenic, i'm sure it's been clogging my pores cause my skin and neck have little bumps and I only have the bumps on one side of my neck where I just started putting the lotion! I'm so mad that I just realized this cause I've been using it for about a month now, everyday, sometimes twice a day with refusing to believe that it could be worsening my skin. I also stopped using black soap, which was too dying and irritating. I also shouldn't have been using that. Well, it's a learning process. I am now using nothing to wash my body or face except water and natural soap in my special nether regions. I can't believe I've been so dumb and torturing my face! I have the worst luck with products! I now know to test them on my neck, because my neck is just as sensitive as my face. I've been steaming and cleansing with some diluted red lavender tincture which has calmed my inflammation from the products. Today is my birthday and I'm as hell going to make the best of it. I'm now even affraid to use the nuetrogena non comedogenic sunscreen I bought
, but one day of not wearing sunscreen won't kill me and I'll do the patch test. I would like to know that if something I eat or that if constipation is causing my skin to flare that I won't have to worry if it's some product I'm using. So i'm sticking to my caveman routine and introducing natural oils and the lavender cleanse to see if this helps! Yay for learning! 20 years old and 6 years later still with acne but learning. I sure hope it's not ten years with acne. I remember reading boards and it's like that for some people! It's definitely improved and I've learned a lot In these past 6 years. Hopefully this is the last year! 21 and acne free I sure hope to be!
Any little variable, like a product in your hair or something you thought was helping your skin could be actually harming it. Always do a patch test and listen and feel out how your skin is reacting.
This comment is exactly how I felt with only taking two vitex pills!
"i have been taking vitex for almost a month now and am due to start my first period on vitex on the 13th...as i have for the past 6+ months before taking vitex. it's the 7th and i'm bloated, have had a nearly recurring headache for three weeks now, cramping horribly...like more than normal for a first day of the cycle type of pain...only 6 days from the cycle start date, and my sex drive over the past month has nearly disappeared, which is NOT good for me or my partner. i am throwing the vitex away!!"
A link on why Vitex is not good for most people: http://www.henriettesherbal.com/blog/vitex-not-pms.html