Day Thirty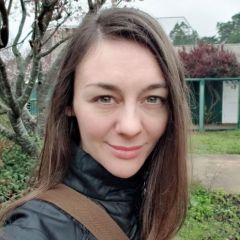 Please don't forget to READ MY FAQ's before asking me anything ---> http://www.acne.org/...t-day-and-faqs/
----------
It's -almost- official... my acne is disappearing fast.
... AAAAAANNNND leaving lovely dark red spots all over my face to fade away whenever they feel like.
Yeah, so what you see are actually seeing are red spotted "scars", but they are suppose to fade away in time I guess...
Still, my skin is much more smooth. It's almost as smooth as the time when I got off Dan's Regime.
--------------------
I guess this will be it for a while! Yep! No more picture updates unless I notice a significant change in my red spots... or if my regular acne decides to come back for some obscure reason. I certainly hope not!
So I wish you all the best of luck kiddies and I'll update my picture in about a month or so if and when these spots decide to fade away. From past experience they take a great deal of time to do so, but patience is a virtue and less make-up is always a bonus to me. Until next time!
--------------------
MY REGIME:
Notable Logs:
07/11/12: Began drinking homemade juice.
07/15/12: Started taking 500 mg of Vitamin B5 (in the morning WITH juice).
07/24/12: Started taking 500 mg of L-Cartinine (in the morning WITH juice).
08/08/12: Oil Production on face vanished. Acne still persistent though.
09/05/12: No acne for about a week. Left over red spots still remain but face very smooth.
Vegetable Juice recipe:
-3 to 5 Carrot Sticks (peeled)
-2 to 3 Celery Stick (everything attached)
-1/2 Beet (skin on, leaves cut off for salad)
-1/2 Cucumber (peeled)
-1 Tomato (everything except stem butt)
-1 cm sliced Lemon (everything)
Hygiene Regime:
None. Only showering once a day and washing hair every other day.
Diet:
- No Dairy.
- No Sugar (Excluding honey (tea) and natural peanut butter (fruit topping)).
Other:
- Sorry guys and gals, acne doesn't make me depressed nor am I stressed about much of anything else.
- I stretch/exercise around an hour a day and/or run 4-5 times a week. Still building a suitable exercising regime though.
- I get about 20 minutes to an hour worth of direct sunlight (no make-up on) everyday.
- I only wear small amounts of make-up for my job, obviously to cover the largest and reddest of my acne legions.
- I maintain a normal sleep schedule (usually 8 hours a day).
Copyright
© TreatAcne
From the album:
11 pictures
0 comments
62 image comments
---
Photo Information for Day Thirty