Full Face 63 Days after Round Two of Subcision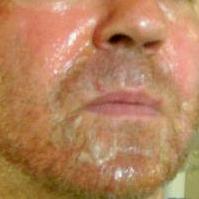 As you will see, I still have remnants of some acne scars.
However, the my scarring appears to be much less pronounced than when I began my journey with subcision four months ago.
The healing process is a gradual one and is much like watching a swimming pool being filled with a garden hose. It takes time to see progress, but subcision has been the most effective procedure I have ever had for my acne scarring.
I am going to ask my doctor to use a dermal filler after next Friday's procedure to help fill in the deeper scars and to help with collagen remodeling.
I don't expect to ever regain the perfect complexion that I had as a kid, but I certainly have appreciated the improvement that I have seen so far.
Copyright
© ©
From the album:
3 pictures
0 comments
0 image comments
---