Pre-Treatment Baseline Photo - Full Face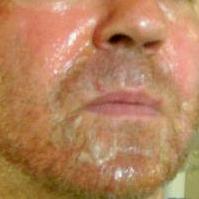 This photo will give you an idea of the extent of the scarring on my face as well as the effects of aging on acne-scarred skin.
This photo was taken on February 20, 2009 about a month before I had my first subcision and TCA Cross (Chemical Reconstruction of Scarred Skin) treatments.
By the time that this photo was taken, I had had over 40 chemical peels (70% Glycolic and 70% Lactic acid), multiple chryotherapy treatments, and three Laser Genesis treatments with no visible impact on my scarring.
The next two photos will give you an idea of how far I have come in the past three months since I've had my scars treated.
I am truly grateful for the things that I have learned about on this website about nutrition and the advances in acne scar treatments.
My mother had extensive facial disfigurement from rolling acne scars and underwent dermabrasion twice and a facelift and none of these treatments helped her with her scarring.
I want to encourage anyone who has been following my blog and viewing my albums that there are treatments out there for acne scarring that may help to diminish your scars.
Do your research and find a compassionate and skilled physician who can help you on your journey to healing.
Matt
Copyright
© ©
From the album:
3 pictures
0 comments
7 image comments
---