Photo taken 43 days after first round of Subcision and TCA C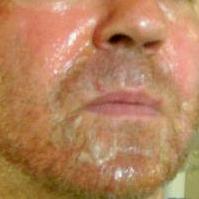 This photo was taken 43 days after my first round of subcision and TCA Cross Method treatments.
If you look at my right cheek, you will see the remnants of my rolling scars.
If you compare this to the photo taken on May 25, 2009, you will see that the rolling scars on my right cheek appear to be diminishing.
I've been using a topical Vitamin C serum on my face to help with the collagen remodeling process.
I found a recipe online that costs a fraction of what I would pay online if I bought the serum already made and in a fancy and very expensive jar.
I've been encouraged by the progress that I have seen so far with my scarring.
Copyright
© ©
From the album:
3 pictures
0 comments
7 image comments
---