I have had this weird bump on my face towards the side of my cheek for as long as I can remember. I don't even remember this developing on my face that is how long it has been. For years It's just sat there on my face, healed up, just a round spot raised above my skin that was definitely harder than the rest of the skin on my face. Just this one little spot.
It's always kind of drove me crazy. Any who, a week or so ago I started messing around with that spot on my face. I have no idea why, but i just decided to tear at it with y finger nails.  I guess I'm prone to ingrown hairs and I had just gotten over a practically bad in grown hair earlier this month. So I thought, 'maybe this spot on my face from over the years was an in-grown hair from a very long time and i should just poke at it and maybe dig something out and within a few weeks it'll no longer be there.'
The picking and squeezing lasted less than a minute, for real. I gave up. Yes, this spot did get sore and very red. But didn't swell up or get painful. It wasn't a big deal. It was just healing.
For some reason last night at the bus stop, the spot on my face starting getting to me and I was sitting there and squeezed it a bit. To my surprise puss started coming up. it was thin and worm-like. This was weird, it didn't feel painful or anything and showed no sign of puss in the last week. I thought it was weird so I squeezed a little harder. Within moments the largest thing to ever come out of me appeared on my finger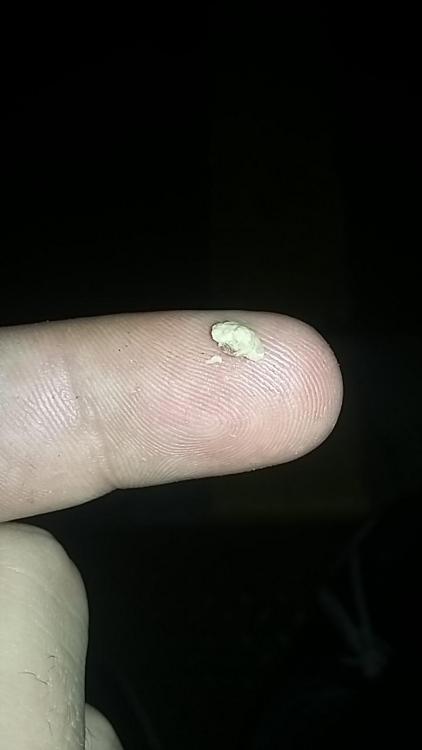 I pinched it to wipe it away from my face and that is when I noticed that it was solid. A big, solid mass had just worked itself up from underneath several layers of skin. Oh, I was mortified and fascinated all at the same time! It was a perfectly formed solid piece of what looked like a bug! I really pinched it the second time and it smeared open. It was a very thick, almost like chilled, cooked beef fat. I moved it around in between my finger tips to investigate. At first, I thought it was bug which terrified me!  with a lot of hair particles in it. Thick beard hairs much like the ones on my face. the thick hairs is what caused me to believe it was a bugs legs i was looking at?
Now the spot on my face is no longer raised above the skin. But it is practically a whole in my face. The skin on my face feels in that area feels normal. There is no spot that is raised above the skin,. And I expect it to heal up just fine, with hopefully hardly any scarring. I am a bit worried about that. But oh well, at least it's not raised anymore.
It seems as if the spot on my face that had been there for as long as I can remember was raised up above the skin because there was a built up mass of some sort filled with some unusual kind of solid literally just lived there. It was so far down in my skin and had been there for so long that normal squeezing on it wouldn't do anything. But out of nowhere, messing with at the bus stop, it just came out. no blood, no liquid puss. just this piece of stuff.
I am happy it's going to heal up and the spot that annoyed me so very much for so very long is no longer going to be there. But I am mortified at what came out of my face. I could not sleep at all for some reason thinking about where else on my body could this exist.
I guess I posted this because I want to hear someone's opinion. Because this situation is very hard to put into words to research through Google.
Thank you for reading!

   -CantSleepAtNight