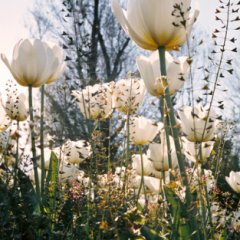 Introduction + Past Experiences
I picked this retinoid because it was something attainable through my pharmacy and I was quite desperate for results. I have been using salicylic acid for years and even though we had some good moments, it never cured me. There was a breakthrough when a friend suggested (seeing as I had recently moved to a much drier climate), my acne could be the result of dry skin and recommended me the moisturiser I'm using now. It definitely improved my skin's texture, but hasn't been an improvement on the acne.
Acne has been a part of my life since I was thirteen, and it's mainly concentrated on my cheeks. I have all the types of acne scars, as well as some hyper-pigmentation, nodules, cysts and comedones, as well as blackheads on my nose. However, despite how self-conscious I can feel about my appearance (especially when everyone around me seems to have clear skin!) I have never used makeup to cover it up. I am apprehensive about the supposed purging phase that is to come but I'm usually too busy to think about it.
How I'm using Differin
As instructed, I'm using it once a day before bedtime after thoroughly cleansing my face. It's important to clean your hands before and after application. I spread a thin layer all over my face, even in areas that I don't usually break out because I have read it is a preventative cream. I don't use it on the creases of my nose however, because after the first day, I realised the skin was too thin and the stinging was too great.
Current routine:
Morning:
1) Wash my face with Avène Eau Thermale Cleanance cleansing gel
2) Moisturise with Avène Eau Thermale Intense Rehydrating Serum
Evening:
1) Avène Eau Thermale Cleanance cleansing gel
2) Avène Eau Thermale Intense Rehydrating Serum
3) Differin 0.1% cream

Once a Week:
1) Neutrogena Visibly Clear Correct & Perfect Complexion Scrub to exfoliate
2) Avène Eau Thermale Cleanance Expert for Blackheads when I need it
3) Garnier Moisture Bomb Charcoal tissue mask