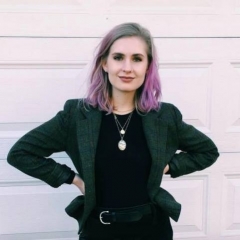 This is the first time in a looooooooooong time that I've woken up every day for a week straight excited to look in the mirror! Every day I can see my active pimples getting smaller, my hyperpigmentation getting lighter, and no new pimples forming!!! *does a little dance*

The saving grace of this diet has been avocados w/ Frank's hot sauce on top. I initially wasn't going to eat spices but I LOVE Frank's and had to try it - it hasn't caused me to break out so I'm keeping it in my diet. But seriously, if you haven't tried straight avocado w/ Frank's on top, do it. It is HEAVEN.

This morning I tried out a gentle sugar scrub on my skin and it really brightened up the texture. I was SUPER gentle and my skin didn't get aggravated at all. Yay! Besides that, I'm still only using burt's bees moisturizer for sensitive skin, garnier micellar water and acne.org's AHA+ lotion once every 5 days.

Since this is going to so well, and I haven't been tempted to break my diet or my routine at ALL, I'm only going to update this maybe once a week, unless I see something drastic happen or if I start breaking out again.