A Brief History of My Acne
Hi! I'm a 20 year old student living in Singapore, which is a tropical country where the only seasons we have are hot and hotter. I found this website a long while ago but it never occurred to me to make a blog or join the site until now.

Now, before you read this, know that I made so many mistakes trying to fix my skin that you might or might not start yelling at me while you're reading! Looking back, I really messed my skin up just because I was a fool who didn't understand what I was doing. Be patient with me, please!
Okay so.
How It Got So Bad
I started having skin problems in 2016, after a trip to Korea in December 2015. Up until then, I'd had pretty alright skin. It was a little unevenly coloured, and I would get pimples, but they were never serious. At most, I'd have two or three at a time, and not even that often. I bought a few skincare products from Korea, thinking I could try and make my skin look even better. Of course that was when I made my first mistake: not doing research before buying. I came home with a whole bag of skincare products (10 step Korean Skincare Routine, anyone?) and expected clear skin, only to discover that I was actually now getting pimples more often than I did before.
It worsened as I tried to cover them up with more makeup. I'm not saying makeup is bad; I'd been using makeup for a year before that trip to Korea. It's only bad if you do too much or too little to remove the makeup and in the process, upset your skin's PH level, like I did. I was mixing tons of different makeup and using all sorts of products to remove it.
It could have also been hormonal because at that time my stress levels for when I was in school were through the roof and I'd also just been taken off anxiety/ depression pills (which can sometimes weaken your immune system). Either way, my skin was not happy with the makeup and the toners and exfoliators and moisturisers that I was using.
I tried to fix it myself, but it just got worse and worse. I started hiding it even from my own family. Every time I washed my face I'd immediately cover the pimples up with OXY Cover Up and it would burn the heck out of my skin. Like literally burn. It's good in small doses but when you're using it to cover half your face you just know you're not making it better. By May, my acne then started to turn cystic which as most of us know is hard as hell to get rid of.
My parents got the shock of their life when eventually I decided to show them how bad it really was.
This is how it looked as of 29 June 2016. Please forgive the lighting, it was nighttime. Anyway, it looks bad here already, but it looked way worse in real life! (I am wearing clothes in this picture, don't worry, it's just a tank top!!)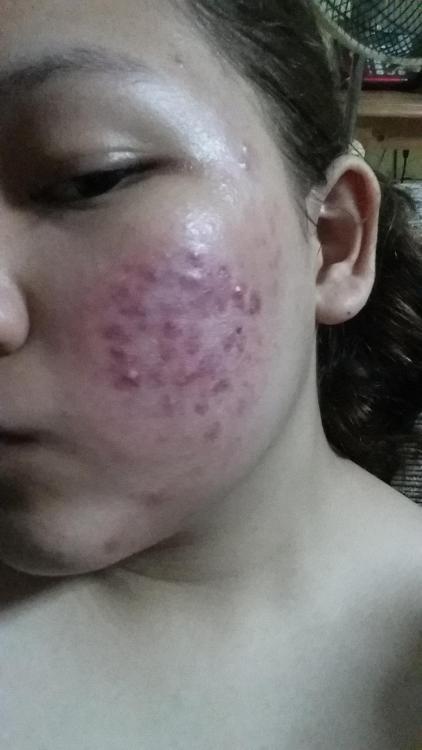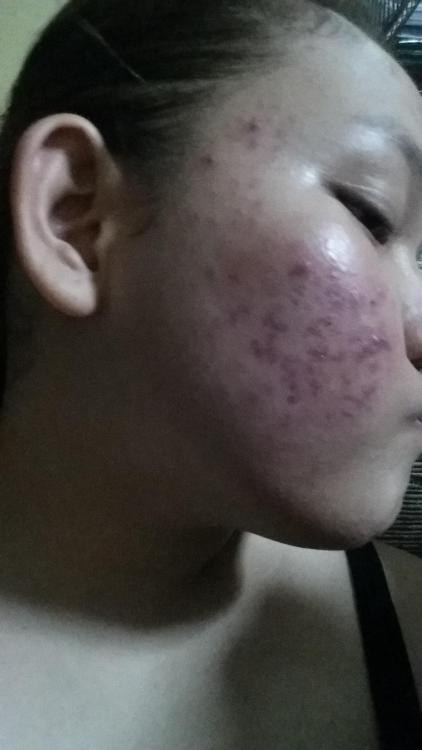 You can really see the dark red spots where the skin is trying to recover. There are a lot of bumps too, but they're all underneath the skin and trying to squeeze them out (bad idea in general) never helped.
The Treatment
Anyway! I went to my doctor, who prescribed me some Doxycycline (antibiotic pills) and Epiduo (which is a gel that you apply on your skin). He also gave me a pink-coloured wash named hexoscrub, scientifically known as chlorhexidine gluconate. He also recommended that I use Cetaphil moisturiser.
It got worse at first, which is what you should expect when you start using Epiduo. The dryness was the most annoying part. I would remove my makeup with Pond's cold cream cleanser, then wash my face with the hexoscrub, and then pat my skin dry with a clean towel and take the Epiduo and put some on my face. Initially I put a lot, and that really dried out my skin and caused it to sting like crazy when I put my Cetaphil moisturiser on after. I had to reduce how much Epiduo I put on for a while, until my skin got used to it and stopped stinging. I was afraid to use toner, so I didn't.
Here's a tip: it helps to apply moisturiser first if you can't handle the Epiduo when you first start out.
I also took the doxycycline pills according to my doctor's instructions (which was... once or twice a day, I can't remember now.)
How I Coped (Mentally Speaking)
I did my best to push any of the negativity from my acne aside. Any thoughts I had about it, I immediately forced out of my mind by remembering that it wasn't permanent, and that the only people who ever seemed to care how I looked were people who had nothing better to show for themselves than their appearance. In other words, f*ck 'em. I didn't need to care about how many pimples I had on my face when I had a scholarship to keep. I had a grandmother who needed me to take care of her more than I needed to look to beautiful in the eyes of people I didn't even like. I had more important things to do than worry about looks!
And that's how I coped. Constantly, every time I worried about my pimples or felt the need to fuss over them, I would remember how insignificant it really was. It's a little strange because sometimes I might think stuff like, "Oh, nobody wants to date me because I have acne." But then I'd remember that even without acne I was single! And strangely, that thought made me feel better about my skin.
What did it matter that I had it, other than that my face now had bumps? I still had the same friends, I still had to go to school, I still had to watch good movies and eat good food.
The only thing that made acne a thing for me to worry about was that it was annoying as hell, because my foundation wouldn't sit nicely on my skin when I had bumps and I just wanted to be able to wear highlighter without making my skin texture look bad.
Acne isn't significant. Anyone who tries to make you feel bad for it isn't very significant either.
Progress To Recovery!
I started keeping track of my skin after June 2016 by taking photos.
This was how it looked on 3 July 2016.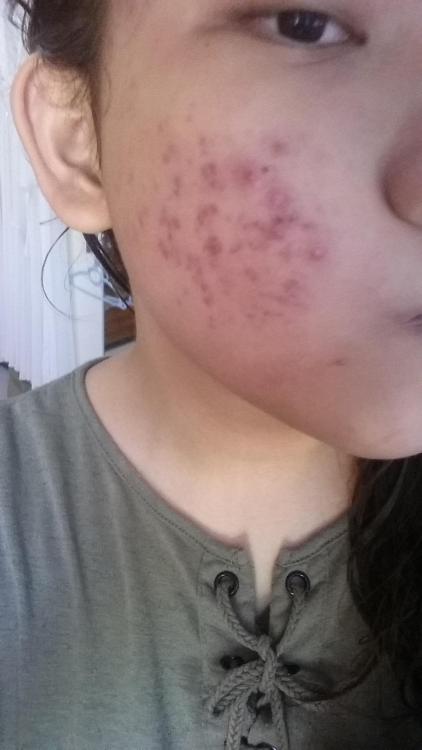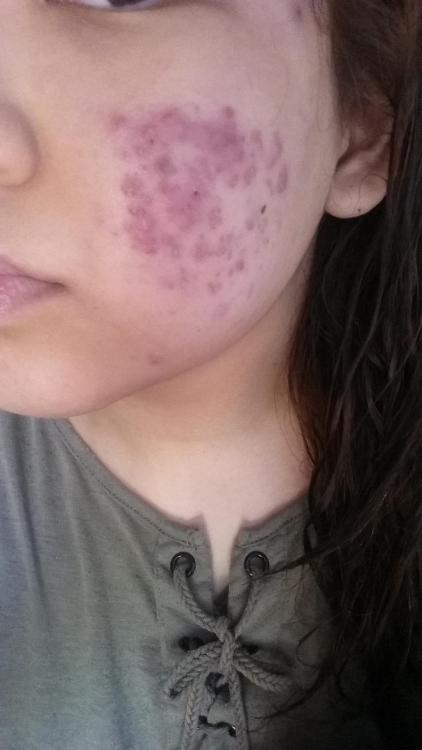 It's a lot less red, definitely. At this point there wasn't that much difference. However, after the initial two weeks, I began to notice my skin change. The bumps that were once beneath my skin were coming up, and I noticed that some more pimples were appearing too. I wasn't really worried, because my doctor had told me to expect this. The point of the Epiduo, he said, was to make the pimples come up and go away faster.
It's worth noting that I also changed my makeup. I began to use Clinique foundation and powder! It was expensive but really worth it. I didn't have too much trouble covering the redness of my acne marks, although now I would recommend Loreal's Infallible 24 HR Matte Foundation, just because it's cheaper and provides a little more coverage.
By 30 July my skin had gotten quite a bit better!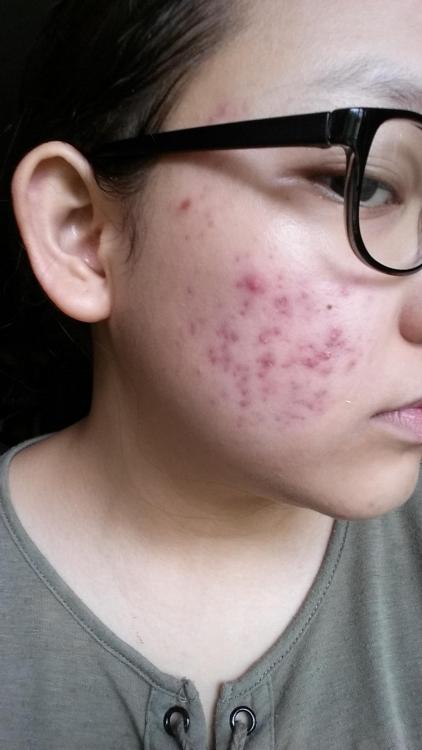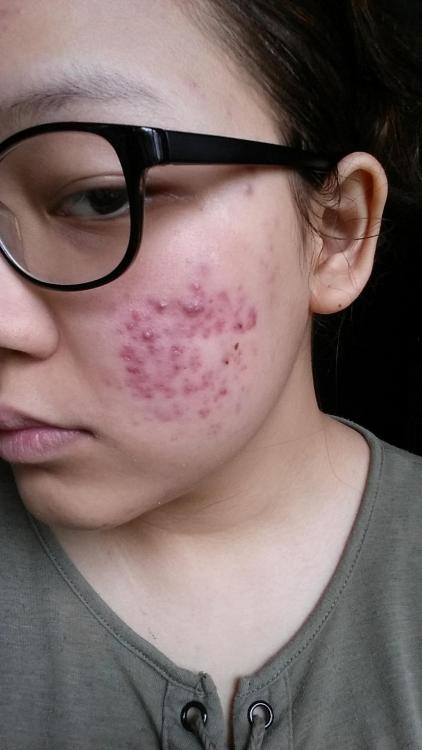 The pictures below are from 10 August, 2016. Here you can really see the redness lightening up. The bumps had also reduced in size!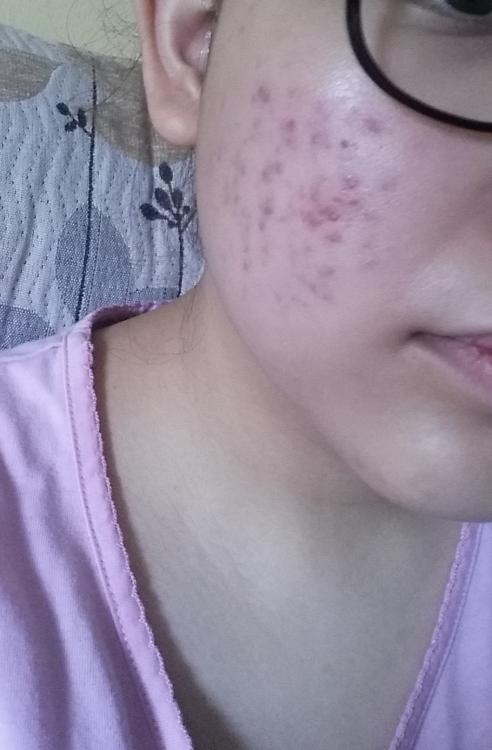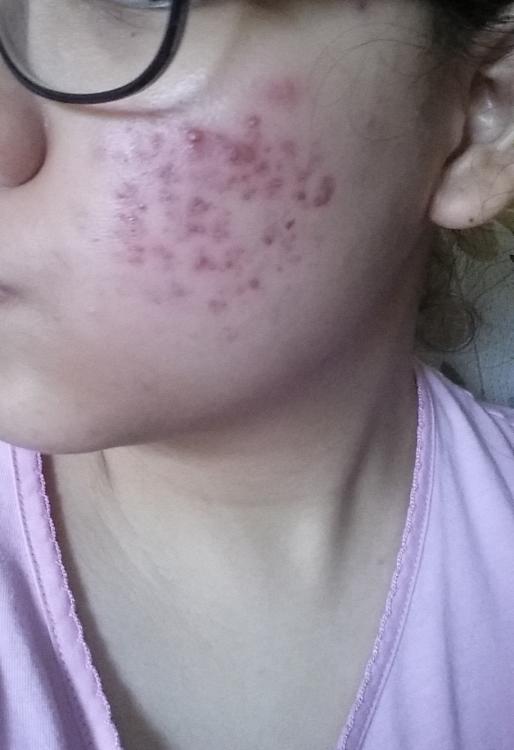 I won't go into the details of every single week, but over time, the acne did go away. By the time November was about to end, I didn't have anymore cystic bumps. I was just left with scarring and any pimples that appeared would always disappear quickly. The only problem now was that every now and then some of the old cystic acne would come back in the same spot. Other than the routine I'd stuck to, all I did was dab a tiny amount of tea tree oil maybe a couple or three times a day on the area to make it disappear faster.
This is how my skin looked on 20 November, 2016, and then on January 12, 2017!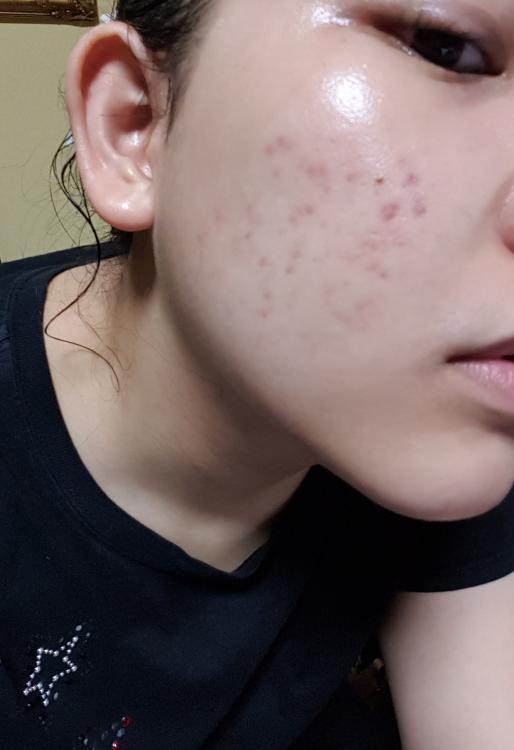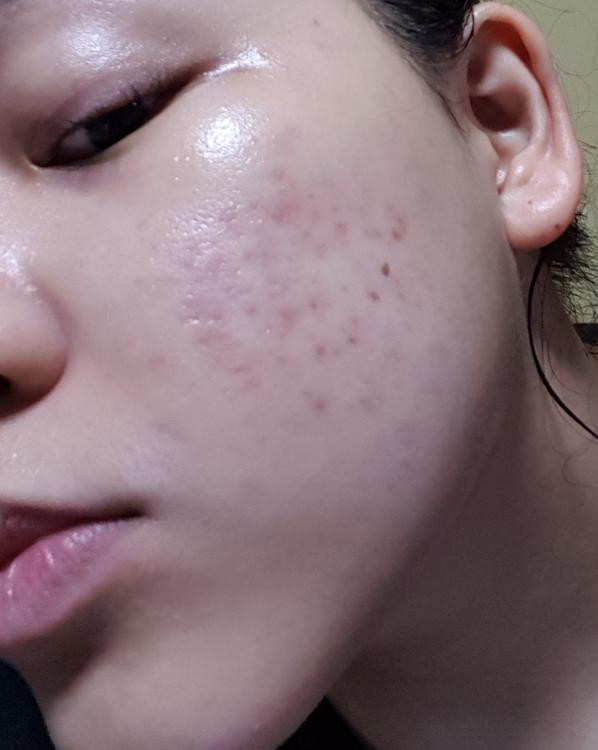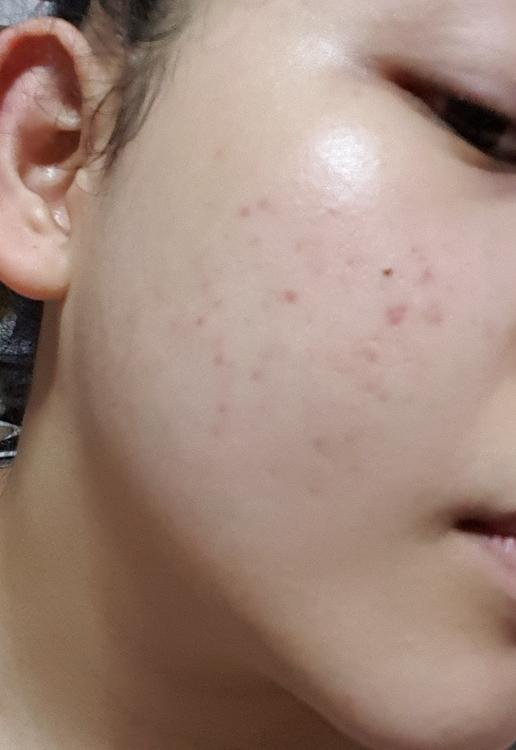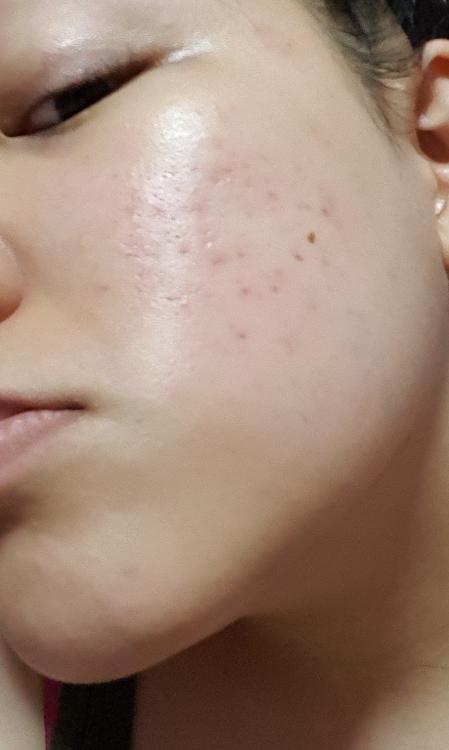 Fast-forwarding to a year later, in 2018...
It's almost as if it was never that bad to begin with. Sure the scarring is there, still, and I do get pimples every now and then, but it's nowhere near as bad as it was in June 2016. And for that I'm grateful. I got really lucky with finding the right treatment, and the results won't be the same for everybody, but sooner or later, no matter who you are, acne
will
go away. Nothing is permanent in this world. Acne certainly isn't.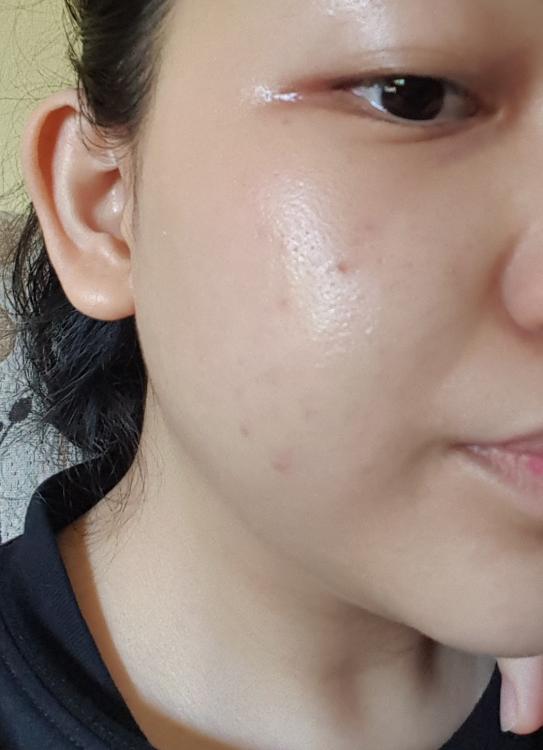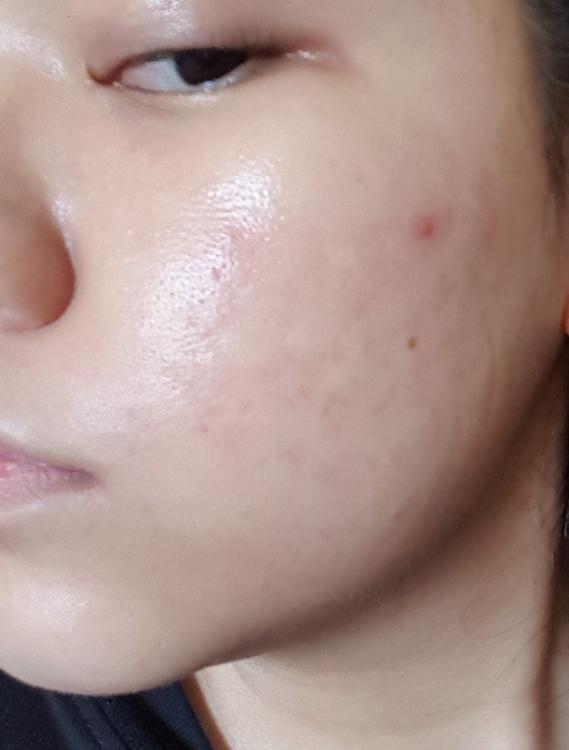 I'm probably gonna post more if people like this! There's a few things I haven't mentioned here which I deemed not so important, but I'd love to share if people would like know more.