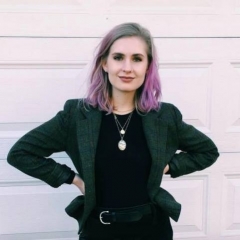 I can't believe it's already been over a month!! That went by so freaking quickly.

So I've definitely pegged dairy as the culprit of my cystic acne. Last weekend, I ate a pumpkin roll with cream cheese frosting in the center, then went to a Friendsgiving dinner in which EVERY DISH had dairy (except the turkey itself) and the next day - BAM. Cystic acne on my forehead. Since then I've been good about avoiding dairy and no more cysts - though today I ordered bubble tea not even thinking about dairy and I'm pretty sure it had milk in it. So we'll see what happens over the next day or two. Hopefully it wasn't enough to make a real difference!!!!

So I live in PA and it's getting colder which is not helping the whole 'no moisturizing' part of this regimen. The area around my nose has been getting red, so I'm trying to see if I can add some kind of moisturizer once every couple of days. I tried jojoba oil but that made me breakout. Then I tried an argan/coconut blend and that made me breakout too. I just bought BioOil (mostly because my mom raves about it) so I'm going to see if applying that around my nose / lips area can moisturize it without making me breakout.

This regimen (plus the elimination diet) has definitely revolutionized my skin. I feel like at this point it's just a big experiment to see which moisturizers will help deal with the dryness. I still am not wearing any foundation / concealer and am not washing at all. I definitely don't want to be a purist about this forever though. If I find a moisturizer that works and can get my skin clear on a consistent basis, I do want to add some kind of mineral powder foundation and a super gentle cleanser back into my regimen because I really miss makeup

BUT I will not do so until I find the perfect balance and equation to clear skin for me. We'll see how long this takes.