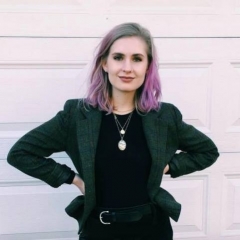 I cannot believe it is day 21!! I thought I was going to be way more diligent about posting here but life gets busy, what can I say?

Anyways, I've been really good with my diet after I had an incident. It's actually pretty funny now that I think about it. My last blog post talked about how much I missed cheese. Well, the next day I split half a pizza with my husband and yes - I broke out! And I don't mean the whiteheads I had before, I mean big ugly cysts. It took awhile for my breakout to mellow down but now I know that dairy definitely causes my acne! Before I just assumed it did because it does for so many other people, but secretly I didn't want to believe it, but now I have concrete evidence. Also, I've been eating a bunch of gluten with no breakouts so I know that's not an issue. It may still be sugar related as well (I'll have to eat sugar without dairy sometime soon and see if I break out) but at least I know dairy does for sure.

Anyways, my skin is now pretty clear. I have a couple tiny whiteheads that I don't really know how to get rid of. I started using jojoba oil around my nose since it's been a little dry because of the cold and it's definitely been helping with redness. Part of me wants to start adding products and makeup back into my routine but the other half of me is scared to! I think I'll wait a little longer and see if the whiteheads clear up on their own.