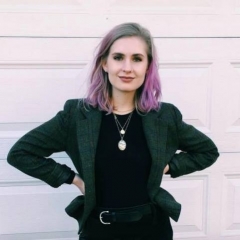 Nine days in a row of no foundation. CRAZY. I've been getting more down about it lately. I just want to feel pretty and I don't at all. I feel self-conscious about the state of my skin and it sucks. BUT I'm committed and will 100% stick through this for at least three months. I'm committed.

So I've been good about the regimen, despite the impulse to put SOMETHING on my skin. It is nice to have such a short bedtime routine, so that's good. I've also been good about my diet, though when I went to the bank today, I got all shaky and impulsive when I noticed a bowl of chocolates at the window. I grabbed one and chowed it down when I got to my car. I'm pretty embarrassed at my reaction, but maybe writing it down will help me bring awareness to it and have better self-control the next time something like that happens.

The white heads below my noise totally dried up overnight!! Also most of my chin bumps are totally gone. Sadly, little red bumps have been forming on my forehead but they're barely noticeable. I just hope they heal as quickly as the ones on my chin! The cyst on my temple started scabbing (I think I might have bumped it when pushing my hair back) but I'm hoping that goes away soon. I just know that one will scar. Boo.