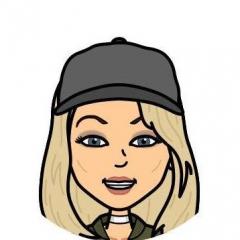 Entry posted by Moonsss ·
341 views
Hey Hey...

I haven't been posting much because I've been so busy with college and work etc and to be honest I just hadn't had much change to report.

I met with the dermatologist on Monday. I didn't have too much to report to her apart from the fact my skin was really bad (breakout wise) and I was getting more and more cysts on my jawline that just seem to get comfortable and don't move for WEEKS! She told me she was hoping to move me from the 20mg upto 40mg but decided that we should probably only go to 30mg if I found my skin was breaking out pretty bad on the 20mg...
She said by going on 40mg it could be all too much for me and the 30 will ease me into it.. she told me that my skin "WILL get worse"... This scares the absolute life out of me because my skin has NEVER ever ever ever EVER been this bad befor ein my life and the thought of it getting worse makes me soooo anxious and down

I'll be on 30mg a day for this month and then hopefully move upto 40mg for next month.

I'm currently in Portugal at the moment for a week, so I've been staying out of the sun as much as possible and using a high factor all over (SPF30).
I'm SO conscious of what I put on my face as I really don't want to fuel this breakout even more so I've been wearing Coppertone Clearly Sheer SPF30 as it states on the bottle "won't cause breakouts". To be honest, I don't know if this has made my skin worse or better or anything at this stage, I literally have 2 or 3 new spots popping up very day with old ones staying for ages so at this stage I just give up.

Also, on the make up side of things, I found an AMAZING foundation.. It's called NARS!! You can only buy it in BT2 in Ireland. I had seen so many make-up artists using it and it's also a water-based foundation so no oil.. So decided I'd give it a try. I went into BT2 hoping to buy a bottle of the NARS Sheer Glow as I felt it would suit dry skin as opposed to a matte finish foundation. The girl behind the counter wouldn't let me buy a bottle until I had tried it and made sure it suited my skin type and the colour suited my skin tone. Unfortunately she didn't have the sheer glow samples, she only had the sheer matte. Still, I wore the make up from 12pm until 3am that night (I was at a festival) and found it had AMAZING coverage and didn't seem to go blotchy or stick to the dry patches for the entire time I was wearing it. The tiniest bit goes a mile, you don't need much at all. I think I only topped up once and even after topping up it didn't look cakey! I might go back and ask for samples of the sheer glow and then decided which one to buy but either way I will DEFINITELY be buying a bottle

I'll be back to post if there's much change,
wish me luck! x