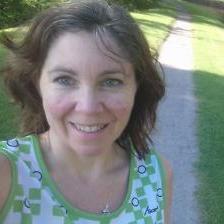 Day 10 - wow... things are going well on 40mgs a day. My dryness seems to have settled and is mostly on my chin area with a little around my nose and at my temples. Lips are dry, but not overly so, no splitting or cracking. My face is red and is deffo sun sensitive!

The skin on my back is still bumpy, but smooth, not rough like it was before. It feels much better. Still no breakout, but I am not getting complacent as it will happen at some point I am sure.

I went to our local pharmacy on Thursday. They have a small make up counter selling, Lancome, Estee Lauder and Elizabeth Arden. They also have a range of La Roche-Posay and Vichy products. I explained to the assistant that the medication that I was on was going to purge and dry out my skin and make it red (it was very red on Thursday!) and that whilst I was happy enough to go bare faced most of the time, I would like to have a foundation that I could wear without feeling that I had a mud mask on and that was good to my skin. We had a good chat and she suggested the Vichy Dermablend (£20) and the Lancome Miracle Teint (£41). She colour matched me and gave me some samples to take away and try.

http://www.lancome.co.uk/makeup/face/foundation/teint-miracle/292013-LAC.html

https://www.vichy.co.uk/makeup/dermablend/dermablend


Wow! Never have I felt that good about my skin! Last night (Friday) I tried the Lancome, and OMG. It was amazing. My skin looked fresh and clean. It felt like fresh air! I will try it again this week as I only had it on for a few hours, but it was amazing.

Today, I have put the Vichy Dermablend on, and again, It is fab, my skin looks great (apart from the dry patches) My skin does feel a little itchy, but that is happening when I am bare faced anyway. I am so happy with both of these products so far.

I'll get some pictures over the weekend and post them next week.

I would certainly recommend anyone wondering what to use, to go and ask for some samples of these to give it a go.

Have a great weekend everyone!