Hello ello ello,
So today marks my 1 week of being on Roaccutane. 

So far, I haven't had many side effects apart from the dry skin which is mainly around my nose and mouth. My skin is a little red but nothing major, kinda just looks I've a bit of a tan on my face so I can't complain!

 The last few days I've been getting white heads in places I wouldn't usually get them like higher on my cheeks and 2 on my forehead where I NEVER get spots. I find some of them go and come back in the same place 2 or 3 times before they finally leave.
Obviously the accutane is just pushing everything out so it's working!

As my skin was really bad a few days ago, I was freaking out and couldn't resist trying to help the little buggers move along quicker, so I started putting Benzoyl Peroxide 5% gel on the spots that needed a push. I've read mixed opinions on using other products while on accutane and realistically I should have just let them pass themselves but the benzoyl peroxide just dried them out a little quicker and flattened them loads. The cysts have totally gone on my jawline on my right side ( just still a little bumpy) and theres only 2 cysts on the left side but they're passing! Skin is just still bumpy in places but it will all pass eventually.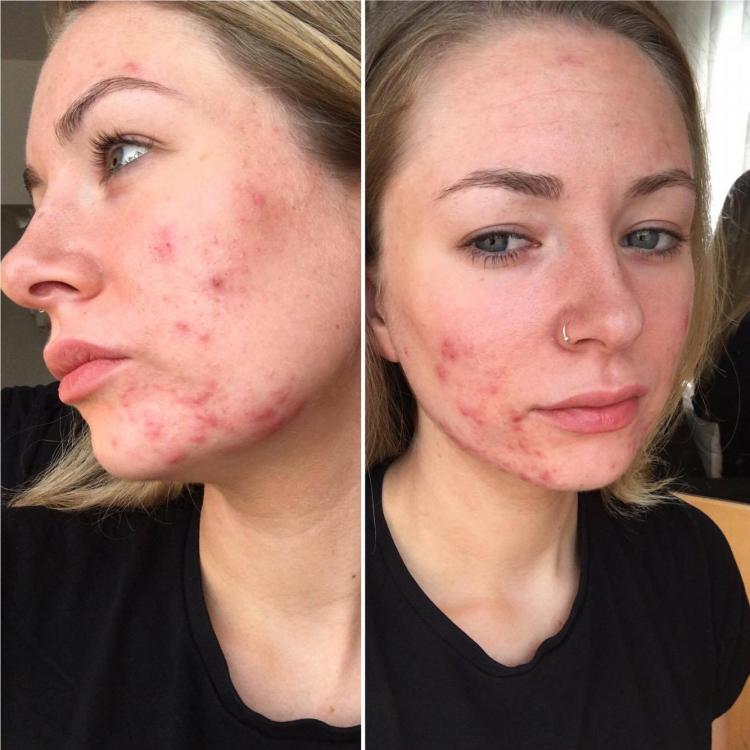 I took these photos just after my moisturising session so the redness
of old spots makes my skin look way worse than it actually is!
All in all though, my skin is definitely clearing up and I'm feeling very positive. I'm hoping the breakout I had over the last few days were the worst to come and things will hopefully just get better from here, but I'm still expecting the worst, just incase! 
Products I've been using:
Cleanser
: La Roche-Posay Effaclar Purrifying Foaming Gel
Toner:
 La Roche-Posay Effaclar Clarifying  Toner
Moisturiser:
 La Roche-Posay Effaclar H  (amazing)
Lip balm:
 La Roche-Posay Nutritic Lips
Spot cream
: Acnecide 5% gel (benzoyl peroxide)
(yes, I'm a bit of a La Roche-Posay freak) 
Looking forward to seeing what week 2 has to bring