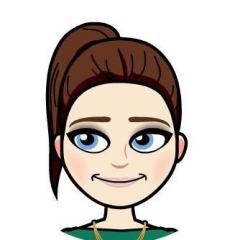 This week I started on 70mg of isotretinoin/roaccutane/accutane – whatever you want to call it! Quite a leap from 30mg but if you want to find out more about the reasons behind that then you can read my one month recap post.
Day 29
Thursday 17th August
Dermatologist appointment day! I stayed at my parents again this week as they were on holiday and needed a cat sitter, which worked out perfectly for me as the hospital is only a 25 minute walk away from their house.
However. I mentioned earlier in the week that I was getting foot pain and this has definitely got worse. My ankle and heels were really sore this morning when I got up and walking that far on them was not ideal.
My face was really smooth today though! Not a spot in sight, a few scars but to be honest if my face wasn't so red I wouldn't have felt the need to wear make-up at all and that's HUGE coming from me.

Here's a photo: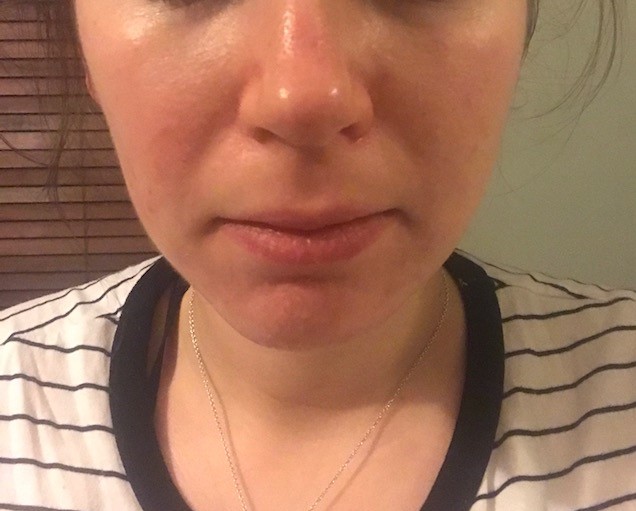 Day 30
Friday 18th August
I woke up with a WHITE HEAD on my chin! WHAT! There was no redness surrounding it but it was still pretty big, this is the first proper spot I've had in about a week. It seems mad that I'm complaining about one spot when a month ago one spot would have been classed as an amazing skin day. Don't get me wrong, I'm still extremely happy with how this is going for me but I think I've been lulled into a false sense of security by avoiding an initial breakout in the first month. I think this is the start of it.
My back and chest have completely cleared though! Just scarring on my back now, I can't believe it.

Day 31
Saturday 19th August
I developed a headache around midday which was a bit nasty but went away with paracetamol. I think this might be a recurring thing as I up my dose, as last month in my first week on 30mg, I started on the Thursday and got a headache on the Saturday too.
The spot is still there, doesn't look like it's budging.

Day 32
Sunday 20th August
Not only has the spot grown, it's grown friends. It's started to turn into a cluster of cysts, which are all quite swollen and red, and my chin is really sore. I can't move my mouth without feeling them. I've not missed this.
I also had another headache which was quite bad. It got worse when I was in the daylight so I ended up having to nap it off.

Day 33
Monday 21st August
Thank god I'm off work this week. Hallelujah, because there's no way I can cover the craters on my chin. I made the mistake of picking one and it went so juicy. I had to go and pick up my car today so needed to put some minimal make up on. After an hour of trying, I had to accept that the make up wasn't going to cover it and go out with a big juicy open sore on my chin. I really, really, really regret picking it because it's definitely going to scar.
On the bright side though, no headaches today! But here's some photos of the cluster (after a HEAVY moisturising session), they don't look as bad as they felt because they were very deep and under the skin: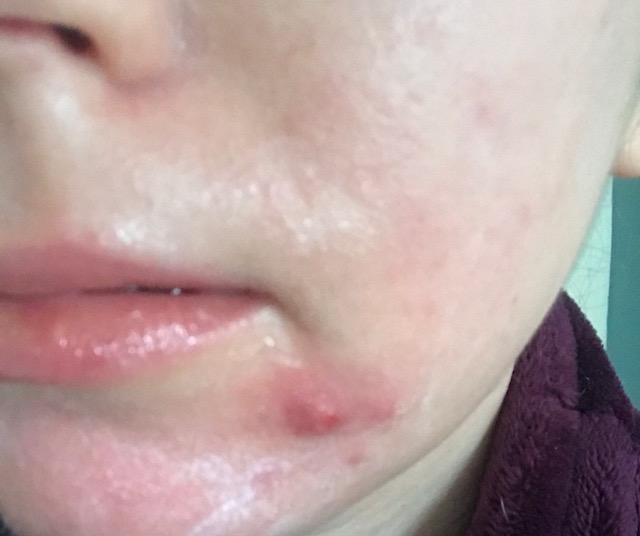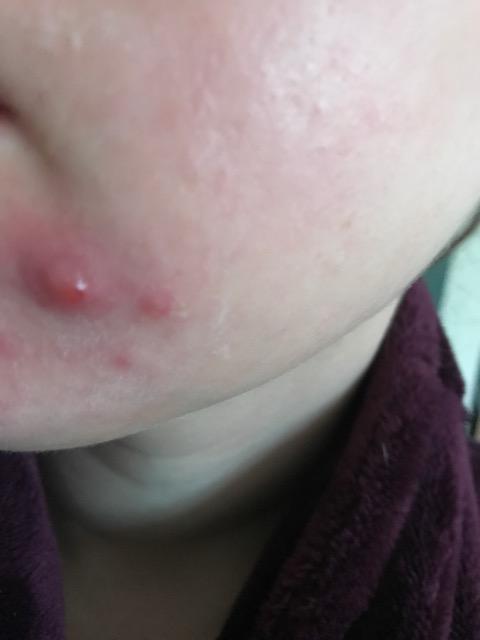 Day 34
Tuesday 22nd August
When I went back home yesterday to pick up my car, I also picked up my boots rapid action spot gel. I swore by this stuff before roaccutane because it would always help reduce the swelling on angry spots. The claim on the packet says visibly reduces swelling and redness within 2 hours but this was never the case before, it was more like 6 hours. However – I used it today and like clockwork, within two hours all of my spots started to shrink. What a miracle! I'm going to keep reapplying and keep you updated.

Day 35
Wednesday 23rd August
OH MY GOD THEY'VE FLATTENED. They are dry and crusty AF but they're flat and one cyst turned into a (really flat) white head.
They were really easy to cover in make up and it looked fine for about 3 hours whilst I was out shopping,you honestly couldn't even see them. On the way home my feet really started to ache and when I got in I was hobbling around the house like a cripple due to the heel and ankle aches.
When I looked in the mirror about 4-5 hours after applying my make up, my skin had really started to flake off around the spots but who cares! They're flat!!!!!!!!!!!!! Seriously go out and buy that gel now.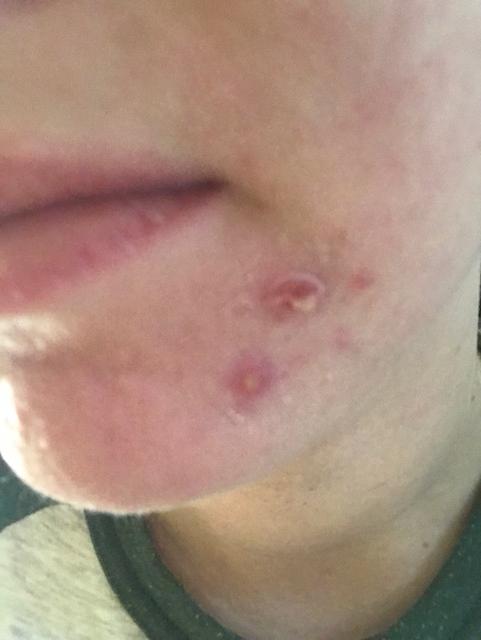 Products that I've used this week
Spot Gel – Boots Skin Clear Ultra Rapid Action Spot Gel
Cleanser - Liz Earle Cleanse and Polish
Cleanser – Avene Extremely Gentle Cleanser
Spring Water - Avene Thermal Water Spray
Moisturiser – Avene Hydrance Optimale Light
Gentle exfoliator- BIODERMA Hydrabio Exfoliating Gel
Moisturiser - La Roche Posay Effaclar H moisturiser
Moisturising Face Mask - BIODERMA Hydrabio Masque Moisturising Mask
Lips - Elizabeth Arden 8 hour cream and Nivea Essential Care lip balm