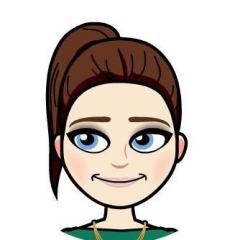 I've just completed my fourth week on 30mg of roaccutane. I have my dermatologist appointment tomorrow morning so I might do an extra post about that afterwards to share what was discussed. My symptoms are much of the same but because I haven't reacted that badly to the 30mg (at least I don't think I have) I have a feeling she's going to up my dose. Things are about to get interesting. Not in this blog post though, sorry.
Day 22
Thursday10th August
Overall my skin is good, I keep getting dry patches of skin in the same place: one above my eyebrow, one at the top of my nose inbetween my eyes, a few on my chin and the creases of my nose.
I keep pulling the dry patches of skin off. I need to stop! When I pull the skin off it leaves a little cut and I'm conscious of them scarring if I keep doing it.
Day 23
Friday 11th August
My face is the same. Still no major break outs, just the usual dryness. In the afternoons my face is getting really hot, one side of my face goes bright red. I've also started sleeping with lip balms in my bed because I keep waking up in the night with really tight lips.
Day 24
Saturday 12th August
I had a day without make up today to give my face a break. It felt and looked really smooth, but appearance wise I still have quite a bit of scarring and my face is bright red without make up on. I'm not staying at home this week, and the lighting where I'm staying is shocking so I'm really struggling to capture the colour intensity on camera. But if you look at the colour of my neck in comparison you'll get the idea!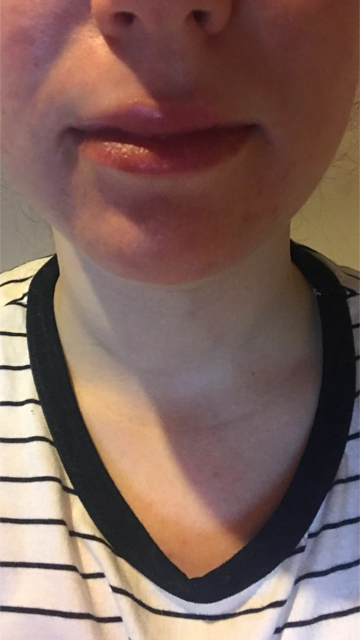 Day 25
Sunday 13th August
Woke up this morning with an insane thirst and downed two bottles of water! Had another make up free day, although my side effects at this stage are minimal the redness is bad and I know I'm not imagining this facial hair thing that I discovered last week – what the fuck is going on. I can't believe I'm even sharing it but is this normal?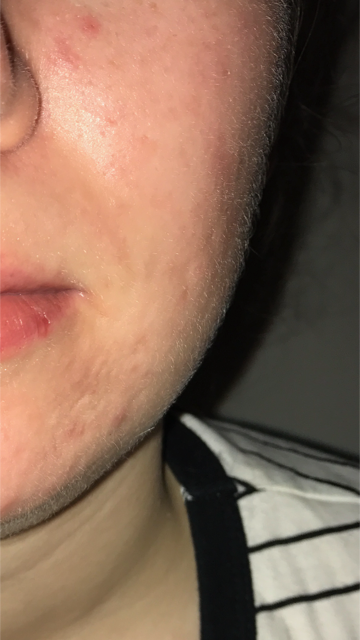 Day 26
Monday 14th August
The thirst continues. My face is so red that it's showing through my make up. I don't ever seem to realise how bad it is until I get to work. I put some more CC cream on and it sorted it out but the dryness always started to show up around midday.
Day 27
Tuesday 15th August
Still thirsty. Still red. Now experiencing lower back ache and sore feet but I don't know if it's related to this because I was in accident last month (run over by a car) and when I do too much I tend to ache.
On the bright side though, my dandruff seems to be calming down. I think the T-Gel is really helping!
Day 28
Wednesday 16th August
Today was the driest my face has been so far. It looked fine when I left for work but by lunch time it literally looked like sandpaper and there was no coming back from it. I just had to accept that it wasn't going to get any better no matter how much I tried to fix it. My lip also split again today. Fab. Here's a photo of my face to show you the kind of dryness I'm talking about: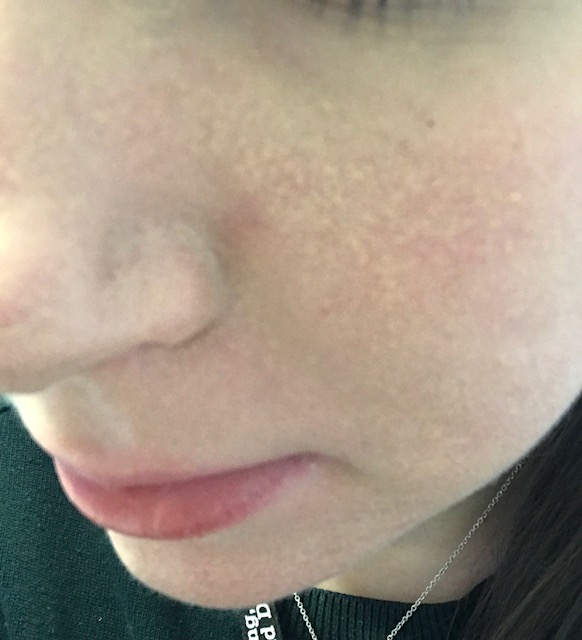 Products that I've used this week
Cleanser - Liz Earle Cleanse and Polish
Cleanser – Avene Extremely Gentle Cleanser
Spring Water - Avene Thermal Water Spray
Moisturiser – Avene Hydrance Optimale Light
Gentle exfoliator- BIODERMA Hydrabio Exfoliating Gel
Moisturiser - La Roche Posay Effaclar H moisturiser
Moisturising Face Mask - BIODERMA Hydrabio Masque Moisturising Mask
Lips - Elizabeth Arden 8 hour cream and Nivea Essential Care lip balm
Body – Aveeno Daily Moisturising After Shower Mist and Sanex Dermo Sensitive Skin Shower Cream