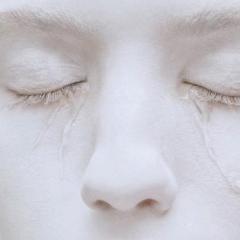 I might update in the evening but here's what happened. My skin does seem to break out more 'freely' than before, like, they come to a head faster then gtfo fairly fast too. So, today, after last night I do have some whites which came up. However, today is Saturday and on Monday my mother has her bf bringing his friends over for the first time. They'll be sleeping over for the night and I absolutely do not want to be seen by them, especially with my skin being zitty. On Wednesday I also have a dental appointment to fill in some fillings. I can't look shitty then either. Even more important because I'll be in public. Also, the dentist does tend to touch my chin to turn my head *shudder*.

So, I relapsed in preparation for those events. I washed my face while in the shower, only to find that my skin felt GRITTY as FUCK. Omg. Only one thing that could be - dead skin. I hadn't touched my face like that since before I stopped washing and my skin usually feels very soft. So I panicked, thinking my pores are becoming blocked as hell. Washing didn't help, so I went and grabbed my Mask of Magnaminty, which generally makes my skin feel soft as hell as well as exfoliates. I didn't leave it on as long as I usually do, something like five minutes while rubbing light circles of it over my skin to fix the gritty feeling. Magna tends to leave a tiny bit of powdery residue so I did soap wash again after that just to make sure I don't get blocked further. It didn't completely fix the gritty feeling, but it's at least half gone.

I did read in the reviews of people who washed like every few days and exfoliated once a week or so at first to 'wean' their skin off of chemicals. I think that may be necessary for me also. Hell, I should have done this even slower than that, maybe like cutting to once a day washing, etc.. This grit does make me feel very panicky. Still, I didn't put any products on my face after washing.

I've been typing this while my face still dries, which it nearly is now. I just checked the mirror and o.o...the blackheads on my nose have lessened? THIS IS WEIRD? I did notice when washing earlier that where I have large pores, the pores there seems to be pushing out or something? I'm not sure how to word it? Like the pores are turning into tiny spots but not exactly spots? Like teeny short shoots? Barely noticeable but it is to me. They're more like fluffs than spots that need to be fixed.This may be a fluke, as my nose blackheads do tend to appear clearer when wet, but my nose is pretty much dry now..strange. Not washing may not be the answer for me, but not leaving products on does seem to be? It makes sense that pores can't clear if you're constantly putting cream back over them. I did notice this before, that whenever a blackhead fell out, I felt kinda bad because I had to smother the hole left with creams.