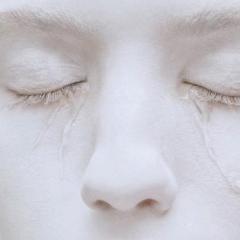 K so, some background: I've had this crap since I was 11, I'm 24 now. It was extremely bad at 13, then again at 19. Now it's calmer. Every day I've been using 2 creams (BP Duac and tea tree cream), an SA toner, a mask and moisturiser. This keeps my skin fairly clear and eating healthily usually keeps it 99% clear. But my skin without make-up looks so awful. The texture is terrible. It feels soft from the mask I use, but parts of it, like on my chin looks like lumpy porridge T_T and my pores are so huge between my brows that I can't bear to be without make-up there. When I was 19 I tried using 'natural' products, but granted, they weren't the greatest quality, I just grabbed whatever from Holland and Barrett that said natural on it. I ended up so bad that I was scarred for six months. Going back on BP saved it. That's why doing this terrifies me.

-------

Body: So, for the past week, I've been slowly easing into water only. I've used it only on my body up until today. My body has actually taken to it really well! It feels healthier and, well, free. I don't get crap as much on my body anymore, but I do get light bits of it on my shoulders/chest/back. I started not washing my chest, only with water, for a couple of days before the rest. It's actually doing very well and I do actually think my chest has cleared to a degree. I never use creams on my body though, so I'm far more terrified for my face.

Hair: For the last 3 days, I've tried washing my hair with water only, as I tend to wash my hair just with (crappy and cheap) conditioner which leaves some spots along my hairline. So I knew if I didn't try going natural on my hair too, it would cause problems. I tried a vinegar rinse today on my hair since it was getting waxy build up already. I used two cups water and 4 tablespoons of ACV. My hair's still drying, but it still seems waxy.

I tried ACV because I thought it'd fix this. Maybe it'll take more tries as the conditioner I used was greasy af itself. I know there is a transition phase when going this route but..still, erk.

Face: Dear god, my face was dry as fuck. It still is, but I suppose I'm more used to it after a couple of hours. Eating was an issue, I felt like I couldn't open my mouth properly due to it being so tight. My skin flaked around my mouth already from this. This is the first day for my face that no creams have been on it all day in years. I generally use a heavy moisturiser, but I didn't realise it helped me this much. This day isn't entirely with water only, but I'm leaving no creams on it. To ease into this, I took a wet cotton pad and smoothed it over my face to get rid of any excess cream, then washed with Dettol soap (harsh, I know, but it's the only thing which I found works for me :/) as I usually do, just once, then mostly left it. When showering, I kept letting the water sprinkle over my face more, then one last time with cold water before getting out. I suppose this is a bit much, but I'll try to cut back to not having too much water touch me.

It felt so weird to get out of the shower and putting nothing on. I let my skin air dry. While it was still dry, I passed by my wndow and feeling air on my wet skin felt unreal. It's different to when cream is on. I'm going to try and stick to eating healthy for the time being, although my diet hasn't been the best in recent days, but I want to make sure that any changes are due to the water and not excess sugar. Later tonight, I'll splash some water on me a couple times then sleep, though my face still feels dry enough to not wash yet. I kinda feel like I've lost my damn mind doing this, as my skin isn't even that bad these days, but I really want to see if it can fix it entirely. I don't want to wear make-up anymore.