August 2 - Week 7 on Epuris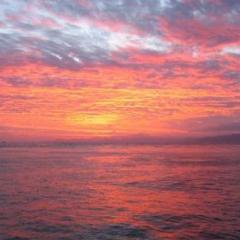 Forehead Breakout UGH… Most of my acne normally lies on my cheeks however Accutane has decided to bring out the tiny bumps on my forehead which are now large whiteheads/cysts!!! I seem to get them in a cluster and they had become so painful that I had to pin them and release the pressure, hence the redness in the picture. My treatment has been rubbing 100% Aloe Vera from the Aloe Vera plant onto my forehead which has definitely helps calm the bumps and redness. I'm hoping all will go away within the next week so I can go back to have a clear forehead!
Painful Cysts filled with blood… Over this past week I have experienced a couple cysts that have popped on their own and were completely filled with blood. So much blood that I was afraid it wasn't going to stop. After applying pressure for several minutes, the bump had disappeared and what was left was a deep red hole in my cheek! At that moment, I knew it was probably going to scare considering how deep the hole was, however after a couple days it closed and now I am just left with a small red bump which should go away with time.
Tired, Tired, Tired… This past week I have been extremely tired to the point where I have needed to lie down because I was feeling off. Not sure if this is a side effect of the Accutane or if it's my body telling me I need more rest (Even though I get more than enough sleep). Hmm?
Decrease in Redness… Although it may not be noticeable in the pictures, I have noticed a decrease in redness on my cheeks. I am still breaking out, however the post acne redness has definitely become less inflamed which I am happy about!
Same Dosage… I am currently still on Epuris 20mg and do not see the dermatologist for another 2 weeks. Since the redness has gone down, I have a feeling he will be increasing my dose the next time I see him.