First month on Accutane/Isotretinoin complete!!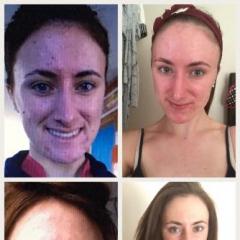 Entry posted by Lyn_95 ·
1200 views
I have just completed my first month! Yesterday was my first check up with my dermatologist. She was very impressed with the quick results I have had. I was asked if I had an initial breakout when I started and I told her it cleared more than it broke out which surprised her. After a month I have no new updates to my side effects, they are still the same as posted in my last two blog entries. I have had some lower back pain recently but nothing major which my Derm taught was normal being on the medication. I am feeling really positive for the first time in a very long time and I am having some lovely comments off people on how clear my skin has become. I can finally wear my make up some days and feel I've applied it well, giving good coverage as I have no lumps and bumps only some scaring to cover. My experience so far on Accutane has been really great , I am excited for the next here months!! EEEEEEKK!!