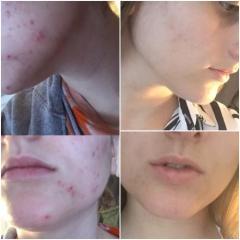 So I made this account just to share this story in case it can help anyone else! I turned to acne.org a lot for tips and advice so I figured it's good karma to post how I cleared up my acne.

For starters, my skin was always super low maintenance, I never broke out in high school or middle school. It wasn't until I was in college, at around 19 or 20, that I started to break out a little here or there. I always chalked it up to stress and eating poorly at college but it consistently got worse. Sometimes it would clear up for a period or two but it was always annoying and came back.

My acne was very dry and clogged, my dermatologist says I have keratosis pilaris which means I don't shed skin as well as others. My acne is centered on my cheeks and chin and is rarely ever blackheads or cystic acne. It is consistently pustules and papules but more often than not it was just raised bumps with no puss.

My first attempt at clearing it up was going on birth control (didn't work) and then I tired another birth control (didn't work) and then I even tried going off birth control (definitely didn't work). After that I tried using as many expensive creams and moisturizers and face washes as possible, normally all at once, and that didn't work either (shockingly). I eventually saw my dermatologist and she prescribed my Epiduo about two years ago. Epiduo is a prescription acne cream that is a mixture of Benzoyl Peroxide (2.5%) and Adapalene (.1%). I had read a lot of forums and was pretty informed going into my treatment. So I knew that Epiduo was one of those "it gets way worse before it gets better" sort of gels, and I was prepared for that. Honestly, my skin was so raw and red and flaky from using Epiduo that I had a sunburn on Christmas that year. It was painful, and every moisturizer caused even more pain when I tried to treat the flaking. I cut back a little but knew that BP had this effect and I had to adjust my skin to it. Eventually I had passed the 8-12 week mark and thought I was seeing progress, but I think looking back that that was just wishful thinking. By month 5 or 6 I was using it once or twice a week and my skin was a bit better but I was over the whole acne thing and was just wearing makeup and ignoring it.

Fast forward to September of 2016 and my skin was a mess again and I was convinced I was going to clear it up. I tried going on the no dairy diet, and still think I saw some results from that, but overall it wasn't a miracle cure (and I love cheese way too much). SO I subscribed to Curology at the end of November, excited to fade my scaring and get rid of the closed pores and whiteheads I had. Unfortunately, after a month and a half of Curology and two different prescriptions, my skin looked even worse than ever (see the images below - December at the start of Curology and January after a bottle or two).

I finally realized that I just needed to introduce good products 1 by 1 and see how they worked. But first I had to get rid of acne irritant ingredients. So I started using cosdna.com before I purchased any products to see how the ingredients were. I dumped a ton of makeup that had ingredients with 4s or 5s on the acne irritant 1-5 scale. Then I did the sam thing for my skincare (I'll attach a list at the end). This took a few weeks because I only introduced one new products every 4-5 days, to make sure I knew which product broke me out if I were to break out severely.

**(This is where my actual "cure" starts)** Once I had a good skincare routine with simple products, I happened to stumble upon the Neutrogena Stubborn Acne Daily Leave-On Mask, which was just a 2.5% BP that you could apply 2-3 times a day under your makeup. By this point I was wary of drug store products, since I hadn't used them since middle school for my occasional zit back them. But I wanted to try my own version of the Acne.Org Regimen and I knew I needed a good BP and I already had a great cleanser and moisturizer. So even with my fear of BP due to Epiduo I gave this product a shot and within 2 weeks I was amazed, I wasn't waking up with a new zit every morning? I didn't have anything to convince myself not to pick or pop or poke at before bed? Looking back at Epiduo, I think I was reacting poorly to one of the inactive ingredients and thought it was just the BP "working." That or I was allergic to the adapalene, because I had no issues at ALL with the BP in the leave-on mask.

For the next few weeks I continued to use the leave-on mask. Sure, once and a while I was getting a new spot, but I could visibly see my skin clearing up. I never had an initial bad reaction to this product. Within a few weeks I was using it 2-3 times a day without any irritation, dryness, or flakiness. My skin has never been so soft, clear, or moisturized in my entire life. That was in January. It is now May and I took the clear skin pictures below just a few days ago. I tried to use similar lighting but it was difficult to achieve, so hopefully you can tell the results aren't just all lighting. Hopefully I can check in in a few months and tell you guys that this was a long-term solution!

Routine
Morning:
- Vanicream Gentle Facial Cleanser (optional, since i have dry skin)
- Neutrogena Stubborn Acne Daily Leave-On Mask
- Pixi SkinDrink Moisturizer

Night:
- Bioderma Micellar Water (to remove make-up, with a cotton pad)
- Vanicream Gentle Facial Cleanser (double wash)
- Neutrogena Stubborn Acne Daily Leave-On Mask
- Simple Nourishing Moisturizer

Optional (Not nightly, but a few times a week)
- Dr. Brandt Microdermabrasion Scrub (for fading scaring)
- Origins Retexturizing Mask with Rose Clay (2x a week)
- Essentials Tea Tree Oil
- L'Oreal Purify & Mattify Pure Clay Mask (T-Zone) (2x a week)
- L'Oreal Exfoliate & Refining Red Algae Clay Mask (Cheeks and Chin) (2x a week)

Hopefully this helps at least one person!